Kingsford® 100% Natural Hardwood Blend Pellets
Southwest Blend, Mesquite, Cherry and Oak, 20 lb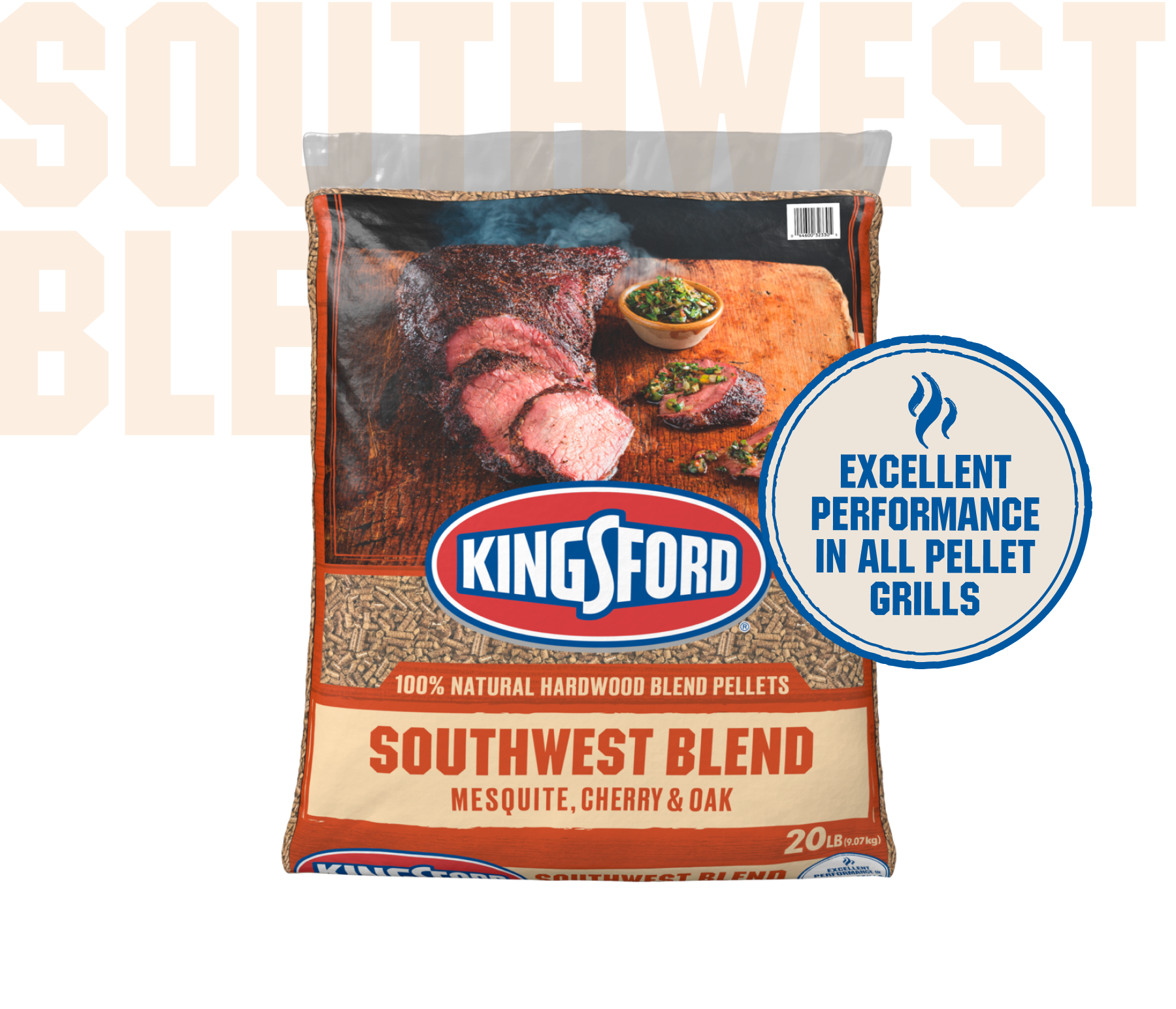 Made in the USA

Pure Flavor Hardwoods

Great for Any Pellet Grill
Take your taste buds to the Southwest with mesquite, cherry and oak. Grilling with Kingsford® 100% Natural Hardwood Blend Pellets brings you authentic wood-smoked flavor from all natural American hardwood. These Kingsford® 100% Natural Hardwood Blend Pellets deliver excellent performance in all pellet grills, including Pit Boss® and Traeger®. Made in the USA, our Kingsford® 100% Natural Hardwood Blend Pellets for grilling contain no artificial flavors, fillers, binders, dyes, chemical additives or oils. Just pure hardwood for pure flavor. Southwest Blend brings you the bold, sweet and smoky flavors of mesquite, cherry and oak that pair well with beef, chicken, ribs, pork, lamb, turkey and vegetables. Kingsford® grilling pellets come in a conveniently sized 20-pound bag. One pound of grilling pellets lasts approximately one hour at low heat and about 30 minutes at high heat depending on the grill manufacturer and outdoor conditions. Trust Kingsford for real wood flavor made easy.
Rated

5

out of

5
by
Ramski
from
A new favorite!!
Didn't have what I looking for and decided to give these a try. Prefect flavor, the smoke was not overwhelming, brisket came out great! Can't wait to try these on other meats!
Date published: 2022-07-07
Rated

5

out of

5
by
Upstate NY1
from
Outstanding flavor
Beats out several other brands for flavor-- great for smoking, burgers, pork, lamb-- ypu name it. Can't go wrong with this. Looking forward to trying "classic" next. Used with my traeger----love this!
Date published: 2021-07-03
Rated

5

out of

5
by
Tommy L
from
Best Wood Pellets on market
These are my absolute favorite wood pellets. It is my go to blend even before using a pellet smoker. I would use Kingsford 100% hardwood charcoal with mesquite chunks and cherry wood chips in my Weber smoker prior to my Pit Boss pellet smoker. Now, Kingsford hits an absolute homerun with the Signature blend of mesquite, cherry, and oak. Love it! Only downside is I just have a bit of a hard time finding it at retailers. Walmart is the only place I've found it around me.
Date published: 2021-07-02
Rated

1

out of

5
by
dons_jeep
from
Total Disappointment
Bought these at Lowe's as they did not have the pellets I normally use in my Traeger. I was grilling up chicken that night and thought I would give these a try. I was unable to get above 300 degrees and they barely had smoke. As I was dumping them out to toss in the normal brand of pellet but another flavor I noticed why these don't get hot in the hopper. They are half the size and were crumbling in my hands. Very disappointed as I thought they would be great since they were coming from Kingsford.
Date published: 2021-06-12
Rated

1

out of

5
by
Fish
from
Not the original mesquite seasoned charcoal.
tried this product, very disappointed. not the original mesquite seasoned charcoal.
Date published: 2021-05-23
Rated

4

out of

5
by
Rendonbon
from
Great smoke flavor
I bought these to try them in my pellet grill. I was using another brand and wanted to try another flavor blend. The good, the smoke aroma that these pellets impart is a delight. I would say a great blend of woods. The bad, my grill struggled with temperatures above 350. Usually not able to maintain temp. I will use these in smoking, when grilling, some of my needs are 350 and 400 for that I will use other pellets where the compromise is the temp but less quality smoke.
Date published: 2021-05-13
Rated

1

out of

5
by
Bubba k
from
They suck
First time I have tried atadded no taste at all.i will stick with Traeger pellets they are alot better
Date published: 2021-04-07
Rated

5

out of

5
by
Anonymous
from
Simplicity
I used this to smoke our Turkey and it came out perfectly awesome
Date published: 2020-12-17
Rated

2

out of

5
by
DLGaddy
from
Smoked, but wouldn't light well for grilling.
I purchased a new, high quality pellet smoker in the spring and it came with 100 lbs of pellets. This gave me a chance to see how this smoker/grill/oven worked at different settings, temperatures and meats. Well, just this month I started looking for an alternative pellet fuel that I could buy locally. I wanted to try different flavors as well. I did try to be careful not to get a punctured bag to avoid pellets that have taken on moisture, or a bag that had been mistreated on the store shelf to avoid crushed pellets. Well, once I had the hopper clean and ready for just the new pelltets, I loaded it up and started the cook. Unfortunately I had some of the same problems I read about. The grill seemed to have more trouble keeping a consistent temp. Even though I tried to be careful not to get a bag of crushed pellets there seemed to be an extremely large ratio of crushed to full sized pellets. Once the smoking was done and I tried to raise the temperature to get a sear on my chicken I had a very hard time getting to temperature up to 400 degrees or higher. Plus the flame was not as large as I am used to and it barely reached to under surface of grates to help create the expected char. The taste was fine though. I really would like to give these pellets another try as I am a Kingsford charcoal diehard fan and only buy their charcoal. I'm sorry I didn't think to take photos to show what my bag looked like once I got it open and into the hopper.
Date published: 2020-09-01
Rated

1

out of

5
by
DtSmoker
from
Won't light just smokes
tried these pellets several times. Each time three They'd sit and smoke but would rarely fully combust. If they did combust I couldn't get a temp higher than 310 degrees. Wound up emptying these pellets completely out of me my grill to replace them with a tried and true brand of pellets which immediately worked very well. Very disappointed with Kingsford. Expected more from them.
Date published: 2020-08-21
Rated

5

out of

5
by
Csmith84
from
Worked great
I've never used any kind of pellets for grilling before, but I tried these hickory pellets from Kingsford and had some of the best pork chops I've ever had. Fantastic flavor, and it doesn't take many of them - maybe a 1/4 cup - to get that smokey goodness into the meat. I was very impressed with the flavor and how it all worked! Definitely will buy these!
Date published: 2020-08-16
Rated

5

out of

5
by
Anonymous
from
Fantastic pellets
When I got these I had never used wood pellets before. But I am in love with them now. It makes your food taste so much better. I used it on top of my normal charcoal which is also kingsford brand. I made carne asada, burgers, chicken and brisket. Wow! The taste difference is amazing! It was smokey and kinda sweet. I will use these for now on. Thank you.
Date published: 2020-07-03
Rated

5

out of

5
by
Faithy
from
Small wood pellets, smell really good, nice smoky
We have never used wood pellets before when grilling, so decide to give wood pellets a chance. We loved the smoky flavor of the meat after giving it a shot! My husband was happy with the pellets and the smoky flavor it gave to the meat, will try other flavors of pellets soon!
Date published: 2020-06-15
Rated

5

out of

5
by
petunia76
from
Great Product From A Trusted Brand
I have always loved Kingsford products. I was unsure if the Hardwood pellets would meet the expectations that come with the Kingsford brand. I can honestly say these pellets not only met but exceeded my expectations. The flavor in the pellets bring the perfect balance to any smoked dish. I have already recommended the Kingsford pellets to family & friends. I feel Kingsford definitely out did themselves with the Hardwood Pellets
Date published: 2020-06-15
Rated

5

out of

5
by
HLD610
from
Amazing taste!
These Kingsford Signature wood pellets were amazing in my smoker! They fit will (didn't get lodged in the auger) and made a perfect subtle taste to any of the meat we smoked. The pellets were simple to use and the bag was bigger than I expected. I recommend these pellets to anyone who has a smoker or grill!
Date published: 2020-06-15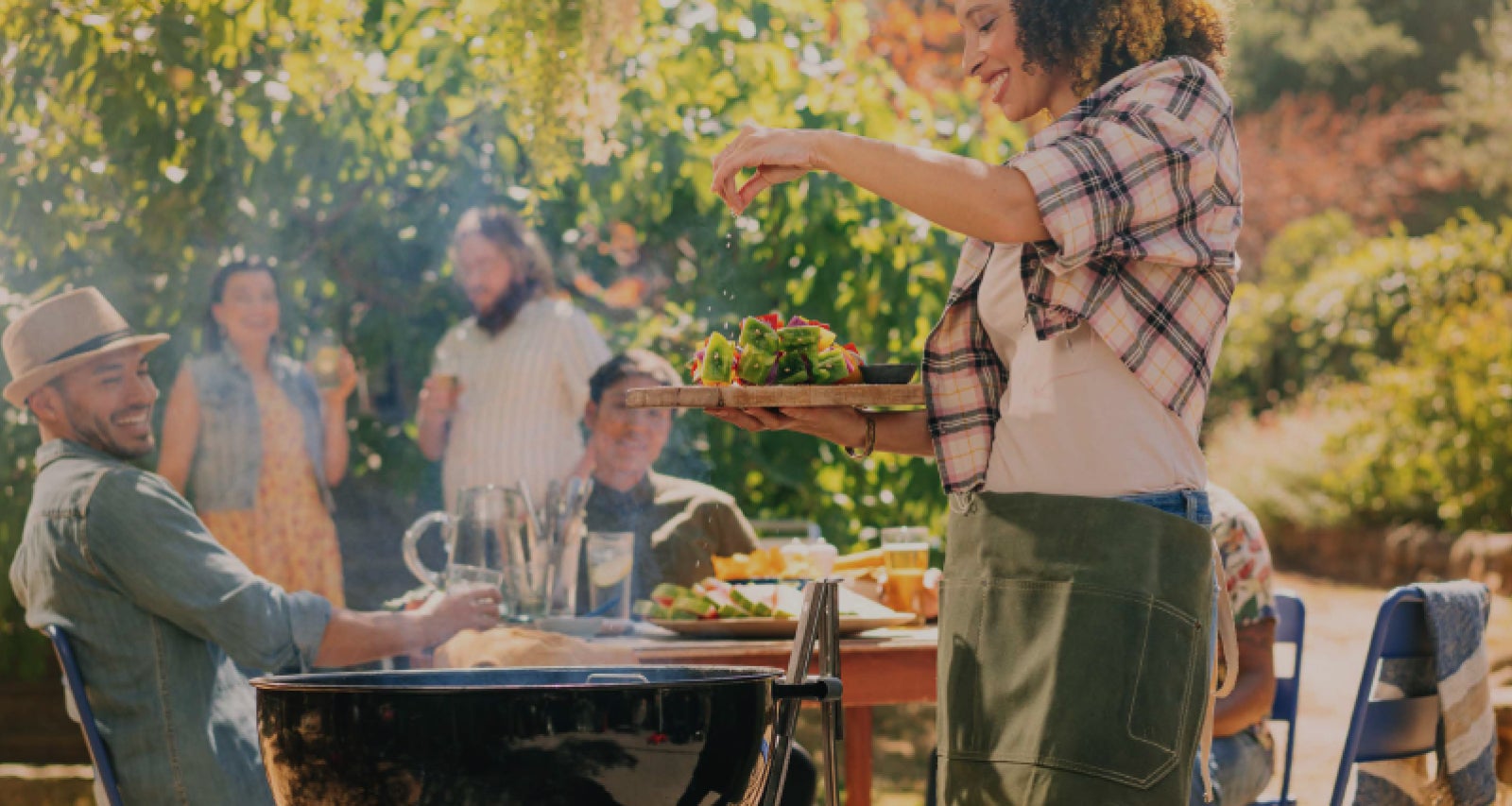 Light your fire with all new Kingsford® products.
Explore our full range of charcoal, pellets and flavor boosters to take your grilling to the next level.