Kingsford® 100% Natural Hardwood Blend Pellets
Cherry, 20 lb
Made in the USA

Pure Flavor Hardwoods

Great for Any Pellet Grill
Some grillers prefer a delicate smoke to complement their food. Grilling with Kingsford® 100% Natural Hardwood Blend Pellets brings you authentic Cherrywood smoked flavor from all-natural American hardwood. Kingsford® 100% Natural Hardwood Blend Pellets deliver excellent performance in all pellet grills, including Pit Boss® and Traeger®. Made in the USA, our Kingsford® 100% Natural Hardwood Blend Pellets for grilling contain no artificial flavors, fillers, binders, dyes, chemical additives or oils. Just pure hardwood for pure flavor — what you see is what you get. The fruity and sweet flavor of cherry hardwood pairs well with all your chicken, ribs, pork, fish, lamb, turkey and vegetable dishes. These Kingsford® grilling pellets come in a conveniently sized 20-pound bag. One pound of grilling pellets lasts approximately one hour at low heat and about 30 minutes at high heat depending on the grill manufacturer and outdoor conditions. Trust Kingsford for real wood flavor made easy.
Rated

5

out of

5
by
Tangi401
from
Great pellet's
I use Kingsford pellets For All my pellet cooking my Cook's have great flavor all my Friends rave about what results I get on ally smokes
Date published: 2022-07-11
Rated

5

out of

5
by
Foxfire
from
Cherry wood
I finally got out my comfort box and bought another brand of coal, and man let me tell you it was well worth it. I'm a huge fan of the match light (the fluid messes with my throat). The I add the pellets after soaking them in water. It's way to expensive for me to get a smoker ( one day I'll get on or even upgrade my grill to have a smoker in it )
Date published: 2021-09-05
Rated

5

out of

5
by
CCRNSC32
from
YUMMMMMMM
I recommend this cherry wood charcoal for the flavor. It's amazing
Date published: 2021-05-14
Rated

5

out of

5
by
rhondaf12
from
Just like actual chunks
Just like actual chunks of wood, these are flavorful and easy to use. It doesn't take much to get the perfect balance when smoking. The meat tastes amazing and for a 20 lb bag, it's very affordable. I would definitely recommend these to anyone who wants to venture out and try new flavors.
Date published: 2021-04-10
Rated

5

out of

5
by
sandrag141
from
These are great if
These are great if you have a smoker and want to add flavors to it. These are a pellet so they work well in the smoker box and they come in a big bag that is very reasonable priced. I would definitely recommend them.
Date published: 2021-03-09
Rated

2

out of

5
by
JAL13
from
First time Kingsford Pellet user
Bought today in emergency need of pellets for my Traeger. 100% use Traeger pellets the kids used the Trager this weekend and emptied the hopper so I needed some quickly. I recalled when shopping at my local grocrey store I remembered seeing Kingsford sold therer. So, I was in quick need of pellets so I thought I try Kingsford. After I dumped the bag in the hopper I noticed at least 25% of the pellets were a lighter color they looked like plastic and not wood. I'm not sure if the burned well or not. So, not sure I'll use them again kind of disapointed in the results.
Date published: 2020-07-28
Rated

2

out of

5
by
Dustin W
from
Broken-up Pellets and all that dust for $17.99
Picked up a Bag of Cherrywood Pellets, a few weeks later, I needed to switch out the wood for the ideal flavor for Brisket. I picked up what was available locally, and I picked up a bag of Pit Boss Classic Blend. As soon as I poured the bag of Pit Boss in the hopper, I noticed that the quality of pellets was way different. The bag of Kingsford was all small chunks and tons of sawdust compared to the uniformed pellet size from the Pit Boss. I've heard great things from a few Facebook groups talking the praise of the Kingsford blends. After spending $17.99 for a back of useless dust that can't burn at a constant temp, I've going to be hard-pressed to willingly pay $17.99 for 20lbs when I can spend $12.44 for 30lbs of a more consistent product. Just make sure if you are buying this in a physical store, you check and see if your bag is all smashed up like mine was. I'm sure you'll love your Kingsford pellets, I just wish I would have known what to look for when I was buying my first bag of pellets.
Date published: 2020-07-14
Rated

4

out of

5
by
snowyokie
from
Great subtle BBQ wood chips
This is a more subtle and delicate flavor than the usual hickory and can be used with chicken, pork, beef, salmon, and whatever else you'd want to smoke. The flavor doesn't overpower the meat/veggies.
Date published: 2020-06-30
Rated

5

out of

5
by
Emilyh
from
Kingsford cherrywood pellets
I was excited to find out kingsford has a cherrywood option. I use kingsford already for grilling and when I purchase certain things (bacon, for example) I look for cherrywood variety as I enjoy the taste even more. It is nice to be able to now add that flavor to other plain meats, or just elevate the flavor/marinade they already have. These pellets are easy to use like regular ones but have the different flavor variety. I am very happy with these pellets.
Date published: 2020-06-16
Rated

5

out of

5
by
Mvpness
from
Worked Well
I added these to my normal charcoal grill before cooking some chicken. It smelled great and although I couldn't tell if flavor was added to the chicken, it was delicious. I tend to use a lot of spices while cooking so I would try it again with a less overwhelming amount of other flavors. I look forward to experimenting
Date published: 2020-06-14
Rated

5

out of

5
by
PeachyJ
from
Sweet and Slightly Smoky
I used the pellets to grill some baby back ribs and they were very delicious. Since I have a charcoal grill, I had to be a bit more creative with planning my meal. I made an aluminum packet for the pellets before placing it on the briquets. Fortunately, since I have a grill with a hinged cooking grate, I was able to retrieve the packet with relative ease. This is a good alternative if you can't find actual Cherry Wood or cherrywood charcoal.
Date published: 2020-06-13
Rated

5

out of

5
by
tpclark5
from
Delicious Smoky Wood Flavor
I have experimented with all different kinds of grilling, smoking, and cooking meats and smoking is one of my absolute favorites. These pellets make life so much easier than having to wither go out and hunt down specific woods types and having to chop wood and make my own briquets for smoking. These pellets are easy to get smoking started and can be used in pretty much any type of cooking you want to do to add some nice smoky flavor to your meats. The pellets create good smoke without being overbearing. I also use these sometimes in bonfires as they add a nice sweet smell to the smoke the fire produces, just makes it a bit more pleasant for those that don't care for the smoke. Overall, i these are a great choice to try at your next barbeque or in your smoker, you won't be disappointed.
Date published: 2020-06-12
Rated

5

out of

5
by
MariaB
from
Great Flavors
I was eager to try these pellets on vegetables and veggie burgers. I was afraid that I would have to give up grilling after adopting healthier eating habits. I was pleasantly surprised that these pellets gave my roasted vegetables a savory and delicious taste. The flavors infused into my food was simply amazing. I have roasted potatoes, corn and asparagus using these pellets. My veggie burgers also tasted wonderful. So far I have only tried the Cherrywood pellets but I can't wait to try the four other flavors. I don't have a pellet grill but I was able to use these on my gas grill with a stainless steel smoke box.
Date published: 2020-06-10
Rated

5

out of

5
by
Whitt888
from
Adds great flavor!
We grill quite a bit so I was real excited to give these pellets a try. The cherrywood pellets are super easy to use and adds a very nice flavor to your food. I love the 5lb bag as itll last for quite a few cookouts. Will absolutely be buying these more often and would recommend it to anyone who wants a little extra flavor to their food.
Date published: 2020-06-10
Rated

5

out of

5
by
Cougheebean
from
Great wood pellets!
These Pellets are Great, they work wonderfully on my pellets grill and gives milder smoked taste. I normally smoke with mesquite which My wife doesn't really enjoy(she says the mesquite taste is too strong). tried pork ribs with these pellets And My wife actually enjoyed them a lot. I also sprinkled a bit on my charcoal in My Weber and worked quite nice.
Date published: 2020-06-05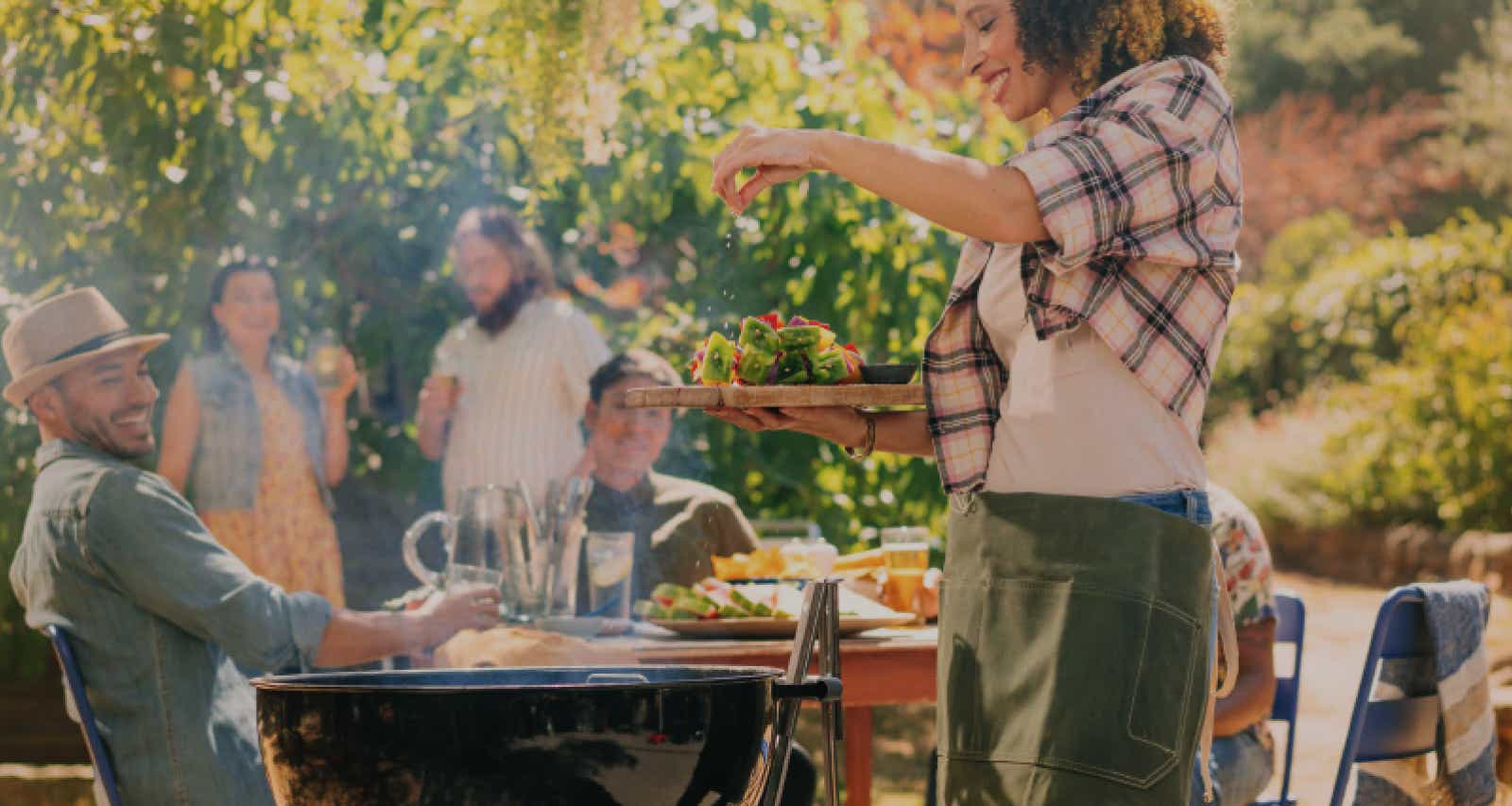 Light your fire with all new Kingsford® products.
Explore our full range of charcoal, pellets and flavor boosters to take your grilling to the next level.