Kingsford® Signature Flavors Hardwood Pellets
Memphis BBQ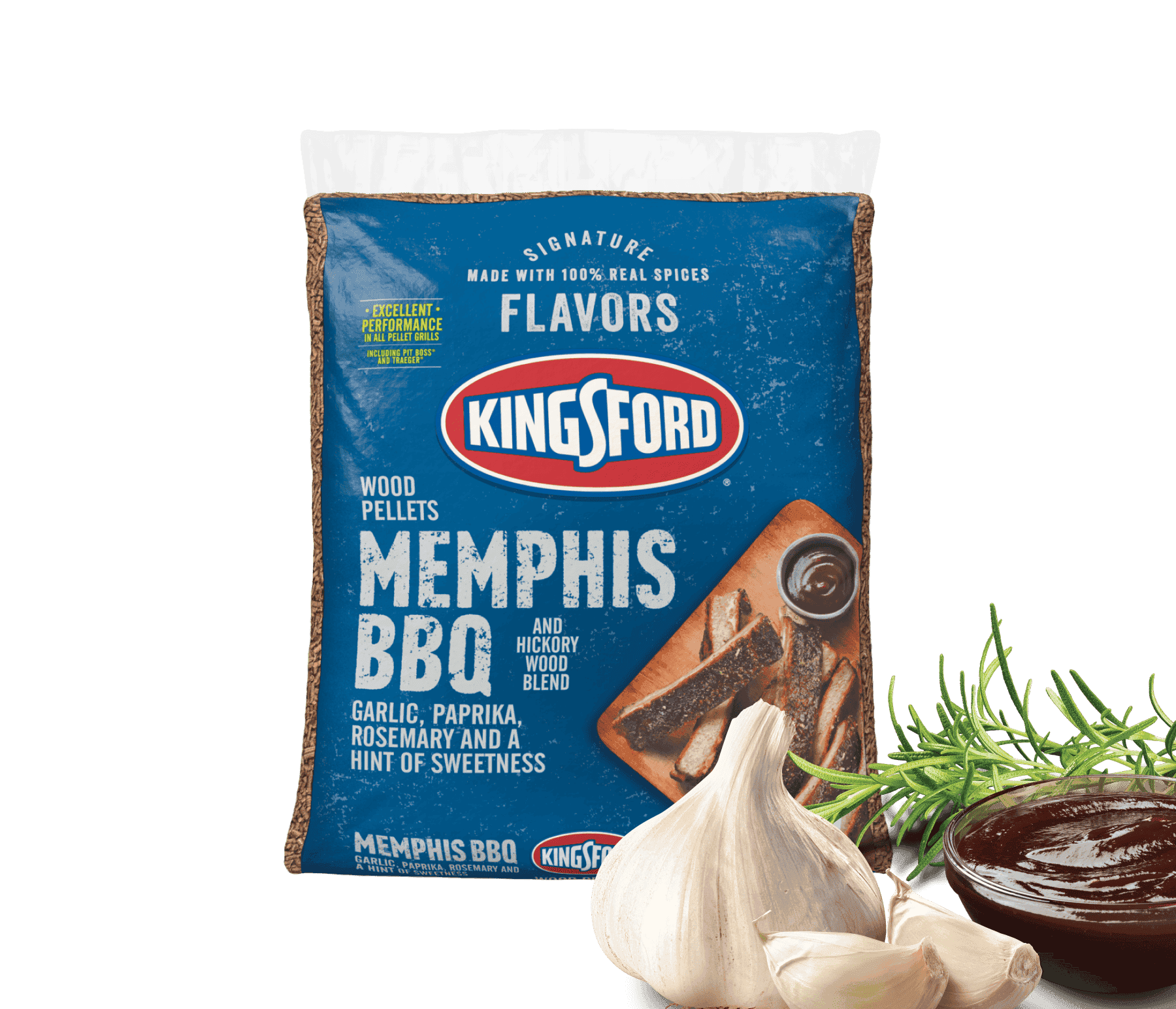 Made in the USA

Great for Any Pellet Grill
Experience flavor like never before. Memphis BBQ enhances the rich character of hickory smoke with sharp notes of paprika and garlic, adding to your food an indulgent finish of caramel aromatics with a hint of  herbal  notes. Made with a hickory wood blend, these grilling pellets elevate your flavor profile with 100% real spice. No artificial flavors. No artificial colors. No bull. Enjoy excellent performance in all grills*, including Traeger and Pit Boss.
The 100% real spice flavor pairs well with ribs, beef, chicken, pork, lamb and vegetables.
* See back of pack for instructions.
Rated

5

out of

5
by
scarle291
from
Flavorful
Kingsford products have always been a favorite. When we purchased our first pellet grill we knew we had to use Kingsford pellets. These Memphis BBQ pellets work great. They add a nice flavor when we are smoking meat. Hickory wood blend with a touch of garlic, paprika and rosemary. A 17 pound bag lasts us about 16 hours when smoking meat on low heat. They are easy enough to get into our hopper. The pellets get going really nicely and they burn evenly. I also really like that these pellets are 100% natural. There is nothing artificial added to them. We will definitely continue using Kingsford pellets.
Date published: 2023-02-25
Rated

5

out of

5
by
Mg1976
from
tons of flavor
There is so much flavor in these little pellets. I was thinking there is no way it can taste like the spices in it. Guess what you can taste the spices and not over powering smoke flavor. It didn't take long for them to get going. I'm trying all flavors. I'm combining 2 flavors and see what i come up with. will update later.
Date published: 2023-02-13
Rated

5

out of

5
by
Jle213
from
Great flavor, would get again!
I have to admit, I kinda hate getting refills of pellets, and especially trying new ones. But I would buy these again in a heartbeat. Great taste/smoke ring and there were no issues with the smoker loving these pellets.
Date published: 2023-02-11
Rated

5

out of

5
by
Jenny
from
Great flavored hardwood pellets
I really liked these hardwood pellets. They were easy to load and burned really evenly. The pellets also seemed pretty solid, not crumbly or powdery. The BBQ flavor isn't super pronounced, so it didn't conflict with the other rubs and sauces I used. It definitely does add a nice spice to ribs and chicken, and I imagine it would be good on any protein. Cleanup was a breeze. I've got another bag in a different flavor - looking forward to trying the whole line.
Date published: 2023-02-05
Rated

5

out of

5
by
Babygirl
from
The best wood chips
I got the Kingsford Memphis BBQ wood chips because a friend said it was awesome. I added some to my regular Kingford Charcoal when I was making ribs for a party. The smell as they were cooking was so mouth watering. I couldn't wait to try them. They tasted better than my go to BBQ place. Everyone at the party wanted to know where I got them from cause they wanted to go get some. They couldn't believe that I made them. Thank You Kingford for making me the talk of the party!
Date published: 2023-02-04
Rated

3

out of

5
by
Slaubsch
from
Worked great once we got them going
Only complaint for us was that it was hard to get the pellets going. But once they started going, worked great. They gave out meat great flavor. We would definitely use again and give it another try. Lasted a long time as well
Date published: 2023-01-29
Rated

5

out of

5
by
graposo
from
Smells and tastes great!
I have a pellet smoker that I love to use to smoke meat and have just started getting more into different flavors. This Memphis BBQ from Kingsford is excellent tasting when I smoke chicken and beef it will be my go to for BBQ from now on. The pellets burn evenly and the taste is incredible. I highly recommend these pellets for anyone looking for that great BBQ smoked flavor. 10/10!
Date published: 2023-01-26
Rated

5

out of

5
by
AndrewB
from
A difference Maker
This is a great product that delivers an amazing flavor. It is easy to use, lights easy, provides a lot of heat, and delivers on taste. I would recommend this to anyone who's grill uses pellets. This is another quality Kingsford product!
Date published: 2023-01-25
Rated

5

out of

5
by
Mfmanuel
from
Good smoke
I have a Traeger pellet smoker and they recommend you only use their pellets. I've been wanting to try other brands to see if they work since the Traeger ones are so expensive. The Kingsford pellets had no problem doing the job. They create plenty of smoke And work just fine in the Traeger. I used to use Kingsford charcoal all the time and now I plan on using some more Kingsford pellets.
Date published: 2023-01-25
Rated

5

out of

5
by
Meboo29
from
Wonderful pellets!
These kingsford pellets are my new favorite! They add the perfect touch of flavor when I smoke my meat. They don't burn fast so they last me awhile. The bag didn't have a ton of powder in the bottom which was another plus. I definitely can't wait to try the other flavors!
Date published: 2023-01-25
Rated

5

out of

5
by
TennisStar
from
Packs a punch!
These Memphis BBQ smoker pellets are amazing! The flavor is so bold and packs a real punch. The smell is so good. It smells like a BBQ heaven when in use. You need to smell it for yourself! The meat we cooked had a delicious, bold flavor from these pellets. It added so much depth to the meat everyone LOVED it!
Date published: 2023-01-24
Rated

5

out of

5
by
KellyM123
from
Delicious flavor
Excellent BBQ flavor. Kingsford Signature Flavors Hardwood Pellets are easy to use for my BBQ pit and allows for meats to become juicy and flavorful. These amazing pellets have an authentic hardwood Memphis BBQ flavor that creates a beautiful aroma when barbecuing. The meats come out tender and delicious and it is all thanks to these amazing pellets. The added feature is that they are easy to clean after usage and allows for a wonderful time barbecuing without any worries of excess cleanup. I highly recommend these Kingsford Signature Flavors Hardwood Pellets for their added flavor to my favorite meats and for their high quality and effectiveness.
Date published: 2023-01-23
Rated

5

out of

5
by
Tanya221
from
Smell amazing
I'm so glad that we got these kingsford signature pellets. Not only do they smell amazing when in my smoker, but they add such a great smoky taste to the food. I can't recommend them enough! I'll be buying them every time now
Date published: 2023-01-22
Rated

5

out of

5
by
Kerry426
from
Can't wait
I received this product and I'm so glad I did. I can't wait til summer time so I can fire up my grill and use them. They smell really good. Thank you for giving me the opportunity to be able to try this out
Date published: 2023-01-21
Rated

5

out of

5
by
Angel49
from
Kingsford Hardwood Pellets
This is such a great value for the price! I love smoking ribs and Kingsford pellets has been by far the best pellet product I have ever used. I love Hickory smoked but Kingsford has you covered no matter what you like.
Date published: 2023-01-21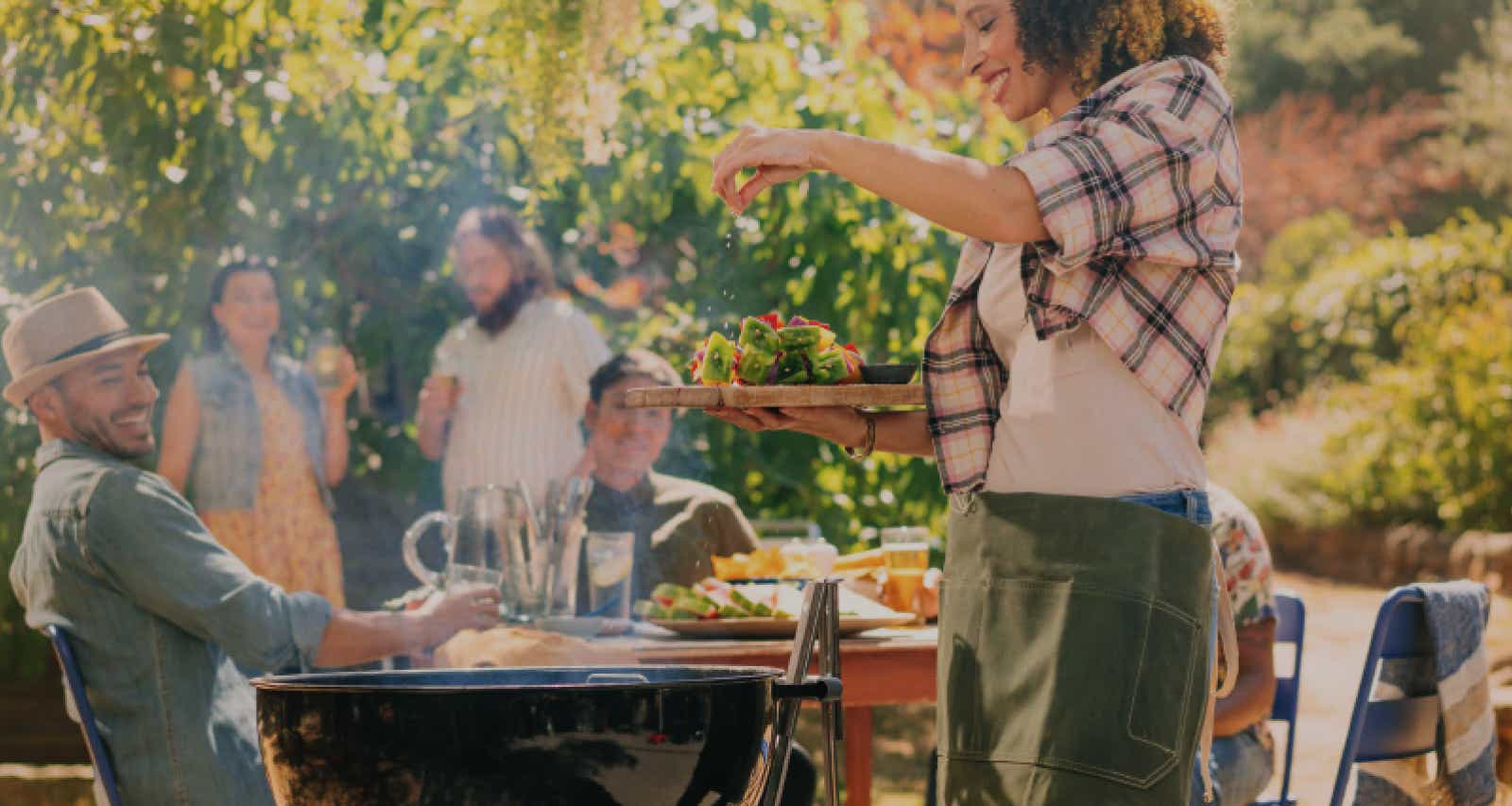 Light your fire with all new Kingsford® products.
Explore our full range of charcoal, pellets and flavor boosters to take your grilling to the next level.