Kingsford® Signature Flavors Hardwood Pellets
Garlic Onion Paprika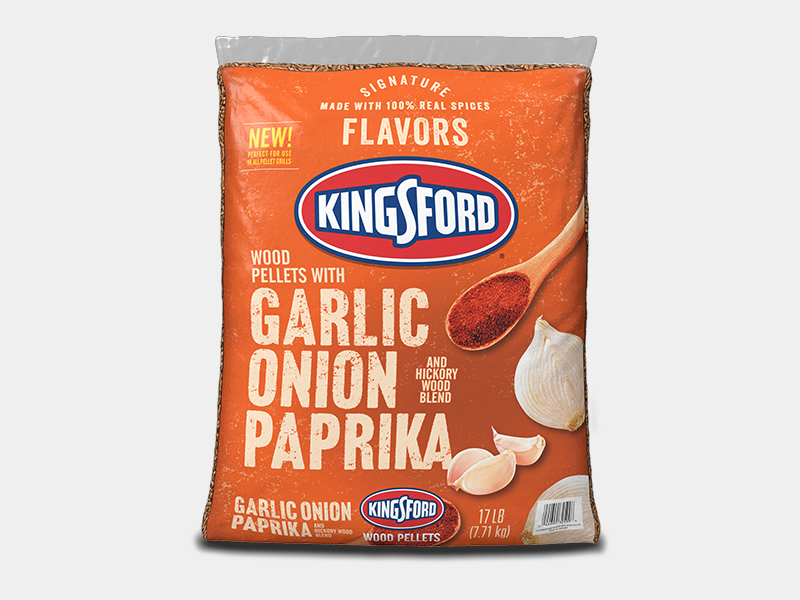 Experience flavor like never before. Made with a hickory wood blend, these grilling pellets are infused with 100% real spices for an extra layer of flavor for your entire cook. No fillers. No binders. No preservatives. No bull. Enjoy excellent performance in all grills*, including Traeger and Pit Boss.
The 100% real spice flavor pairs well with all your chicken, beef, pork, fish and vegetable dishes.
* See back of pack for instructions.
---
---
Made in the USA
Great for Any Pellet Grill
---
Adventurous Eats
---
Take your taste buds outside their comfort zone with these unexpected twists on grilling favorites.
Rated

5

out of

5
by
Bearsrngr
from
Great pellets
Amazingly good aroma for grilling meat. Just wish it was easier to find them.
Date published: 2023-05-21
Rated

4

out of

5
by
Banannalady
from
Kingsford Pellets worked well.
I had my husband grill a brisket with Kingsford garlic, onion and paprika pellets. They kept the heat well and burned for a long time, even though we had to add more half way thru cooking, but that is to be expected when cooking a brisket. I loved the smell of the garlic and onion while it cooked. I really couldn't smell the paprika but I don't really know what that smells like anyways. My only disappointment was that I couldn't taste the flavors in the meat. Might be because I had Covid before and don't think many taste buds are back to normal yet.
Date published: 2022-08-18
Rated

5

out of

5
by
Chad86
from
I'm a believer
I was a little on the fence when I got these since I typically use apple or pecan, but so was not disappointed, they add an amazing flavor, and they smell great.
Date published: 2022-07-31
Rated

5

out of

5
by
Miss briquettes
from
Garlic Onion Paprika Briquettes
I purchased all three flavors in South Carolina at a Walmart SO GLAD I DID because they weren't yet available in NJ. I used the garlic onion paprika briquettes on my charcoal grill the smoke infused flavor into the meat which was AWESOME, my neighbors kept enquiring about the aroma of spices that I was using compared to my regular charcoal smell that was in the air. I would definitely recommend to use these as a flavor enhancer or addition to your smoker for add flavor
Date published: 2022-03-21
Rated

5

out of

5
by
bilago
from
Burns good
I use a masterbuilt smoker with an amaze n smoker pellet tube and these pellets burn just as good as the other brands I've tried. They do give off a scent of spices which is definitely different, but it imparts a good flavor into the meat I've smoked with it so far. Will buy more
Date published: 2022-02-17
Rated

4

out of

5
by
Donna01
from
Great Quality Product!
Kingsford's Signature Flavor Pellets ( Garlic, Paprika and Onion) are amazing. Adding these to either my gas or charcoal grills are a game changer. I have always struggled with my flavor profile when it came to my gas grill, no matter how much seasonings I added it just didn't seem to be enough. Smoking meats with these pellets are the best way of get the flavors all through the meat. Kingsford Signature Flavor Pellets are the newest and best way for me to get extra flavor.
Date published: 2021-12-20
Rated

5

out of

5
by
Blue42
from
Yum!
This was my first time trying Kingsford Flavor Pellets and it was a hit with the family. The instructions were easy to follow. You can really pick up in the scent when you starting cooking and boy does it smell yummy. You can use it on chicken, beef, pork, veggies, etc... It adds just the right amount flavoring to your food, nothing overpowering. You get plenty of pellets in a bag and I think it's a good buy. I recommend giving it a try.
Date published: 2021-12-11
Rated

5

out of

5
by
Jc20
from
Great gift
I bought this around 2 months ago for my cousin that loves to smoke meat. He told me that this produces a good flavor in the meat. He said he was very happy with it. He said he smoked pork chops with these pellets and looking forward to smoking more.
Date published: 2021-11-19