Kingsford® Signature Flavors Hardwood Pellets
Bourbon BBQ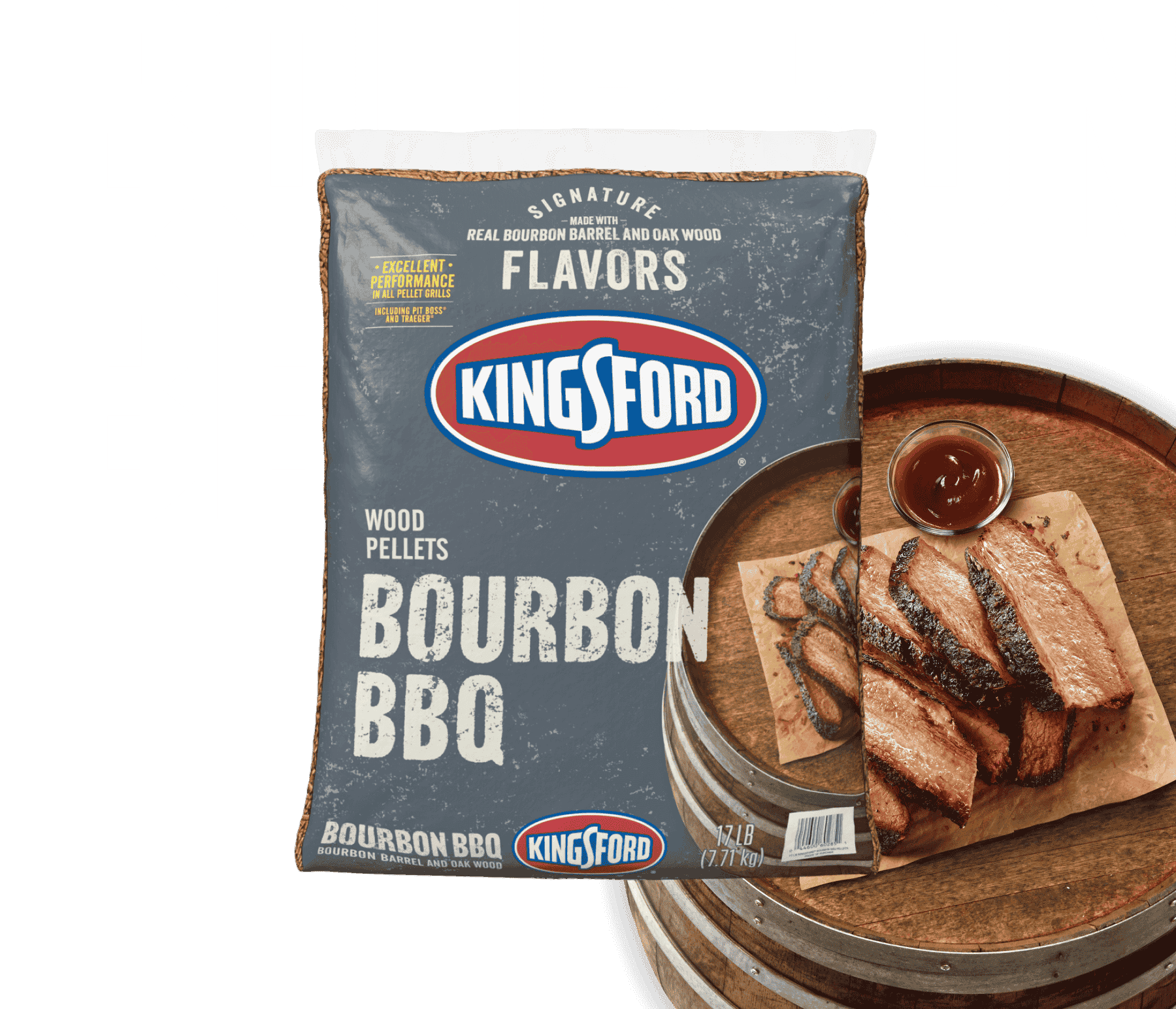 Made in the USA

Great for Any Pellet Grill
Experience grilling like never before. Kingsford® Signature Flavors Bourbon BBQ Wood Pellets enhance the rich character of oak wood with the aroma of aged bourbon barrels. No artificial flavors. No artificial colors. No bull. Enjoy excellent performance in all grills*, including Traeger and Pit Boss.
Bourbon BBQ pairs well with ribs, beef, chicken, pork, lamb and vegetables.
* See back of pack for instructions.
Rated

5

out of

5
by
Finny
from
Flavor taste great.
The Bourbon Barbecue flavored Kingsford® Signature Flavors Hardwood Pellets are a great addition to smoking food. They pellets smell great and add just enough flavor to our pulled pork that we can't wait to try it again.
Date published: 2023-02-06
Rated

5

out of

5
by
Barb1
from
Great Hardwood Pellets
Wow! these pellets pack a wonderful flavor to the foods cooked on the grill. I was very surprised that I could not only smell the bourbon scent but also tasted it on the food. I think my neighbors were enjoying the scent too. The pellets burn well. Can't wait to try other "flavors"!
Date published: 2023-01-30
Rated

5

out of

5
by
Hockeycc
from
Nice flavor
Decided to take advantage of a rarely warm day this winter and grilled some ribs with these new wood pellets. The flavor infused the ribs quite well. I didn't expect the flavors and aroma to come through that well but worked. Would try these again and other flavors as well.
Date published: 2023-01-26
Rated

5

out of

5
by
bnb2005
from
Great Flavor!
We love to grill and were excited to try the Kingsford Bourbon BBQ pellets. They make steak, chicken and pork taste great! They infuse an awesome flavor into the food. They are small and easy to use. Looking forward to trying other flavors now too!
Date published: 2023-01-26
Rated

5

out of

5
by
Scuba83
from
Amazing Product !!
I bought this a week ago best choice I made. I wanted a charcoal that could boost off some flavors in my food . I went shopping that morning searching for the perfect one , I came across this decent size bag I noticed the flavor and I truly love this flavoring. Later that weekend it was nice out I decided to use it , I cooked some burgers , steaks on my grill I was blown away firstly how slow it burned but cooked my foods nicely, I love grilling you could truly smell the smoked flavor in the air . So when my food was done we all tried it I was in my glory how well the smoked BBQ flavoring was in the food it was by far the best flavor I've tried its now my favorite go to product a must have you'll be so glad you buy this !!!..
Date published: 2023-01-25
Rated

1

out of

5
by
AdamsMama
from
DNF
We have a Traeger and have been using Traeger pellets from the start. We tried these bourbon bbg ones and it was a big fail. We attempted to use them on smoking a brisket. A BRISKET. Am expensive cut of meat and the pellets smoked out the grill and the grill shut down several times and we had to finish in the oven. Was very disappointing. We are in MN and it is cold, but was not unreasonably cold that day. We removed the remnants and tossed.
Date published: 2023-01-25
Rated

5

out of

5
by
tai1414
from
Tastes great
These kingsford - Kingsford® Signature Flavors Hardwood Pellets — Bourbon BBQ make any food we taste great. Love the Smokey bbq flavor and love how it adds to our food. Would definitely recommend this product.
Date published: 2023-01-20
Rated

5

out of

5
by
PattiG
from
Amazing taste
I got this a couple of weeks ago because no matter the season, my family loves to cook out. This absolutely makes your food taste amazing. The flavor is very tasty. It is easily used and easily cleaned
Date published: 2023-01-20
Rated

5

out of

5
by
Paul 114
from
Great pellets
These are great pellets I would have to say the best that I have used works great the burn was perfect no problem at all works very well I will definitely continue to use them I would definitely recommend these to my friends
Date published: 2023-01-20
Rated

5

out of

5
by
Friz
from
Smells and Tastes Great!!
I used these pellets with my smoker. I am impressed how well they worked and the smoke flavor was not too strong. Kingsford has a long history of quality outdoor cooking products and again did not disappoint with these pellets.
Date published: 2023-01-19
Rated

5

out of

5
by
ImMrsMiller23
from
Kingsford Great
I chose this product mainly because in my opinion Kingsford is king when it comes to outdoor cooking. There is no comparison hands down. My son-in-law bought a new grill/smoker so I asked him what he thought. His words; Still the best! The aroma that filled the air was enticing to say the least. The subtle flavor in the meat was perfection, and was not overwhelming. Great product and definitely worth a try and the money!
Date published: 2023-01-18
Rated

5

out of

5
by
Rfp1962
from
Kingsford pellets
I have a small pellet smoker on my deck and love to find new recipes for it. This pellet blend is awesome for nearly any meat, as it has been curated to complement a wide range of proteins. I used it first to make ribs, and everyone raved about the flavor, so I smoked a chicken and it was so so amazing, I will definitely be doing more of those!! The pellets themselves are well formed and the bag didn't have much dust when I poured it into an airtight container. It is best to store in an airtight container to preserve the hardwood, easy burning quality. The quality of these pellets is are excellent with the same brand as my pellet grill, which is to say it is very high quality. I have only had the bourbon Barbeque blend, but I look forward to trying the other varieties. I highly recommend Kingsford wood pellets, the quality is terrific!
Date published: 2023-01-17
Rated

5

out of

5
by
SherriM
from
Love these!
These pellets are pretty great. We decided to grill out and try these pellets. I swear it was the best tasting chicken. The pellets were easy to start and lasted for a while. While the pellets are small they give off a pretty good smelling scent also.
Date published: 2023-01-17
Rated

4

out of

5
by
Jkb1326
from
Great flavor
I ordered the kingsford signature flavors hardwood pellets the few weeks ago. We love to smoke our food. The pellets word great in out smoker. They are easy to use and leave a great flavor in the meat. We will be getting more.
Date published: 2023-01-17
Rated

5

out of

5
by
ClarkeW2
from
Good Cooking!
Was able to get these on the grill this weekend and they worked great. Steaks came out good and chicken came out great. Was able to get a little sample of everything and these pellets worked great. Will definitely be getting more.
Date published: 2023-01-16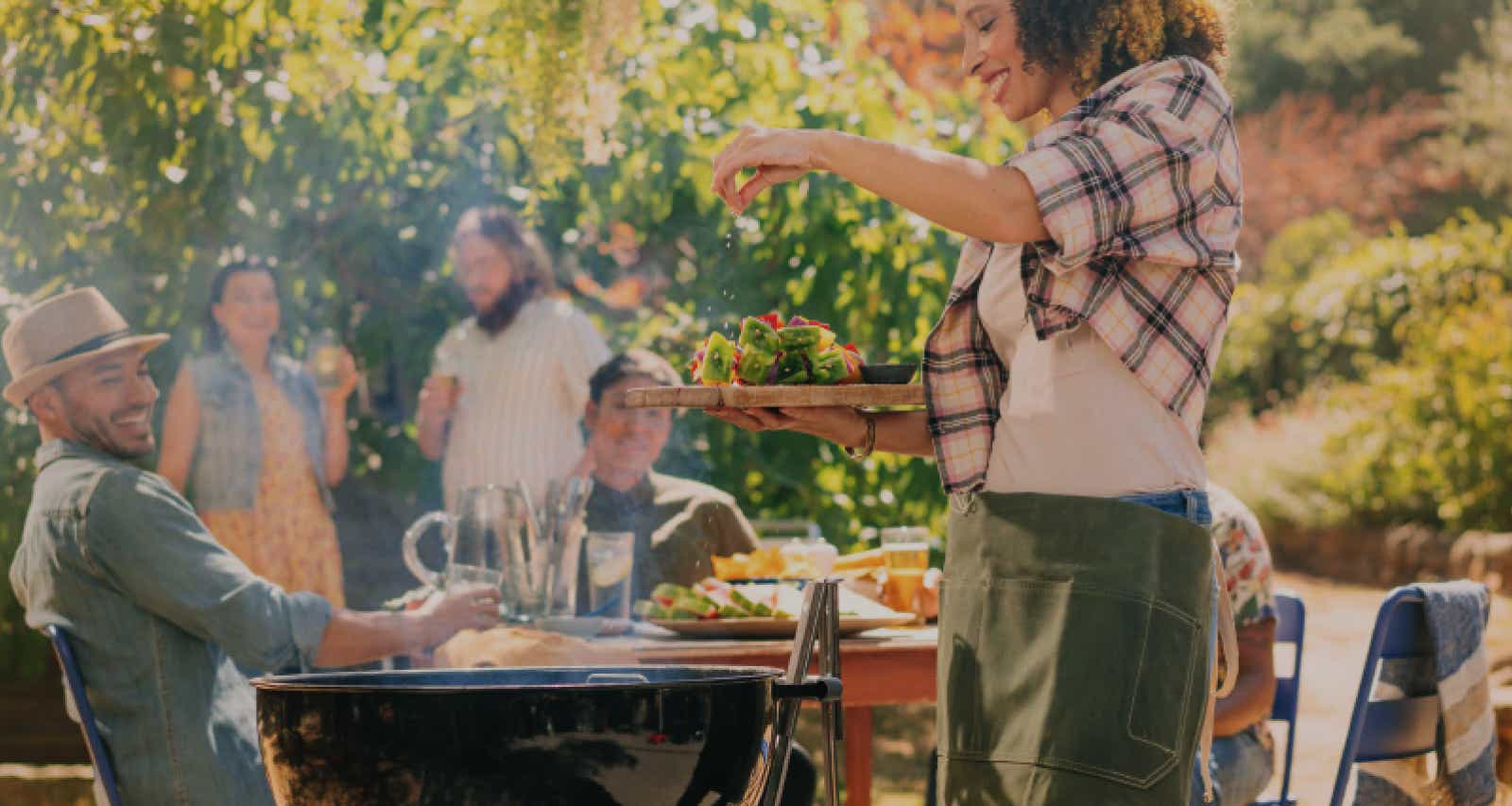 Light your fire with all new Kingsford® products.
Explore our full range of charcoal, pellets and flavor boosters to take your grilling to the next level.