Kingsford® Signature Flavors Flavor Boosters
Memphis BBQ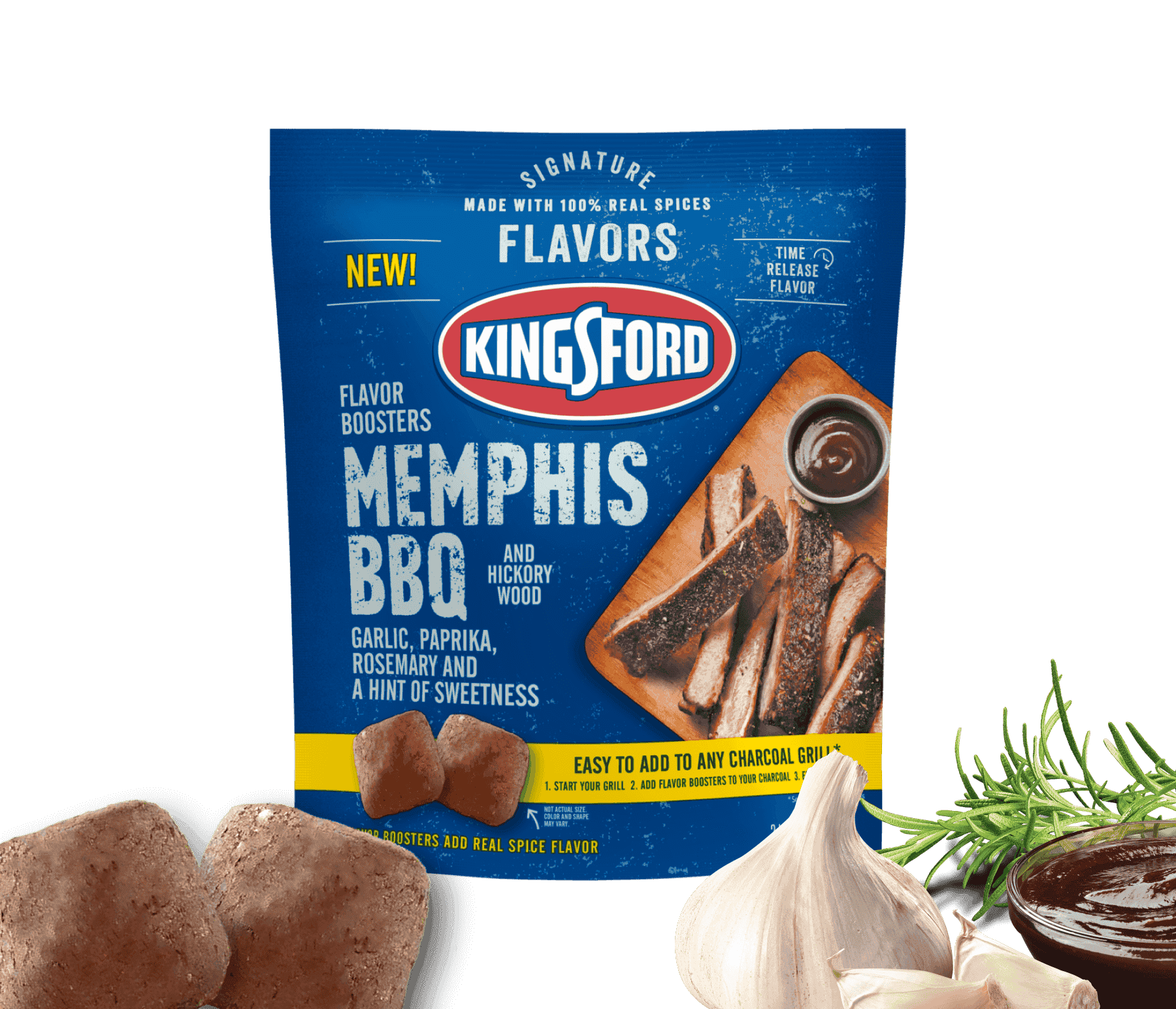 Ready to cook on in 15 minutes
Your grill has never seen flavor like this. Memphis BBQ enhances the rich character of Hickory smoke with sharp notes of paprika and garlic, adding to your food an indulgent finish of caramel aromatics with a hint of herbal notes. The steady time release of flavors makes for an elevated taste. Easy to add to any charcoal grill, Kingsford® Flavor Boosters are ready in about 15 minutes to start grilling all your favorite foods.
The 100% real spice flavor pairs well with ribs, beef, chicken, pork, lamb and vegetables.
Rated

3

out of

5
by
Vikki
from
Not bad.
I recently had a BBQ and I used Kingsford Singanature Flavors Flavor Boosters, Memphis BBQ and it was pretty good. It gave my meat an extra smoky flavor to it which I liked a lot. It's wasn't what I expected flavor wise but I will definitely give the other flavors a try.
Date published: 2023-06-24
Rated

5

out of

5
by
Nicky232807
from
Wow!!
I didn't have high expectations for this to actually make a difference. But I have to say I'm shocked. It really worked! It really changed the flavor of our food! It was unbelievable! We used it like we would use regular charcoal and it enhanced the flavor of our hotdogs and burgers. It tasted amazing. I would love to try other flavors and would 100% buy again!
Date published: 2023-06-15
Rated

5

out of

5
by
Sissy22
from
BBQ flavor
Yes, I received it and sorry i have been extremely busy with doctor appointments and getting into my new place. I loved it, I love everything you guys send if I can't use the product someone in my family is always able to use it.
Date published: 2023-05-07
Rated

5

out of

5
by
Haras
from
Overall solid grill booster
Thank you kingsford and tryit.sampling for this incentivized opportunity to explore kingsford signature flavors flavor booster in Memphis bbq flavor. This was easy to use and added a little something to the fire. Great smoke!
Date published: 2023-03-21
Rated

4

out of

5
by
maramt
from
Add pep to your grill
The Kingsford Memphis BBQ flavor charcoal was a great time. Easy to light, and stayed burning for a very long time. The smell of the spices were very apparent, and added great flavor to my protein. I still suggest seasoning your protein with the same or similar spices in it like garlic, paprika, and rosemary. I've never seen anything quite similar on the market. Overall, a fun and tasty experience!
Date published: 2023-03-05
Rated

5

out of

5
by
Mizzinfo1
from
Kingsford signature flavor booster
I brought this a month ago and I am so glad I did the Kingsford signature booster flavor in Memphis bbq is a great product that has my food smelling and tasting so good. The Kingsford has 100% real spices
Date published: 2023-02-27
Rated

5

out of

5
by
Jojo31
from
Very good
I bbq some chicken. These were very good. They had a good smell fresh out of the bag. They lit real easy with the regular charcoal and lasted for a very long time. I cooked for about an hour and half and they never broke apart only got a little smaller. You could taste the flavor in the meat. It had a nice rustic taste really giving it a smokey taste.
Date published: 2023-02-23
Rated

5

out of

5
by
Smoker68
from
Trust the Kingsford name!
With the long trusted name like Kingsford, you know that dinner is going to taste incredible. These flavor boosters certainly do that, boost that rich Memphis BBQ flavor! We had guests for dinner and can confirm, not one bite left!
Date published: 2023-02-23
Rated

4

out of

5
by
TrueGEM
from
Great flavor
I typically don't do charcoal because the flavor is bleh. That was not the case in this instance. I can't wait to try the other flavors. I will never use the liquid smoke before trying this again. The only drawback is that the chips burn up really quickly, not affording you much cooking time.
Date published: 2023-02-21
Rated

5

out of

5
by
Proudmom1216
from
Tastes great
I loved adding this to my charcoal made my food come out amazing. I used these flavor boosters on chicken and beef and wow! You could really taste the garlic and rosemary really come through. I also like how it's got a nice sweetness to it that just really make the food pop!
Date published: 2023-02-21
Rated

5

out of

5
by
Tg14
from
TG
I got this Flavor booster to try with some chicken and it turned out Amazing! I paired it with the kings first charcoal and the smell was absolutely mouth watering! It was easy to load on to the grill as well as cleanup! Can't wait to try other flavors.
Date published: 2023-02-21
Rated

5

out of

5
by
cubscandyman
from
Amazing
The Midwest weather finally had a warm period, so I was able to grill over Super Bowl Weekend which was perfect. We naturally season our meats, so I wasn't sure how it was going to be using a flavor booster, but WOW the extra boost of flavors was perfect, it wasn't overpowering but gave the perfect boost to our meats. I used this on my Charcoal grill. First I added my charcoal, fired up the grill as I normally do and then I added about seven of the boosters on top of my charcoal and waited about fifteen minutes for the boosters as well as my charcoal to be ready to cook on. Shortly after adding them, you can already smell the extra spices in the air making your stomach rumble for what you know is going to be a good meal. We used it while grilling Ribs, chicken, burgers corn and hot dogs, Everything tasted flavorful and great. We use Kingsford as our go to charcoal and it's a company and product we can proudly stand by in our family, But now we will make sure to add the Flavor boosters to our shopping list for anytime we grill. The whole family enjoyed the meal. Don't just take my word for it, give it a try, you won't regret it.
Date published: 2023-02-21
Rated

5

out of

5
by
ChristinaT
from
Tasted so good
This flavor booster did exactly the job that it was supposed to. It made my chicken taste so much more flavorful than normal charcoal alone does. I will definitely be buying this again and enjoyed it greatly.
Date published: 2023-02-21
Rated

5

out of

5
by
Emilyh
from
Great grilling addition
Kingsford has long been my grilling go to for charcoal and lighter fluid. I was excited to see this new product of flavor boosters and wanted to give them a try. Very simple to use, adding to the mix after charcoal is lit. When I looked at the pairing guide on the bag, it goes well with so many types of meat plus vegetables. My choice for testing was chicken. The flavor addition from the boosters is noticiable and a great addition to, in this case, chicken. I will be getting some to gift around Father's Day and add another flavor or two to my grill tests. Very happy with this product.
Date published: 2023-02-19
Rated

5

out of

5
by
Caela89
from
Smells great
I used this for the first time on super bowl Sunday and it made everything taste and smell amazing! I will definitely be using this from now on at all of my cook outs! I can't wait to try any other flavors.
Date published: 2023-02-17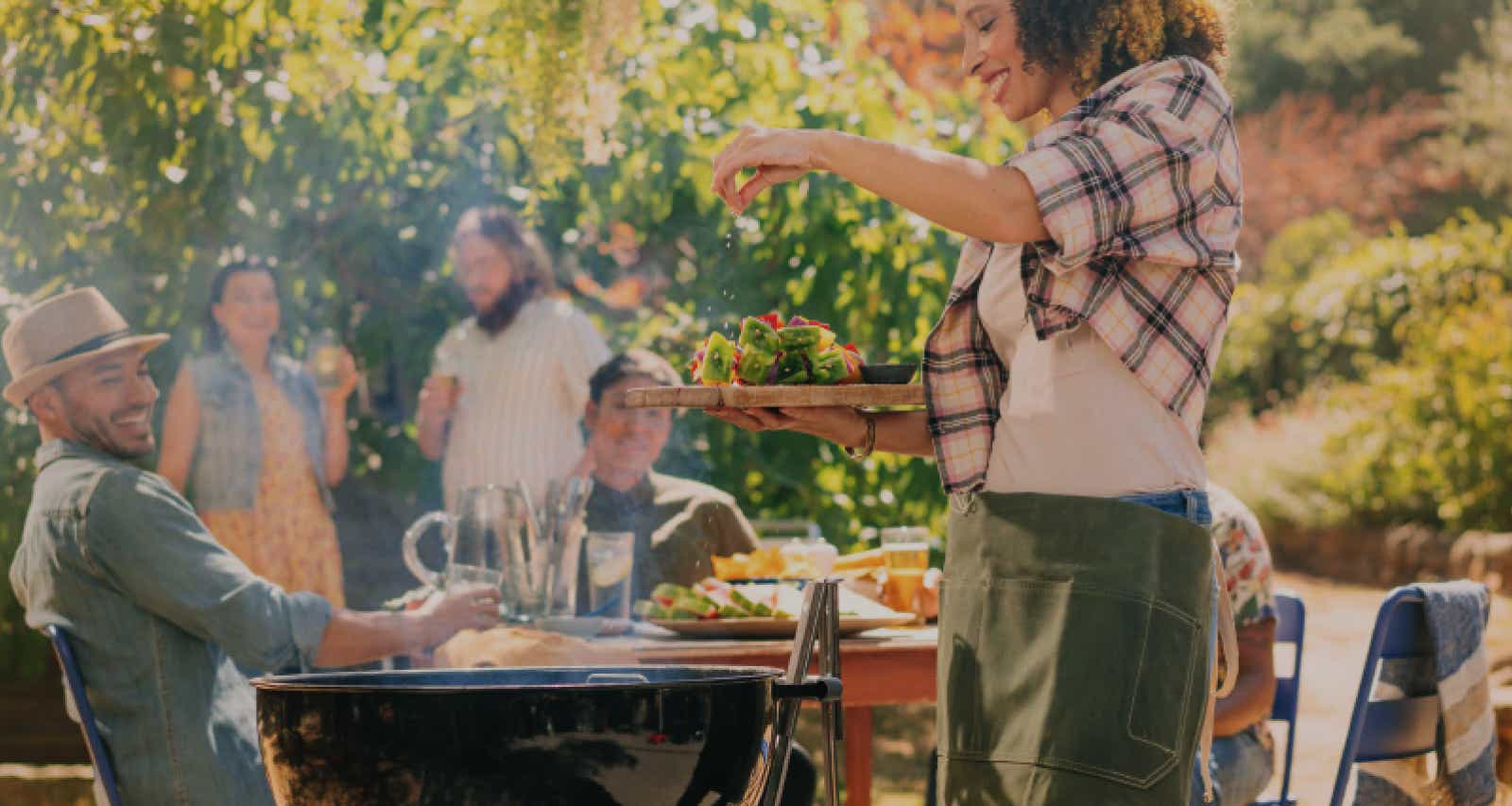 Light your fire with all new Kingsford® products.
Explore our full range of charcoal, pellets and flavor boosters to take your grilling to the next level.