Kingsford® Signature Flavors Flavor Boosters
Basil Sage Thyme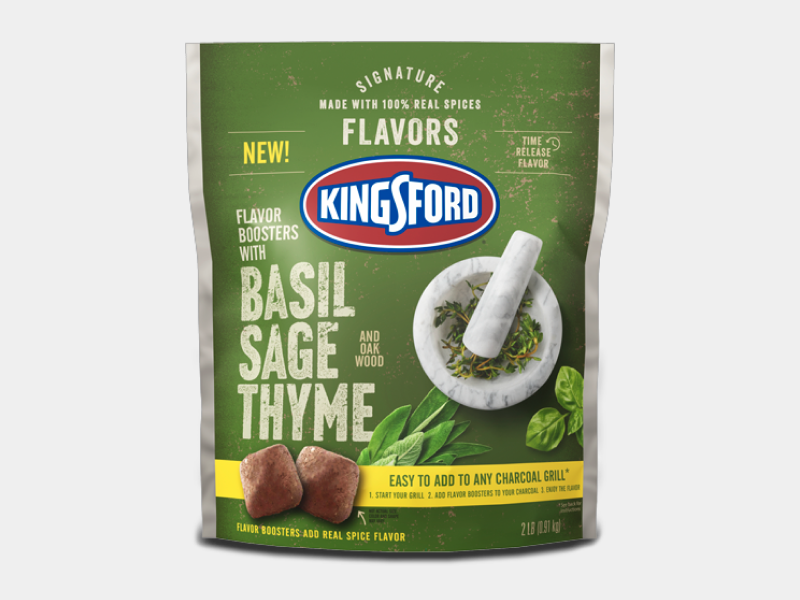 Your grill has never seen flavor like this. Get smooth, balanced flavor you can see, smell and taste with Kingsford® Flavor Boosters. The steady time release of basil, sage and thyme flavors makes for an elevated taste to any grilling experience. Easy to add to any charcoal grill*, Kingsford® Flavor Boosters are ready in about 15 minutes to start grilling all your favorite foods. Light your grill as you normally would, add flavor boosters to lit coals and enjoy. Also available in 100% real spice pellets and blended charcoal briquets.
The 100% real spice flavor pairs well with chicken, turkey, lamb, pork, shellfish and vegetables.
* See back of pack for instructions.
---
---
Ready to cook on in 15 minutes
---
Adventurous Eats
---
Take your taste buds outside their comfort zone with these unexpected twists on grilling favorites.
Rated

4

out of

5
by
Destiney924
from
Great smell
These smelled so good while burning and gave a great taste boost to our chicken would definitely buy some more flavors to try and try different types of meat so easy to use and doesn't take any extra effort
Date published: 2022-05-08
Rated

4

out of

5
by
Sick
from
Easy to use
We tried the Kingsford - Kingsford® Signature Flavors Flavor Boosters — Basil Sage Thyme it was really easy to use and add into our grill. The flavor It put off onto the meat was really good. Almost like having a smoker but with using charcoal instead of wood pellets.
Date published: 2022-04-27
Rated

5

out of

5
by
Traciedaci
from
Great taste
Kingsford® Signature Flavors Flavor Boosters — Basil Sage Thyme helps the food taste so good. It's easy to use and I would recommend this to other people that enjoy grilling taste great and so so yummy
Date published: 2022-04-18
Rated

5

out of

5
by
bbrook88
from
Gives your meat great flavor
We love using our charcoal grill and experimenting with different types of smoking flavors. Kingsford is a brand we will buy most of the time. I was excited to see these flavor boosters and we tried them out on some chicken and steak. The flavors the boosters gave was amazing. They really added that extra touch of flavor that made them so yummy. I preferred the chicken and my kids loved it on the steak.
Date published: 2022-04-15
Rated

1

out of

5
by
CrazyLady
from
Was not impressed
Got this thinking it was a great idea. I was not wowed at all. It does smell a little different then your regular charcoal but the food really did not taste any different. I will give it another try and see.
Date published: 2022-04-06
Rated

5

out of

5
by
breezinby87
from
Summer Grilling Must Have
Our meals from the grill are now so much better! I didn't realize how much these flavor boosters would add to the flavor of our meat. We used these flavor boosters for burger and steak, I highly recommend it!
Date published: 2022-03-26
Rated

5

out of

5
by
Angelreviews1
from
Great smell
As soon as I picked up the bag the smell of sage hit me and I never knew I was missing this in my life! This is a great product. I will buy this many more times in the future. If you have not bought this yet I urge you to.
Date published: 2022-03-22
Rated

5

out of

5
by
Tbender
from
These are so convenient
I started my grill and added flavor booster to my charcoal. Keeping the top closed while cooking for maximum flavor That simple. I paired mine with shellfish and chicken and was delightful and savory. I highly recommend this product and can't wait to try the next flavor.
Date published: 2022-03-17