Wright's Barbecue Rocket Man
Write a Review
Read Reviews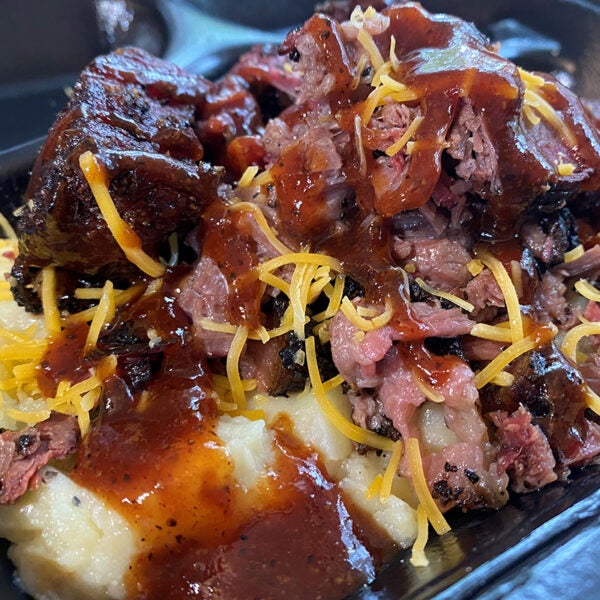 Yields:

10–15 Servings

Cook time:

17 h 30 m

Prep time:

35 minutes
Ingredients
Brisket
12–15 pounds brisket
2 cups kosher salt
2 cups pepper, restaurant-style or coarse ground
Bacon Burnt Ends
2 pounds skinless pork belly
¾ cup Wright's BBQ Meat Rub, or your favorite BBQ rub
Mashed Potatoes
1 pound butter
5 pounds potatoes
1 cup heavy cream
2 tablespoons salt
1 tablespoon pepper
1 tablespoon garlic powder
3 ounces brisket, chopped
2 ounces bacon burnt ends
optional assorted toppings: onions, shredded cheddar cheese, jalapeños, pickled onions, sour cream, Wright's Barbecue Sauce
Instructions
Brisket:
Build a two-zone charcoal fire for both direct and indirect cooking using Kingsford® Charcoal by situating the coals on only one side of the grill, leaving the other side void. Preheat the grill to 275°F.
Trim top fat of brisket to 1/4 inch. Trim off excess fat on the underside.
Cover the brisket in a 50/50 blend of kosher salt and black pepper.
Put brisket on the smoker for roughly 6 hours until your bark has turned a mahogany color and your top fat has softened. Wrap the brisket in butcher paper or foil.
Put the brisket back on and let it continue to cook until your internal temperature reaches 202–204°F and your flat feels like you can press through the meat with your fingers.
Pull the brisket into a tray and let it rest for at least an hour before slicing. You can also let it rest in a cooler for up to 4 hours.
Bacon Burnt Ends:
Take the whole belly and cut into 1-inch strips. Take those strips and make 1-inch cubes.
Toss those delectable cubes in your favorite meat rub seasoning and throw on the smoker until they reach 195°F or until they are tender to the touch.
Mashed Potatoes:
Slice butter and put in a pan to soften. Boil potatoes until fork tender and drain.
Place cream into saucepan and warm. Mash potatoes with butter and spices until fluffy.
Add warm cream and stir until incorporated.
Rocket Man:
To assemble the Rocket Man, place a large spoonful (approximately 4 ounces) of mashed potatoes on the plate you'll use for serving. Top with 3 ounces chopped brisket and 2 ounces bacon burnt ends. Top with Wright's Barbecue Sauce and top with any of the optional toppings as desired.
Jordan Wright Tip:
When preparing the brisket, remove any thin areas of the flat that will burn up during the cook.
Credit: Recipe created by Jordan Wright of Wright's Barbecue on behalf of Kingsford Charcoal
For safe meat preparation, reference the USDA website.