Vietnamese Shrimp Lettuce Wraps
Write a Review
Read Reviews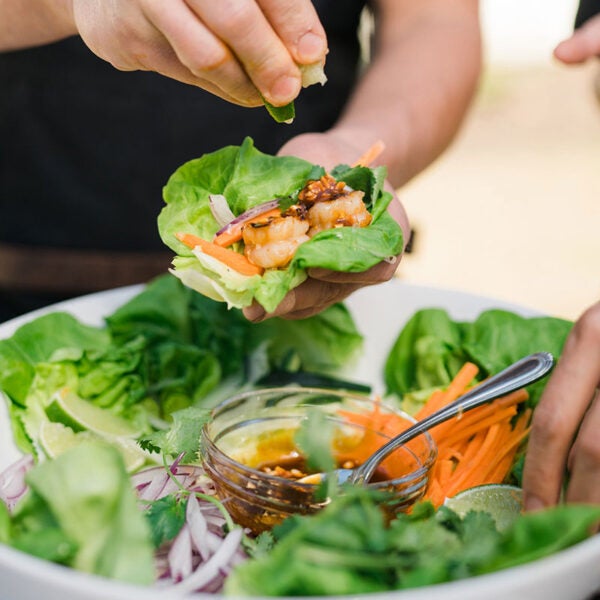 Yields:

4 Servings

Cook time:

10 minutes

Prep time:

3 h
Ingredients
36 jumbo prawns, peeled and deveined
2 cloves garlic, minced
½ shallot, minced
1 stalk lemongrass, minced
1 tablespoon Sriracha
2 tablespoons brown sugar
2 tablespoons fish saice
6–7 bamboo skewers
Dipping Sauce:
¼ cup hoisin sauce
2 tablespoons chopped peanuts
¼ teaspoon Sriracha
½ tablespoon rice vinegar
Wrap Ingredients:
1 Boston green leaf lettuce
½ cup julienned carrots
½ cup julienned English cucumbers
½ cup red onion
1 lime, cut into wedges
6 sprigs fresh cilantro, stalks removed
Instructions
For the Dipping Sauce: Mix the following ingredients in a mixing bowl to combine together: hoisin sauce, ¼ teaspoon sriracha, rice vinegar.
Top with 2 tablespoons chopped peanuts.
For the Shrimp: Soak your bamboo skewers for 1 hour to prevent them from burning on the grill.
Combine the following ingredients to make the shrimp marinade: garlic, shallot, lemongrass, 1 tablespoon Sriracha, brown sugar and fish sauce.
Put your shrimp and marinade into a bag and marinate for 3 hours or overnight.
Place each shrimp onto the skewers, careful not to overcrowd.
Set your Masterbuilt to 600°F.
Oil your grill with canola oil.
Place your skewers on the grill. Cook the shrimp skewers 1 minute on each side.
Serve with the following ingredients and the Dipping Sauce: Boston green leaf lettuce separated into whole leaves, julienned carrots, julienned English cucumbers, red onion, lime, fresh cilantro.
Credit: Recipe created by Howard and Anita Hsu of Sweet Auburn BBQ on behalf of Kingsford and Masterbuilt
For safe meat preparation, reference the USDA website.