Vegan Chocolate Chip Brownies in Cast Iron Skillet with Whipped Cream Topping
Write a Review
Read Reviews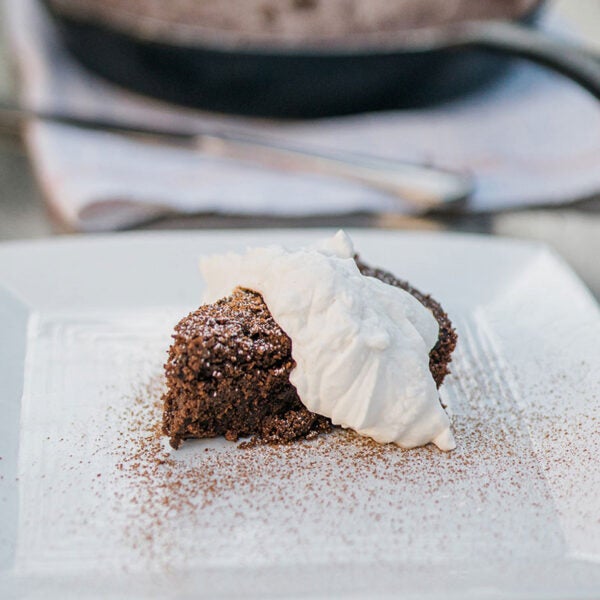 Yields:

4 Servings

Cook time:

30 minutes

Prep time:

15 minutes
Ingredients
2 cups all-purpose flour
2 cups granulated sugar
1 cup dairy-free chocolate chips
¾ cup unsweetened cocoa powder
1 teaspoon baking powder
1 teaspoon salt
1 cup water
1 cup vegetable oil
For Whipped Topping:
2 tablespoons confectioners sugar
1 teaspoon natural vanilla extract
1 cup canned coconut cream, chilled in refrigerator over night
Instructions
Heat the Masterbuilt to 360°F.
In a large mixing bowl, mix together the following ingredients: all-purpose flour, granulated sugar, cocoa powder, salt, baking powder.
Add in the water, oil and vanilla.
Mix in the chocolate chips.
Lightly oil an 8" cast iron skillet.
Pour the brownie mix into the skillet.
Place into the Masterbuilt oven for 25–30 minutes or until the top is no longer shiny. You can test the doneness by inserting a knife or toothpick into the center of the brownie. If it comes out clean, it is done.
While the brownie cooks, prepare the whipped cream topping. Whip the coconut cream by hand or with a mixer until stiff peaks form.
Add the confectioners sugar and vanilla and whip for 5 seconds more.
Keep chilled until ready to serve.
Remove the brownie from heat and allow to completely cool.
Serve with whipped cream.
Sprinkle with sifted cocoa powder and confectioners sugar
Enjoy!
Credit: Recipe created by Howard and Anita Hsu of Sweet Auburn BBQ on behalf of Kingsford and Masterbuilt