Sweet Auburn Chili Wings
Write a Review
Read Reviews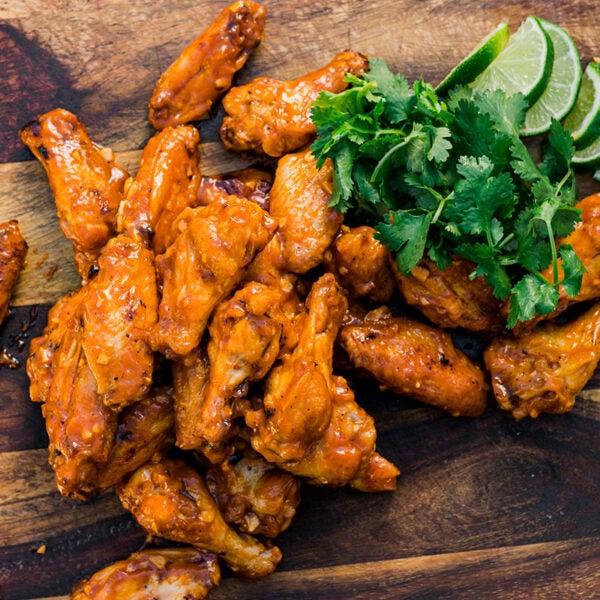 Yields:

4 Servings

Cook time:

30 minutes

Prep time:

10 minutes
Ingredients
2 dozen jumbo wings
8 ounces kosher salt
2 bunches green onion or fresh cilantro for garnish
1 lime
Brine:
8 cups water
½ cup kosher salt
¼ cup sugar
1 tablespoon whole black peppercorn
5 cloves garlic, smashed
Sweet Auburn Chili Sauce:
½ cup water
juice from 1 whole lime
juice from 1 whole orange
2 tablespoons cornstarch
1½ tablespoons sugar
1 tablespoon white vinegar
¼ cup organic ketchup
1 tablespoon Sriracha
1 tablespoon chili paste
1 tablespoon vegetable oil
6 cloves garlic, minced
Instructions
Stir all brine ingredients together until salt and sugar are dissolved. Brine wings in a neutral flavored brine (salt, sugar and garlic) overnight.
Heat Masterbuilt Gravity Series to 225°F. Add wings to the middle rack. Spread wings out so they are not touching so smoke can penetrate evenly throughout the wings.
Make Sweet Auburn Chili Sauce 5 minutes before serving wings.
Make slurry by mixing ¼ cup water and the cornstarch, mix well so it's consistent.
Sauté garlic with vegetable oil over low to medium heat in a saucepan for about 1 to 2 minutes (be careful not to overly brown).
Increase heat and stir constantly to avoid burning. Once sauce comes to a slight boil stir in a ½ teaspoon of the slurry at a time to thicken to your preferred thickness and stickiness. (I prefer a corn syrup consistency.)
Hold sauce over low heat.
Once wings reach an internal temp of 165°F, about 1.5–2 hours, bring the smoker to 600°F and sear wings on the Masterbuilt grate to crispen skin.
Toss wings in Sweet Auburn BBQ Chilli Sauce.
Top with diced green onions or fresh cilantro and serve with a wedge of lime. Squeeze lime over wings upon serving.
Credit: Recipe created by Howard and Anita Hsu of Sweet Auburn BBQ on behalf of Kingsford and Masterbuilt
For safe meat preparation, reference the USDA website.