Smoky Ribeye with Squash Kebabs and Chimichurri Sauce
Write a Review
Read Reviews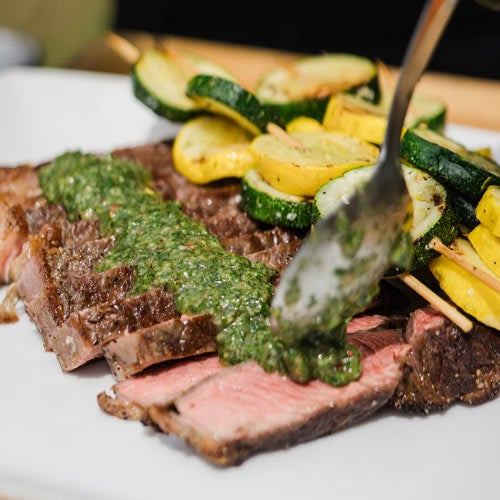 Yields:

2 Servings

Cook time:

25 minutes

Prep time:

5 minutes
Ingredients
1 cup cilantro
1 cup parsley
½ cup red onion, diced
1 tablespoon garlic, peeled
2 tablespoons red wine vinegar
juice of 1 lime
1 teaspoon red pepper flakes
2 ribeye, average 1 pound
1 summer squash, cut into coins
1 zucchini, cut into coins
kosher salt & black pepper as needed
vegetable oil as needed
Instructions
Preparation:
Preheat grill to 450°F.
Place cilantro, parsley, red onion, garlic, red wine vinegar, lime juice, red pepper flake, and a pinch of salt & pepper into a food processor.
Coarse chop for 15 seconds while drizzling in oil. Transfer into a small bowl.
Place ribeye onto a small pan, season with salt and pepper, and drizzle oil on each side of it.
Place ribeye onto grill, and cook for 5–7 minutes on each side until an internal temperature of 145°F is achieved (medium).
Remove ribeye from grill, and place onto cutting board to rest.
Place summer squash and zucchini onto a cutting board, and cut ½" thick coins. Place into a medium mixing bowl.
Drizzle in oil, salt, pepper, and toss vegetables until evenly coated. Place squash and zucchini onto skewers.
Place skewers onto grill, and cook 4–5 minutes on each side.
Remove from grill.
To Assemble:
Place squash skewers onto a plate.
Slice ribeye, and shingle meat onto plate. Sprinkle a touch of salt over the ribeye.
Spoon chimichurri generously over ribeye.
Serve and enjoy!

Grill Tips:

Always pull out steaks from refrigeration 15–20 minutes before you grill. This allows the protein to come to room temp which will cook more evenly.

Season steaks with salt before & after grilling to ensure the steak is perfectly seasoned and tender! Pre salting your steak draws out moisture out of the steak during the grilling process, which then creates this savory brine which will be reabsorbed back into the steak. This breaks down lean stands of protein in the steak, making it more tender and juicier!
Credit: Recipe created by Brandon Frohne on behalf of Kingsford and Masterbuilt
For safe meat preparation, reference the USDA website.