Smoked Pineapple Mezcal Margarita
Write a Review
Read Reviews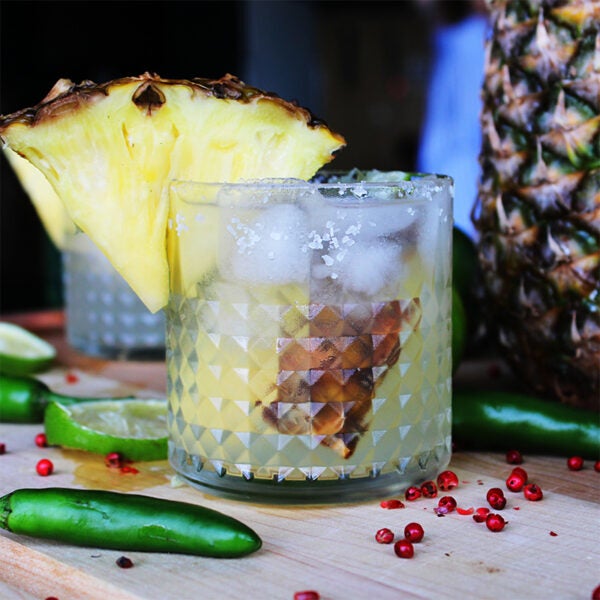 Yields:

6 Servings

Cook time:

2 h

Prep time:

10 minutes
Ingredients
For the Smoked Pineapple Simple Syrup
1 pineapple, whole
1 cup sugar
1 cup water
1 teaspoon Szechuan peppercorns
serrano pepper, sliced thin
For the Cocktail
1 cup mezcal
½ cup triple sec
½ cup limeade
¼ cup Smoked Pineapple Simple Syrup
For the Garnish
salt to rim glass
sliced smoked pineapple
lime, sliced into wedges
ice
Instructions
Fire up Masterbuilt Gravity Series 560 grill and smoker to 250°F.
Place the whole pineapple on the grill and close the lid. Allow the pineapple to smoke for 2 hours, rotating every 30 minutes.
Remove the pineapple from the grill and allow to cool for 15 minutes — until safe to handle. Then, slice the pineapple into wedges.
Meanwhile, place the sugar and water in a heatproof pot. Simmer the water and sugar over low heat until the sugar dissolves.
Add pineapple slices, Szechuan peppercorns, and sliced serrano to the syrup and stir to combine.
Allow that mixture to sit for 30 to 40 minutes.
Next, strain the mixture into a jar. Keep the pineapple and pepper slices for later, and discard the peppercorns.
Fill a pitcher with ice.
Add the mezcal, triple sec, limeade and smoked pineapple simple syrup. Stir to combine.
Garnish with pineapple wedges and sliced serrano.
Pour into salt-rimmed glasses and garnish with a slice of pineapple and a lime wedge on the rim of the glass or on a toothpick.
Serve and enjoy.
Credit: Recipe created by Kita Roberts, Chef & Blogger at Girl Carnivore, on behalf of Kingsford Charcoal
Recipes containing alcohol are intended for those 21 years of age and older only. Please drink responsibly.