Salt + Smoke BBQ Pork Ribs
Write a Review
Read Reviews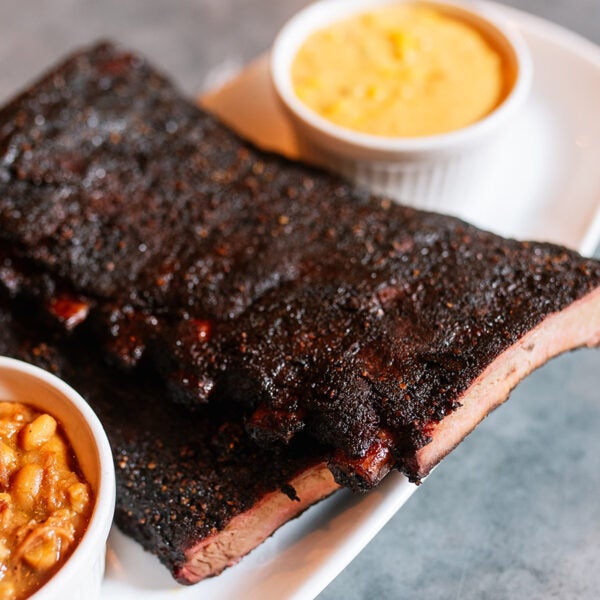 Yields:

1–3 Servings

Cook time:

4 h

Prep time:

30 minutes
Ingredients
2½ pounds St. Louis-style pork ribs
18 cups coarse black pepper
4 cups salt
6 cups garlic powder
6 cups onion powder
6 cups chili powder
6 cups light brown sugar
9 cups paprika
1 cup cinnamon
Instructions
Find the backside of the pork rib and peel off the membrane. To do so, cut a small slit in the membrane and grab it with a paper towel or clean kitchen towel. The cut makes it easier to grab a hold of.
Combine and mix well dry ingredients to make a rub, then season the back side of the ribs with your hands or a shaker.
Flip over the rib and season the top side of the rib. That is the side that you will cook facing up. Season as desired.
Build a two-zone charcoal fire for both direct and indirect cooking using Kingsford® Charcoal by situating the coals on only one side of the grill, leaving the other side void. Preheat your grill to 275°F and place the rib on the smoker. If you are doing multiple ribs at a time put the thicker ribs closer to the heat source.
Maintain the heat at the desired temperature, and check the ribs after 2½ hours. After 3–4 hours, check the ribs by grabbing one end and bending it right at the fourth bone. If you can bend the rib over itself, it needs additional time. If the meat pulls away from the bone, remove from the smoker.
Salt + Smoke's Tip:
Our understanding of the perfect rib is that the meat pulls off of the bone but still has some "bite" or "chew" to it. Think of it like al dente pasta. Some people like "fall off the bone" ribs…some people also like spaghetti from a can. While we like that style too, that's just not how we do them. And if you are sharing these and want to slice them individually, turn the rib over (bark side down). You can see the bones better from the back. Slice the ribs between the bones with a sharp knife. Eat ALL of the ribs.
Credit: Recipe created by Tom Schmidt and Haley Riley of Salt + Smoke on behalf of Kingsford Charcoal
For safe meat preparation, reference the USDA website.