Portuguese Piri Piri Chicken
Write a Review
Read Reviews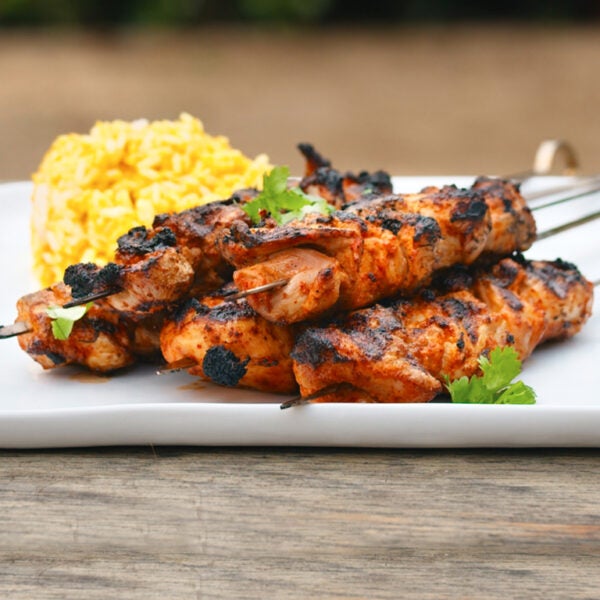 Yields:

12 Servings

Cook time:

8–10 minutes

Prep time:

20 minutes
Ingredients
12 wooden skewers, soaked for at least 20 minutes in water
½ yellow onion
½ large red pepper, seeded
½ fresh jalapeño pepper, seeded (use a full pepper if you like more spice)
1 teaspoon smoked paprika
3 cloves garlic
1 lemon, juiced
1 tablespoon dried oregano
¼ cup extra-virgin olive oil
½ cup coconut milk
2 pounds boneless skinless chicken thighs, cut into 1-1½ -inch chunks (about 60 pieces total)
kosher salt and ground black pepper, to taste
fresh basil or cilantro, for garnish
Instructions
Place the onion, red and jalapeno peppers, smoked paprika, garlic, lemon juice, oregano, olive oil and coconut milk in a high-speed blender. Puree until mostly smooth.
Season chicken with salt and pepper and toss with the marinade in a Glad® zipper bag. Refrigerate for at least two hours or overnight.
When ready to grill, build a charcoal fire on an outdoor grill for both direct and indirect cooking using Kingsford® Charcoal by situating the coals on only one side of the grill, leaving the other side void. Preheat to 450°F, and brush grate with oil.
Thread chicken onto skewers, shaking marinade off back into the bag or bowl. Use about 5 pieces for each one. Place on the grill and cook, turning occasionally, until cooked through, about 8–10 minutes. Remove chicken and transfer to a serving platter. Serve with rice and garnish with fresh basil or cilantro. Enjoy!
For safe meat preparation, reference the USDA website.