Heritage Barbecue Choriqueso Sausage Links
Write a Review
Read Reviews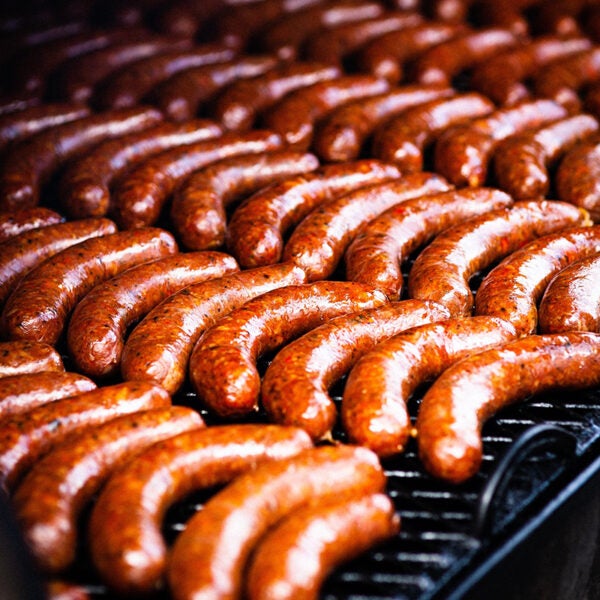 Yields:

8–15 Servings

Cook time:

6 h

Prep time:

1 minutes
Ingredients
5 pounds boneless pork butt
2 pounds cheddar cheese
2 white onions
8 jalapeños
8-oz. can chipotle chiles
1 head garlic
1 bunch cilantro
1 cup chili powder
½ cup paprika
¼ cup dried Mexican oregano
¼ cup granulated sugar
¼ cup granulated onion
¼ cup ground cumin
¼ cup cracked pepper
15 hog casings
Instructions
Start by cleaning and soaking all hog casings. Cut pork butt into 2-inch cubes and place in a bowl. Mix the dry ingredients, rub on the pork butt cubes and place pork in the freezer.
Dice and chop vegetables, then sauté all vegetables except cilantro. Cool vegetables in the freezer.
Cut cheese into 2-inch cubes and grind with coarse grater. Grind pork with medium die. Place chipotle chiles in a blender and purée until smooth.
Mix pork, cheese, chipotle purée and vegetables in a bowl for 5 minutes until mixture sticks to your hand when touched. Place the mixture in a sausage stuffer and place casings on the nozzle. Begin stuffing casings and tie once full. Place sausages in the fridge overnight for a minimum of 1 hour.
Build a two-zone charcoal fire for both direct and indirect cooking using Kingsford® Charcoal by situating the coals on only one side of the grill, leaving the other side void. Place sausages on a cold smoker. Start fire and maintain 150°FahrenFheit for 2–3 hours until sausages hit 150°F internal temperature.
Remove sausages and place in an ice bath for 5 minutes until the internal temperature reads 40°F. Remove and dry sausages, then store in the refrigerator until ready to cook.
Reheat sausages either on the grill or in a smoker at 275°F until the internal temperature reaches 165°F.
Daniel Castillo's Tip:
Keep meat and equipment cold by placing in the refrigerator or freezer for a minimum of one hour before use. Meat grinds easiest when almost frozen. Smoke sausages using indirect heat when cold smoking.
Credit: Recipe created by Daniel Castillo of Heritage Barbecue on behalf of Kingsford Charcoal
For safe meat preparation, reference the USDA website.