Grilled Vegetable Flatbreads with Ricotta and Salsa Verde
The San Francisco Bay Area represents a colorful mosaic of diverse cultures, lifestyles and flavors. Our grilled vegetable flatbread is inspired by the city's strong Italian food heritage, but also features a brilliant salsa verde that takes this non-traditional pizza over the top.
Grilled Vegetable Flatbreads with Ricotta and Salsa Verde
Write a Review
Read Reviews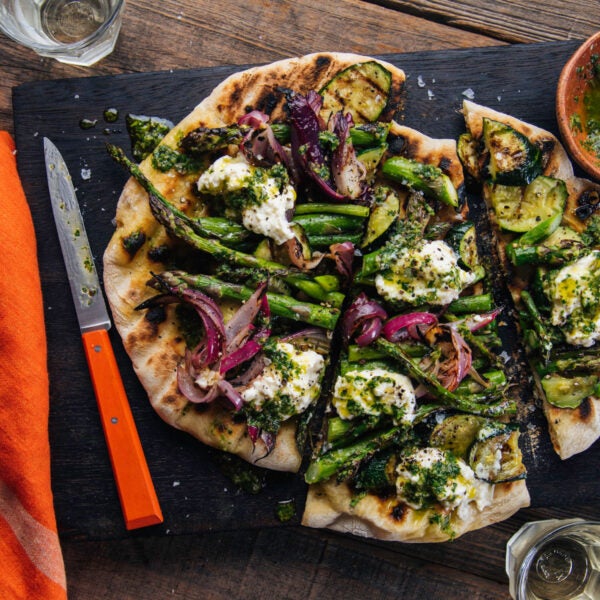 Yields:

6–8 Servings

Cook time:

20 minutes

Prep time:

20 minutes
Ingredients
½ cup parsley leaves and thin stems, lightly packed
¼ cup fresh basil, lightly packed
¼ cup fresh tarragon, lightly packed
¼ cup fresh chives, lightly packed
1 tablespoon lemon zest
2 tablespoons fresh lemon juice
1 clove garlic, smashed
1½ tablespoons capers, rinsed and drained
2 anchovy fillets (optional)
1 to 2 pinches red pepper flakes, or more to taste
¾ cup olive oil, plus more for brushing flatbread
kosher salt and freshly ground black pepper, to taste
2 zucchini, sliced diagonally 1/3-inch thick
½ pound asparagus spears, tough ends snapped off
1 red onion, sliced 1/3-inch thick
1 pound ball fresh or frozen pizza dough, thawed
1 (8 oz.) cup ricotta cheese
Instructions
To make the salsa verde in a food processor or blender, combine all herbs, lemon zest, 2 teaspoons lemon juice, garlic, capers, anchovy (if using) and red pepper flakes. Process until leaves are finely minced. With machine running, slowly add 1/2 cup olive oil until sauce is a creamy yellow-green color. Salt and pepper to taste.
Build a two-zone fire, placing preheated Kingsford® Original Charcoal, briquets on one half of the bottom grill grate and leaving the other side void.
Toss zucchini, asparagus and red onions (can substitute 1½–2 pounds seasonal vegetables of choice) with 3 tablespoons olive oil, 3/4 teaspoon salt and 1/4 teaspoon pepper.
Grill over direct heat, turning often, until tender and charred in spots, about 5 minutes; transfer to the void side of the grill.
Lightly oil grill grate and divide pizza dough in half. Gently roll and stretch each piece into a rectangle or oval about 14x8 inches and transfer to two lightly oiled baking sheets. (If it springs back, cover and let rest 10 minutes, then stretch again).
Transfer dough to grill over direct heat. Cook until first side is lightly charred and dough is dry and stiff; one to two minutes. Turn and cook just until reverse side has a few light grill marks; 30 to 60 seconds. Transfer to baking sheets and let cool slightly.
Top charred side of dough with the grilled vegetables, dividing evenly. Dollop ricotta over the vegetables on both flatbreads and drizzle with the salsa verde.
Cut each flatbread into three to four pieces and serve immediately.

Major League Baseball trademarks and copyrights are used with permission of Major League Baseball. Visit MLB.com.