Grilled Shrimp Skewers with Watermelon Feta Salad and Sriracha Hot Honey
Write a Review
Read Reviews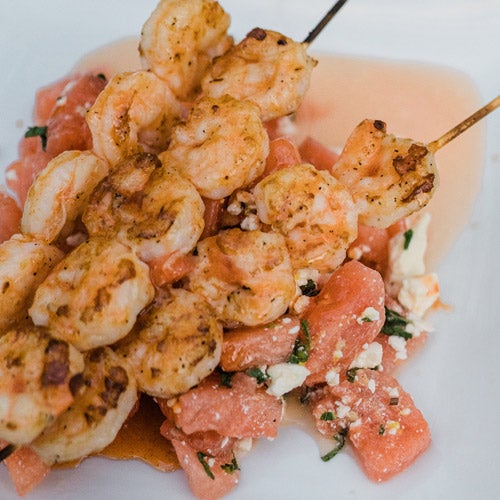 Yields:

2 Servings

Cook time:

25 minutes

Prep time:

5 minutes
Ingredients
3 cups seedless watermelon, diced
zest and juice of 1 lemon
3 tablespoons fresh mint, chopped
1/4 cup feta cheese, crumbled
1/2 cup honey
2 tablespoons sriracha
1 pound (16/20 ct.) shrimp, peeled and deveined
1 tablespoon granulated garlic
kosher salt and black pepper as needed
vegetable oil as needed
Instructions
Preparation:
Preheat grill to 450°F.
Add diced watermelon, lemon zest and juice, mint, feta cheese, and a pinch of salt and pepper into a mixing bowl. Mix well and reserve.
Place honey and sriracha into a bowl. Mix well. Reserve.
Place shrimp into a small bowl. Season with garlic, pinch of salt and pepper, and oil. Toss to coat evenly.
Place shrimp onto skewers.
Place shrimp skewers onto grill, and cook for 2–3 minutes on each side.
Remove shrimp skewers from grill, and place onto cutting board to rest.
To Assemble:
Place watermelon salad onto a plate.
Lightly sprinkle feta cheese over the top of the salad.
Add shrimp skewers on top of the watermelon salad.
Drizzle sriracha hot honey over the shrimp and salad.
Serve and enjoy!

Grill Tips:

Always soak wood skewers in cold water before grilling. This will help prevent the skewers from burning or catching on fire while they are on grill. Your fingers tips will thank you when you go to remove the skewers from the grill.

Don't overcook your shrimp. Shrimp cook quickly, and only take about 2–3 minutes to cook per side. You will know they are fully cooked when the shrimp turns pinkish on the outside, and white on the inside.

Make your grill grates nonstick by simply cutting a raw potato in half, inserting a fork into the end of the potato, and rubbing the exposed flesh of the potato down across the grates. The heat from the grill extracts the starch in the potato creating a shield on the grates that help prevent food from sticking to them.
Credit: Recipe created by Brandon Frohne on behalf of Kingsford and Masterbuilt
For safe meat preparation, reference the USDA website.