Grilled Shrimp and Sausage Skewers with Extra Dirty Rice
Write a Review
Read Reviews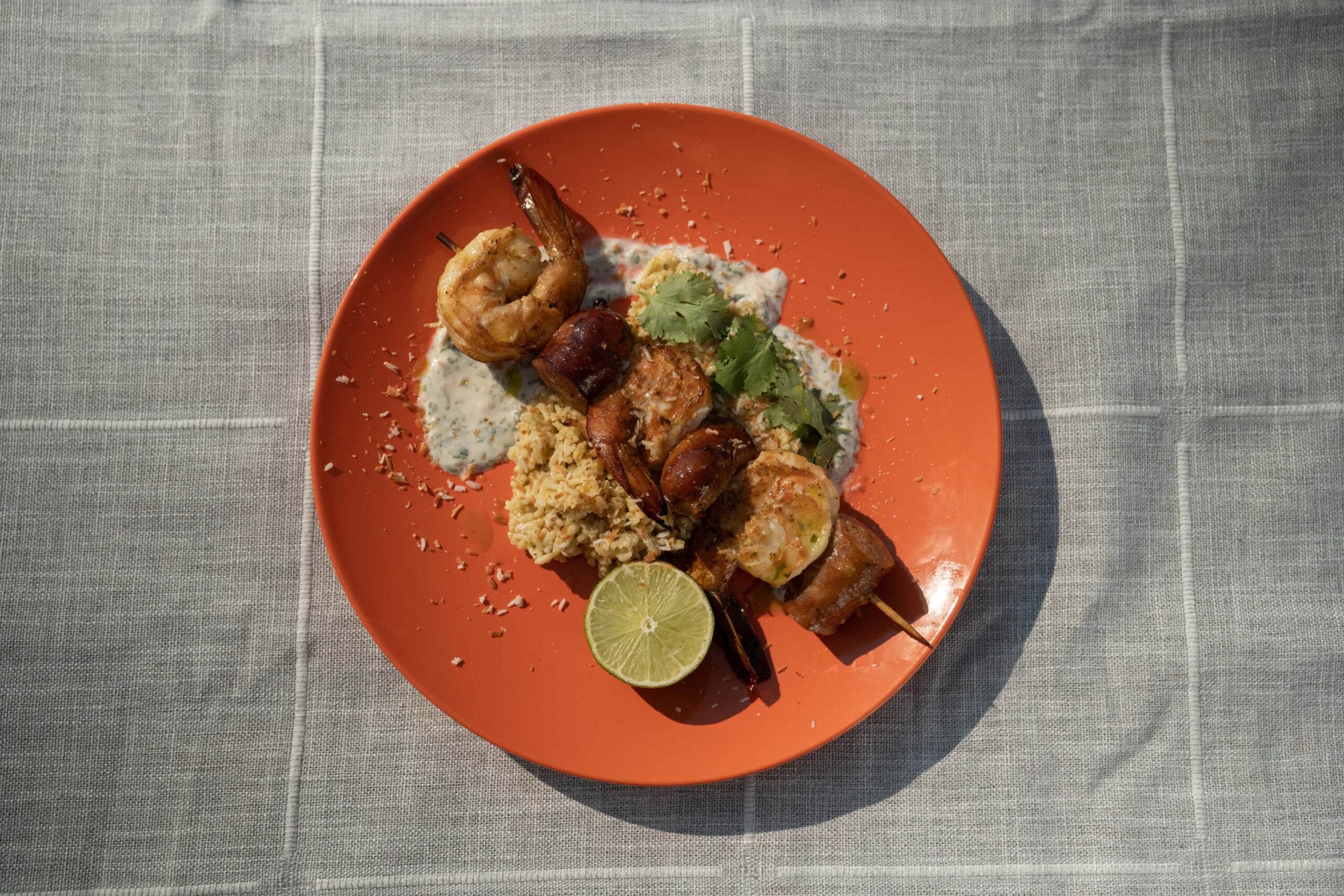 Yields:

4 Servings

Cook time:

1 h

Prep time:

30-40 minutes
Ingredients
Dirty Rice
1 ½ cups basmati rice
2 tablespoons olive oil
2 tablespoons blanched, chopped almonds
1 teaspoon minced peeled ginger
1 garlic clove, chopped
1 teaspoon garam masala
1 teaspoon curry powder
2 cardamom pods
1 cup coconut milk
2 cups chicken broth
1 tsp kosher salt
SKEWERS
½ cup olive oil
juice from 2 limes
1 tablespoon chopped cilantro, plus more for garnish
1 tablespoon chopped parsley
1 tablespoon plain yogurt
1 jalapeño, chopped
2 large garlic cloves, chopped
12 jumbo (U10) shrimp, peeled, deveined (tails left on)
4 pieces andouille (or other fully cooked smoked sausages), cut into 2-in. long pieces
2 tablespoons unsweetened shredded coconut, toasted
CILANTRO-YOGURT SAUCE
6 tablespoons plain yogurt
juice from 1 lime
½ tablespoon chopped fresh cilantro
½ tablespoon chopped fresh parsley
dash of Tabasco sauce
Instructions
MAKE THE RICE
Soak the rice in cold water for 30 minutes. Drain and transfer to a medium saucepan. Add the olive oil, almonds, ginger, garlic, garam masala, curry powder, and cardamom and cook over medium heat until the almonds are lightly browned and the spices are very fragrant, about 5 minutes. Add the coconut milk and chicken broth and bring to a simmer. Cook gently for 10 minutes. Turn off the heat and stir in the salt. Cover and let the rice sit for 25 minutes.
MAKE THE CILANTRO-YOGURT SAUCE
Whisk all the ingredients together.
MAKE THE SKEWERS
Preheat a charcoal grill to 425ºF.
In a blender, puree the garlic cloves, olive oil, cilantro, parsley, lime juice, yogurt and the jalapeño to make a smooth paste.
Thread the shrimp and sausage pieces on skewers, alternating between the shrimp and sausage. Put completed skewers on a plate and pour the puree on top making sure all the pieces are coated. Cover with plastic wrap and let sit for 20 minutes.
Grill the shrimp and sausage about 3 minutes per side, until they are fully cooked and the shrimp is bright pink and has reached an internal temperature of 145ºF.
To serve, spoon the Dirty Rice (see below) onto a serving platter and top it with the shrimp and sausage. Drizzle on the Cilantro Yogurt (see below) and sprinkle with the toasted coconut and cilantro.
Credit: Recipe created by Chef Marcus Samuelsson on behalf of Kingsford. Full IGTV Video can be found on @Marcuscooks
For safe meat preparation, reference the USDA website.