Grilled Cumin Chili Chicken Wings with Kingsford® Signature Flavor Briquets
Write a Review
Read Reviews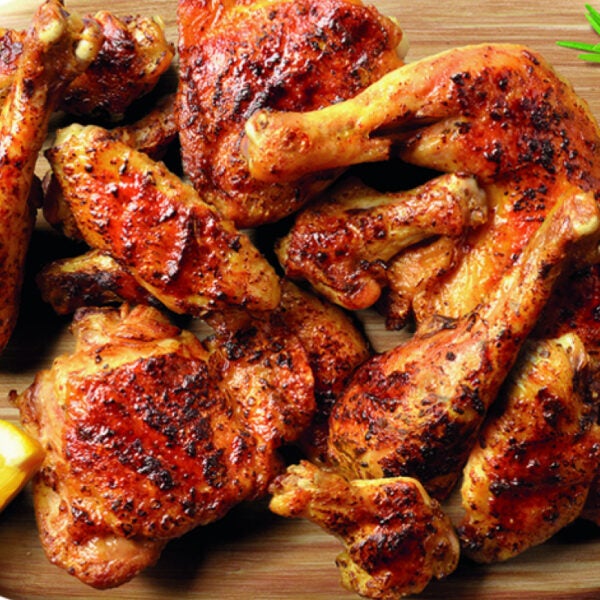 Yields:

2–4 Servings

Cook time:

25 minutes

Prep time:

1 h 15 m
Ingredients
2–3 pounds chicken wings (whole, or drums and flats)
2 tablespoons olive oil
1 teaspoon paprika
1 teaspoon garlic powder
1 teaspoon onion powder
1 teaspoon chipotle powder
2 teaspoons kosher salt
Instructions
Place the chicken wings into a large resealable bag, then add oil, spices and salt. Mix well to combine and thoroughly coat the wings, then seal the bag and refrigerate for 1–3 hours.
Prepare a grill for two zone cooking by filling a charcoal chimney with Kingsford® Signature Flavor Briquets with Chili and Cumin, and light a firelighter or newspaper beneath it. Wait for about 15 min and look for ash on top layer of briquets and/or a visible flame above the chimney. Pile the hot coals into one side of your grill, leaving the other side void to create a hot and a cool zone. Replace the grill grate and heat the grill to 400°F.
Place the chicken wings directly over the coals and discard the remaining marinade. Cook for 1–3 minutes, then flip the wings and cook other side for 1-3 minutes. This stage is to brown the wings and develop their color, but flip the wings earlier if they appear to burn.
Transfer the browned wings to the cool side of the grill, then close the lid and let the chicken finish cooking to a safe temperature (approximately 15–20 minutes, depending on the size of the wings). The chicken wings are ready when they read 165°F internal temperature on a meat thermometer.
Credit: Recipe created by Hardcore Carnivore Jess Pryles on behalf of Kingsford® Charcoal.
For safe meat preparation, reference the USDA website.