Dominican Tostones Sliders
Plantains are an essential part of Caribbean cooking, and few dishes are as beloved in NYC's Dominican neighborhoods as tostones. We employ a good, heavy skillet to fry up our tostones on the grill, and use them as hamburger buns for these amazing beef sliders.
Dominican Tostones Sliders
Write a Review
Read Reviews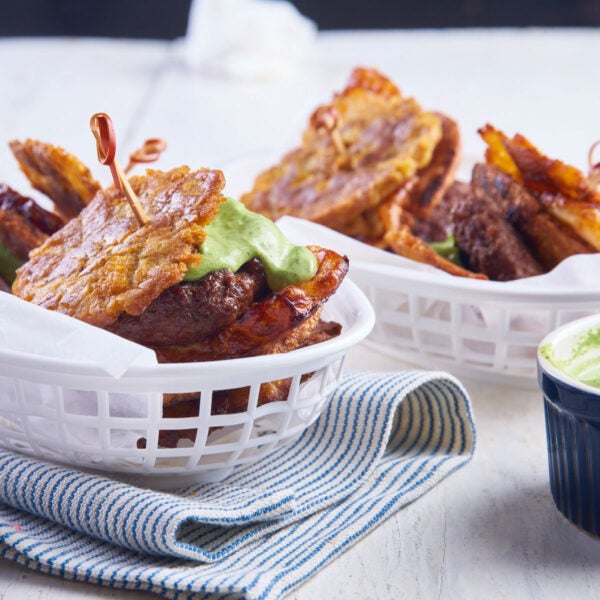 Yields:

8 Servings

Cook time:

20 minutes

Prep time:

20 minutes
Ingredients
For the Mojito Dip
¼ cup olive oil
¼ cup white vinegar
4 cloves garlic
½ teaspoon kosher salt
For the Tostones Buns
2 green plantains
2 cups canola or vegetable oil
2 teaspoons salt
8¼ inch sliced queso tropical
For the Cilantro Lime Aioli
½ cup mayonnaise
2 tablespoons fresh lime juice
2 cloves garlic
1 bunch cilantro, cleaned
kosher salt, to taste
ground black pepper, to taste
For the Sliders
8 2-ounce ground beef patties
1 tablespoon Goya Adobo Sazon
1 tablespoon garlic powder
8¼ inch sliced Dominican salami
Instructions
To make the mojito dip, blend the oil, vinegar, garlic and salt. Set aside.
Using Kingsford® Original Charcoal, build a fire for direct grilling and preheat to 400°F.
Make the slider "buns." Cut both ends from the plantains and remove skins. Slice into 1-inch pieces.
Add 3 teaspoons salt to a bowl of water and soak the plantains for at least 10 minutes.
Add oil to a heavy skillet and place on grill. Once hot, add plantains in batches, turning until golden brown on all sides. Remove from oil and drain on a paper towel-lined tray.
With a plate, flatten the fried plantains, and return to hot oil until golden brown and crispy. Use the same oil to fry the queso tropical, dropping the oil temperature to medium, and fry until golden brown, flipping as needed. Set aside to drain on paper towels.
Remove the plantains from the oil and toss with the mojito dip. Set aside.
To make the cilantro lime aioli, place mayonnaise, lime juice, garlic and cilantro in a blender and puree. Season to taste with salt and pepper.
Season beef with sazon and garlic powder. Grill about 5–8 minutes total, flipping once halfway through cooking. For your safety, please reference the USDA safe cooking temperatures. While the burgers are cooking, briefly grill the salami until lightly charred, about one minutes per side.
Place sliders onto fried tostones, top with 1 slice of salami and cheese, and 1 ounce cilantro aioli. Cover with another tostone and serve hot.

Major League Baseball trademarks and copyrights are used with permission of Major League Baseball. Visit MLB.com.
For safe meat preparation, reference the USDA website.