Asian BBQ Chicken Flatbreads with Mozzarella and Scallions
Write a Review
Read Reviews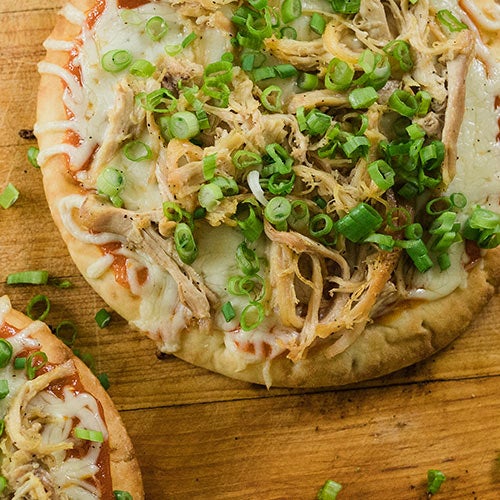 Yields:

2 Servings

Cook time:

25 minutes

Prep time:

5 minutes
Ingredients
1 cup ketchup
½ cup honey
½ cup soy sauce
2 tablespoons sesame oil
2 tablespoons seasoned rice wine vinegar
2 tablespoons garlic, peeled
1 tablespoon ginger, peeled
1 pound boneless skinless chicken thighs
2 naan flatbreads
4 cups shredded mozzarella
½ cup chopped scallions
kosher salt and black pepper as needed
vegetable oil as needed
Instructions
Preparation:
Preheat flat top grill to 450°F.
Add ketchup, honey, soy sauce, sesame oil, rice wine vinegar, garlic, and ginger to a food processor.
Process for 30 seconds until smooth. Transfer to a small stainless steel pot.
Transfer barbecue sauce to grill, and allow flavors to bloom by cooking for 10 minutes. Remove from grill, and reserve.
Place chicken thighs into a small mixing bowl. Season with a pinch of salt, pepper, and oil. Mix well.
Place onto the grill, and cook for 5–7 minutes on each side, until chicken thighs reach an internal temperature of 165°F. Remove chicken thighs from grill, and place onto cutting board to rest.
To Assemble:
Spread Asian barbecue sauce over top of flatbreads.
Add cooked chicken thighs to a small mixing bowl, and shred apart.
Sprinkle chicken over the top of grilled flatbreads.
Sprinkle each flatbread with mozzarella cheese, and grill for 2–3 minutes to melt cheese.
Transfer grilled flatbreads to a cutting board.
Top flatbreads with chopped scallions.
Serve and enjoy!

Grill Tips:

Easily shred cooked chicken thighs by using a pair of tongs to hold the chicken, and a fork to shred it.

Knobs of ginger can sometimes be difficult to peel, but not anymore. Hold the ginger, and use a spoon to easily scrape the peel from the ginger.
Credit: Recipe created by Brandon Frohne on behalf of Kingsford and Masterbuilt
For safe meat preparation, reference the USDA website.