Kingsford® Smokehouse Style Briquets with Hickory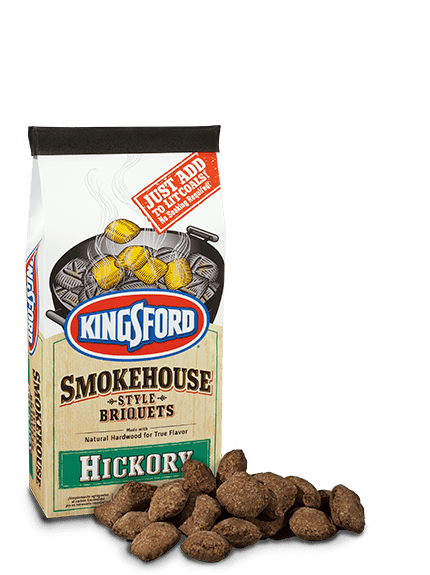 Kingsford® Smokehouse-Style Briquets with Hickory add the signature taste of Southern barbecue to your food. That's because each briquet contains high-quality hickory wood that adds just the right touch of sweet and hearty flavor to your charcoal grilling experience. Simply add a few briquets to your hot Kingsford® Charcoal (no soaking required) and you are ready to go. Available in a 2.9-pound bag.
DIRECTIONS
When Kingsford® Charcoal briquets are ashed over and ready, spread the briquets and add six to seven Smokehouse Style Briquets to the pile. The grill smoke will last about 15 minutes. To allow grill smoke to penetrate food fully, cover grill while cooking.
Hickory BBQ flavor made easy — Kingsford® Smokehouse Style Briquets with Hickory.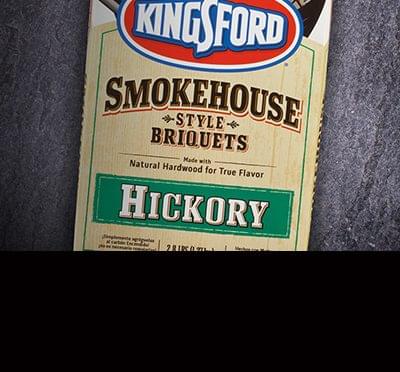 4
You can control the flavor! Simply use additional Kingsford® Smokehouse Style Briquets to increase flavor intensity.

Easy to Use! Unlike flavored wood chips, Kingsford® Smokehouse Style Briquets require no pre-soaking or smoker box.

Made with Natural Hardwood! For a distinctive, delicious smoky flavor.
For Your Safety
• Never use gasoline to light charcoal.
• Do not add lighter fluid directly to burning or hot charcoal.
• Make sure ashes are cold before discarding.
• Do not allow product or rinse water to enter storm drains, lakes, streams, or other bodies of water.
• Never barbecue indoors.
• Barbecue away from flammable items, overhangs and trees.
• Store in a cool, dry place.
• California Proposition 65 Warning: Combustion (burning) of this product, like other cooking methods, produces carbon monoxide and other substances known by the State of California to cause cancer, birth defects or reproductive harm.