Kingsford® Signature Flavors Hardwood Pellets
Cumin Chili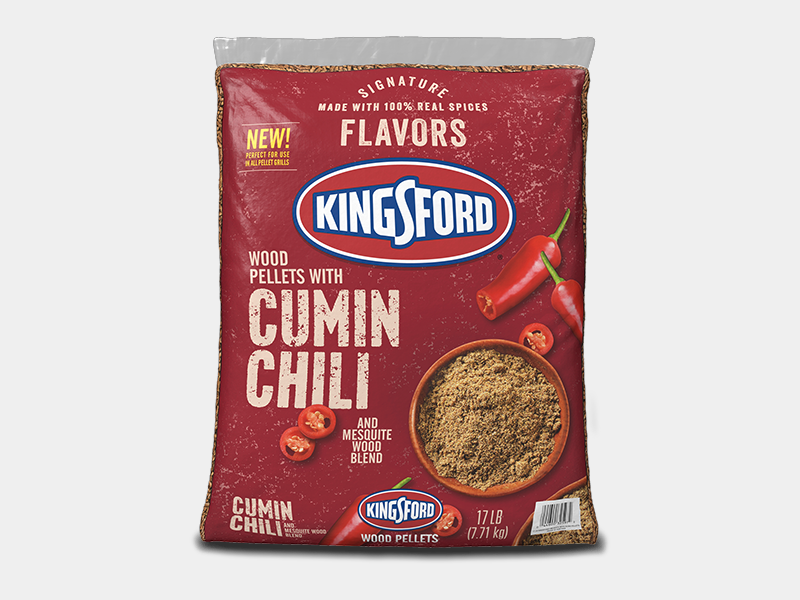 Experience flavor like never before. Made with a mesquite wood blend, these grilling pellets are infused with 100% real spices for an extra layer of flavor for your entire cook. No fillers. No binders. No preservatives. No bull. Enjoy excellent performance in all grills*, including Traeger and Pit Boss.
The 100% real spice flavor pairs well with all of your chicken, beef, pork and ribs dishes.
* See back of pack for instructions.
---
---
Made in the USA
Great for Any Pellet Grill
---
Adventurous Eats
---
Take your taste buds outside their comfort zone with these unexpected twists on grilling favorites.
Rated

5

out of

5
by
The Bozz
from
Best Smell ever
I bought my husband a smoker for his birthday and boy all he does is sit in his man cave ever weekend and cook out. My husband used the - Kingsford Cumin Chilli Signature Flavors Hardwood Pellets and he thinks he's the best cook ever now.
Date published: 2022-03-16
Rated

5

out of

5
by
Cresantm
from
Flavorful
We got a new grill and this is perfect for us! It adds so much new flavors to our meat I couldn't believe it. I was worried it would be too spicy however it gives the meat or whatever I'm grilling just a kick of flavoring. So much better than regular charcoal.
Date published: 2021-12-13
Rated

5

out of

5
by
Pschristina
from
Wow!
I'm so glad to get the chance to try these. They really step up the flavor game for my wood pellet grill. The extra kick of smoky from the cumin and flavor from the chili is amazing. So good with both chicken and pork. Haven't got to try beef yet but I'm sure it will be just as amazing.
Date published: 2021-11-30
Rated

5

out of

5
by
Amandamariebaby21
from
This are great
I have been using this on my pellet grill for a week or so and I love the flavor that it gives on my food. It smells good and makes the food I cook on the grill taste good. I will definitely use this whole bag.
Date published: 2021-11-07
Rated

5

out of

5
by
Melissa10
from
Amazing
I got the Kingsford signature flavor pellets cumin and chili. I used them in my smoker with the ribs and the ribs turned out so good. The pellets added so much flavor to the ribs. I can't wait to try the other flavor pellets cause they are so worh it.
Date published: 2021-11-03
Rated

4

out of

5
by
Pyroberts
from
Super flavor
This is such a great product to be able to add a nice smokey flavor to your food without having to add a ton of seasoning. It eliminates the need to even use flavoring unless you want something additional. I love the flavor and convenience.
Date published: 2021-11-03
Rated

5

out of

5
by
Annieday9909
from
Wonderful flavor
I have been smoking meats with these Kingsford signature flavor pellets for several weeks now and I am very pleased with how well they envelope the meat and provide a smoky and unique flavor. I really appreciate how well they smolder evenly and last a long time in my smoker. These do an amazing job for chicken and beef for fajitas. I wish I had them sooner.
Date published: 2021-11-03
Rated

5

out of

5
by
Pamiam
from
Smokin' Flavor
Kingsford Signature Flavor Wood Pellets in Cumin, Chili and Mesquite Wood Blend is an amazing choice for people who take grilling and seasoning seriously. I love how the combined cumin and chili unite for a unique flavor experience that merges with my secret seasoning dry rub blends. The chicken quarters that I prepared smelled so good as they cooked. I'm pretty sure that my entire neighborhood took notice, and got hungry. I like that these are made with a mesquite wood blend, since it's one of my favorite grilling woods. I also like that they don't contain any artificial colors or flavors. The pellets lasted a good amount of time in the smoker, and performed well, and the heat was consistent. I definitely prefer this flavor over plain wood chips, and it saves me time not needing to season my own wood. I definitely recommend that everyone try these Kingsford Signature Flavor Wood Pellets in Cumin, Chili and Mesquite Wood Blend, and I look forward to trying other Signature Flavor Blends.
Date published: 2021-11-02