Kingsford® 100% Natural Hardwood Blend Pellets
Cherry, 20 lb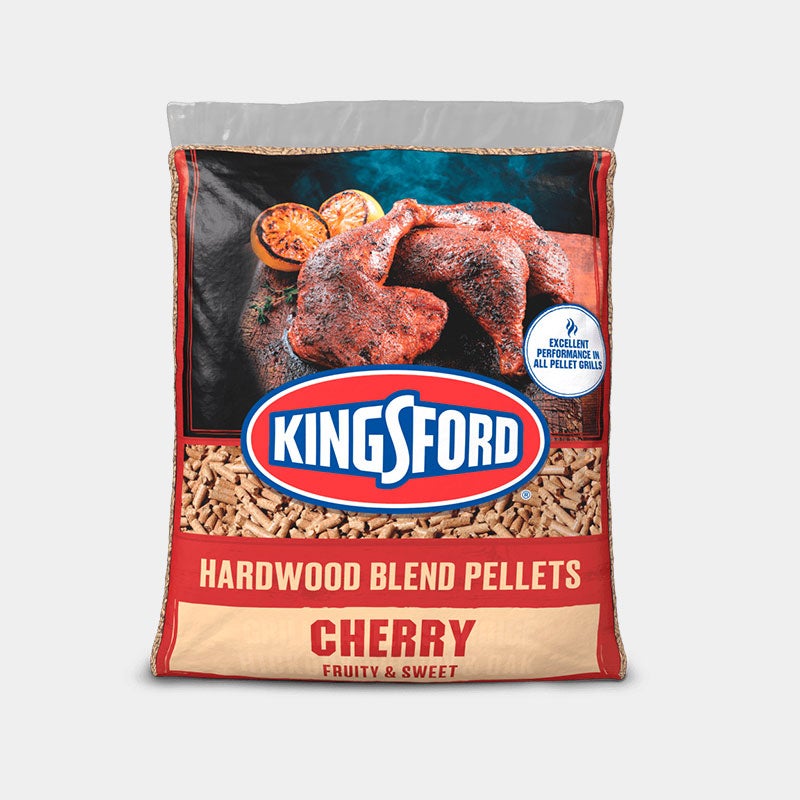 Some grillers prefer a delicate smoke to complement their food. Grilling with Kingsford® 100% Natural Hardwood Blend Pellets brings you authentic Cherrywood smoked flavor from all-natural American hardwood. Kingsford® 100% Natural Hardwood Blend Pellets deliver excellent performance in all pellet grills, including Pit Boss® and Traeger®. Made in the USA, our Kingsford® 100% Natural Hardwood Blend Pellets for grilling contain no artificial flavors, fillers, binders, dyes, chemical additives or oils. Just pure hardwood for pure flavor — what you see is what you get. The fruity and sweet flavor of cherry hardwood pairs well with all your chicken, ribs, pork, fish, lamb, turkey and vegetable dishes. These Kingsford® grilling pellets come in a conveniently sized 20-pound bag. One pound of grilling pellets lasts approximately one hour at low heat and about 30 minutes at high heat depending on the grill manufacturer and outdoor conditions. Trust Kingsford for real wood flavor made easy.
---
---
Made in the USA
Pure Flavor Hardwoods
Great for Any Pellet Grill
---
Adventurous Eats
---
Take your taste buds outside their comfort zone with these unexpected twists on grilling favorites.
Rated

5

out of

5
by
Emilyh
from
Kingsford cherrywood pellets
I was excited to find out kingsford has a cherrywood option. I use kingsford already for grilling and when I purchase certain things (bacon, for example) I look for cherrywood variety as I enjoy the taste even more. It is nice to be able to now add that flavor to other plain meats, or just elevate the flavor/marinade they already have. These pellets are easy to use like regular ones but have the different flavor variety. I am very happy with these pellets.
Date published: 2020-06-16
Rated

5

out of

5
by
Mvpness
from
Worked Well
I added these to my normal charcoal grill before cooking some chicken. It smelled great and although I couldn't tell if flavor was added to the chicken, it was delicious. I tend to use a lot of spices while cooking so I would try it again with a less overwhelming amount of other flavors. I look forward to experimenting
Date published: 2020-06-14
Rated

5

out of

5
by
PeachyJ
from
Sweet and Slightly Smoky
I used the pellets to grill some baby back ribs and they were very delicious. Since I have a charcoal grill, I had to be a bit more creative with planning my meal. I made an aluminum packet for the pellets before placing it on the briquets. Fortunately, since I have a grill with a hinged cooking grate, I was able to retrieve the packet with relative ease. This is a good alternative if you can't find actual Cherry Wood or cherrywood charcoal.
Date published: 2020-06-13
Rated

5

out of

5
by
tpclark5
from
Delicious Smoky Wood Flavor
I have experimented with all different kinds of grilling, smoking, and cooking meats and smoking is one of my absolute favorites. These pellets make life so much easier than having to wither go out and hunt down specific woods types and having to chop wood and make my own briquets for smoking. These pellets are easy to get smoking started and can be used in pretty much any type of cooking you want to do to add some nice smoky flavor to your meats. The pellets create good smoke without being overbearing. I also use these sometimes in bonfires as they add a nice sweet smell to the smoke the fire produces, just makes it a bit more pleasant for those that don't care for the smoke. Overall, i these are a great choice to try at your next barbeque or in your smoker, you won't be disappointed.
Date published: 2020-06-12
Rated

5

out of

5
by
MariaB
from
Great Flavors
I was eager to try these pellets on vegetables and veggie burgers. I was afraid that I would have to give up grilling after adopting healthier eating habits. I was pleasantly surprised that these pellets gave my roasted vegetables a savory and delicious taste. The flavors infused into my food was simply amazing. I have roasted potatoes, corn and asparagus using these pellets. My veggie burgers also tasted wonderful. So far I have only tried the Cherrywood pellets but I can't wait to try the four other flavors. I don't have a pellet grill but I was able to use these on my gas grill with a stainless steel smoke box.
Date published: 2020-06-10
Rated

5

out of

5
by
Whitt888
from
Adds great flavor!
We grill quite a bit so I was real excited to give these pellets a try. The cherrywood pellets are super easy to use and adds a very nice flavor to your food. I love the 5lb bag as itll last for quite a few cookouts. Will absolutely be buying these more often and would recommend it to anyone who wants a little extra flavor to their food.
Date published: 2020-06-10
Rated

5

out of

5
by
Cougheebean
from
Great wood pellets!
These Pellets are Great, they work wonderfully on my pellets grill and gives milder smoked taste. I normally smoke with mesquite which My wife doesn't really enjoy(she says the mesquite taste is too strong). tried pork ribs with these pellets And My wife actually enjoyed them a lot. I also sprinkled a bit on my charcoal in My Weber and worked quite nice.
Date published: 2020-06-05
Rated

4

out of

5
by
Katieshatzer02
from
Smelled good
My husband and I used it at one of our grillouts on a charcoal grill. Probably would have done better in a smoker. Still smelled great but didnt get much flavor in the meat. Again, probably because it wasn't used in a smoker.
Date published: 2020-06-04
Rated

3

out of

5
by
Sekylawson
from
Awesome flavor
I used these the other day and must say i was pleased. I had a little trouble getting it going, but once it started burning properly it gave my food a really awesome flavor. Overall they were great for my meal. The flavor was sweet, and made the food taste amazing.
Date published: 2020-06-03
Rated

3

out of

5
by
Trice52
from
Not what I expected
I got these pellets trying something new and I have to admit that o did not care for them. I followed the instructions on the bag and I have to say I did not taste the cherry flavor at all. I also think that the pellets burned way too fast.
Date published: 2020-06-03
Rated

5

out of

5
by
Designgirly
from
Very Nice Product
I was very pleased with my recent purchase of the Kingsford Hardwood Pellets - in the Cherrywood varity. These are an excellent and extremely conveint way to add the flavor of Cherrywood to your grilling experience. We used the Cherrywood product on a large roast and it turned out great! I highly recommend this product for anyone who is interested in using hardwood pellets in their smoking and grilling with either a charcoal, gas or pellet grill.
Date published: 2020-06-02
Rated

5

out of

5
by
Ellgee12
from
Great aroma and delicious flavor!
We used these Cherrywood pellets on our Green Egg to smoke pork, and it turned out great! The pellets burned slower than we thought they might and produced a great aroma that filled our home and neighborhood. Pleased with this product and look forward to trying the other woods.
Date published: 2020-06-02
Rated

5

out of

5
by
Dolly
from
Great product
Got this item free! It works great for grilling in your grill! Full size bag was so nice to get in the mail! Really nice to use for grilling meat! Very nice bag to store pellets in! Good product, good quality!
Date published: 2020-05-31
Rated

5

out of

5
by
Meagan91
from
Great Product!
This product gives your food a great taste. It works great in a charcoal grill also. Its all around a great product. And i will definantly buy it again. It does wonders for tender meat to its amazing.
Date published: 2020-05-30
Rated

5

out of

5
by
gremerkle
from
Love it
I got this just a few days ago and we finally got some good weather for grilling so that we could put it to good use. I love how easy to use it is. I love the smokey quality that the pellets provide. It is a treat to both the nose and your mouth when its done cooking. Our puppers would hardly stay out of the way, they were convinced we were cooking for them lol. The burgers and sausages had such a nice cherry,smoked flavor it really added to the already fantastic experience that we know grilling to be.
Date published: 2020-05-27
Rated

5

out of

5
by
Kenny 70
from
I just think we Love all pellets we b have used
I am not good with Photos or Video I was just letting everyone know that we are Very Happy with your wonderful products Always Thanks
Date published: 2020-05-26
Rated

5

out of

5
by
jenypher5
from
The Smell!
Wow the smell was so alluring! We used these pellets in both a gas and charcoal cooker, we placed them in a smoke box for the gas cooker. We used chicken, veggies, and burger. Added just the right amount of taste that uplift the seasoning. Price is great too!
Date published: 2020-05-26
Rated

5

out of

5
by
Jrt0327
from
Best pellets I've used so far
been using Kingsford charcoal for years and now they have awesome pellts. The first ones I tried was the cherry wood and its great. Gonna have to try the other flavors. They are very easy to use and first time smokers won't have any problems using them
Date published: 2020-05-26
Rated

5

out of

5
by
vambiam
from
Great product!
These cherywood pellets work wonderfully. I used them on a rack of ribs, letting them smoke for about four hours. Delicious! I will definitely try the other pellets available. This imparted a mild and clean smoked flavor.
Date published: 2020-05-26
Rated

5

out of

5
by
itgtsbetr
from
Great smell!
I used the Kingsford Hardwood pellets to smoke my ribs and chicken. The food smelled amazing while cooking and tasted even better when done. These are easy to clean up and doesn't leave any dust left over.
Date published: 2020-05-26
Rated

4

out of

5
by
Jackpot92
from
Made In The USA
Decided to try these instead of the regular wood chips. I dont have a pellet grill just used my charcoal grill. Like that You don't have to soak them as sometimes I forget when I wanna grill out. It gives a nice flavor. I got the cherrywood.
Date published: 2020-05-25
Rated

5

out of

5
by
Julia S
from
Great BBQ!
These wood pellets were great for our BBQ for Memorial Day Weekend! They had a long burn time, and lasted all night while we cooked up burgers and hot dogs. It also gave off a great, smokey, BBQ smell & flavor! Much more fun and tasteful than using regular coal.
Date published: 2020-05-25
Rated

5

out of

5
by
Mjohnson5
from
Easy to use
Very easy to use, put it in the grill and light!!! Smells great with a light cherry scent. Didn't change the flavor of the meat but gave it more of a smoked taste. Will definitely be getting again. Highly recommend!!!
Date published: 2020-05-25
Rated

4

out of

5
by
FurMommy
from
Beautiful scent and flavor
I tried these Kingsford Cherrywood pellets in my combo smoking charcoal grill. These pellets worked beautifully. The aroma is very appetite provoking. The finished flavor is almost as good. I say almost because the taste isn't as noticeable as the aromatic scent. We made shrimp skewers, rib eye skewers and veggies. These don't get as air smokey as I anticipated; which is a good thing. Overall, these pellets will become a regular in my outdoor cooking habits.
Date published: 2020-05-25
Rated

5

out of

5
by
Ultrajewls
from
Great flavor pellets
I received these pellets about a week ago and I have already used them to make some great steaks on my grill. If you don't have a pellet grill, you can simply make a smoker by using aluminum foil and throw in a handful of pellets, close it up, then poke a few holes in the top. It is that easy! I have the Cherrywood flavor now, and I will be purchasing some more flavors in the future to try out. My steaks turned out absolutely delicious. I can't wait to try out some more flavors. Highly recommend.
Date published: 2020-05-25
Rated

5

out of

5
by
TnBrat
from
Awesome all around
We do not have an pellet grill so when we came across the Kingsford 100% Pellets we were Excited we made some deer jerky we used our pellets over charcoal and let me say I had doubts I was surprised the smell and taste from our kingsford cherry wood pellets never again will we buy wood chips Kingsford pellets will be what we smoke with from now on
Date published: 2020-05-23
Rated

5

out of

5
by
ChelseaAW
from
Perfect Taste!
As someone who uses only charcoal to grill, I was looking for something to amp up the flavor. These Kingsford Hardwood Pellets were exactly what my grilling needed! Mixing it with charcoal is easy and it really adds to the flavor of grilled fish and vegetables!
Date published: 2020-05-22
Rated

5

out of

5
by
MamaFrog
from
Loved the Scent
These Kingsford Hardwood Cherrywood Pellets give off a wonderful cherrywood scent while the bbq grill was doing its thing. Hamburgers had a nice smoky flavor, and product was easy to use. Would reccomend!
Date published: 2020-05-22
Rated

4

out of

5
by
Mom on the go
from
Great product
I bought this to try a new flavor. I have tried the maple and the family loved it. My husband is the griller in the house hold. He has wanted to try a different product and flavor. We bought this in cherry and it was sooo good. We made chicken and had it in salads so yum!
Date published: 2020-05-20
Rated

5

out of

5
by
Mandee
from
Yummy Pork
I could tell these were high quality from looking in the bag (they make it clear so you see exactly what you're getting.) To grill with, they smelled wonderful. The flavor really went through the thick pork chops we cooked. They tasted sweet and smoky but not overwhelmingly so. We added some BBQ sauce and they were divine.
Date published: 2020-05-18