Kingsford® Signature Flavors Hardwood Pellets
Memphis BBQ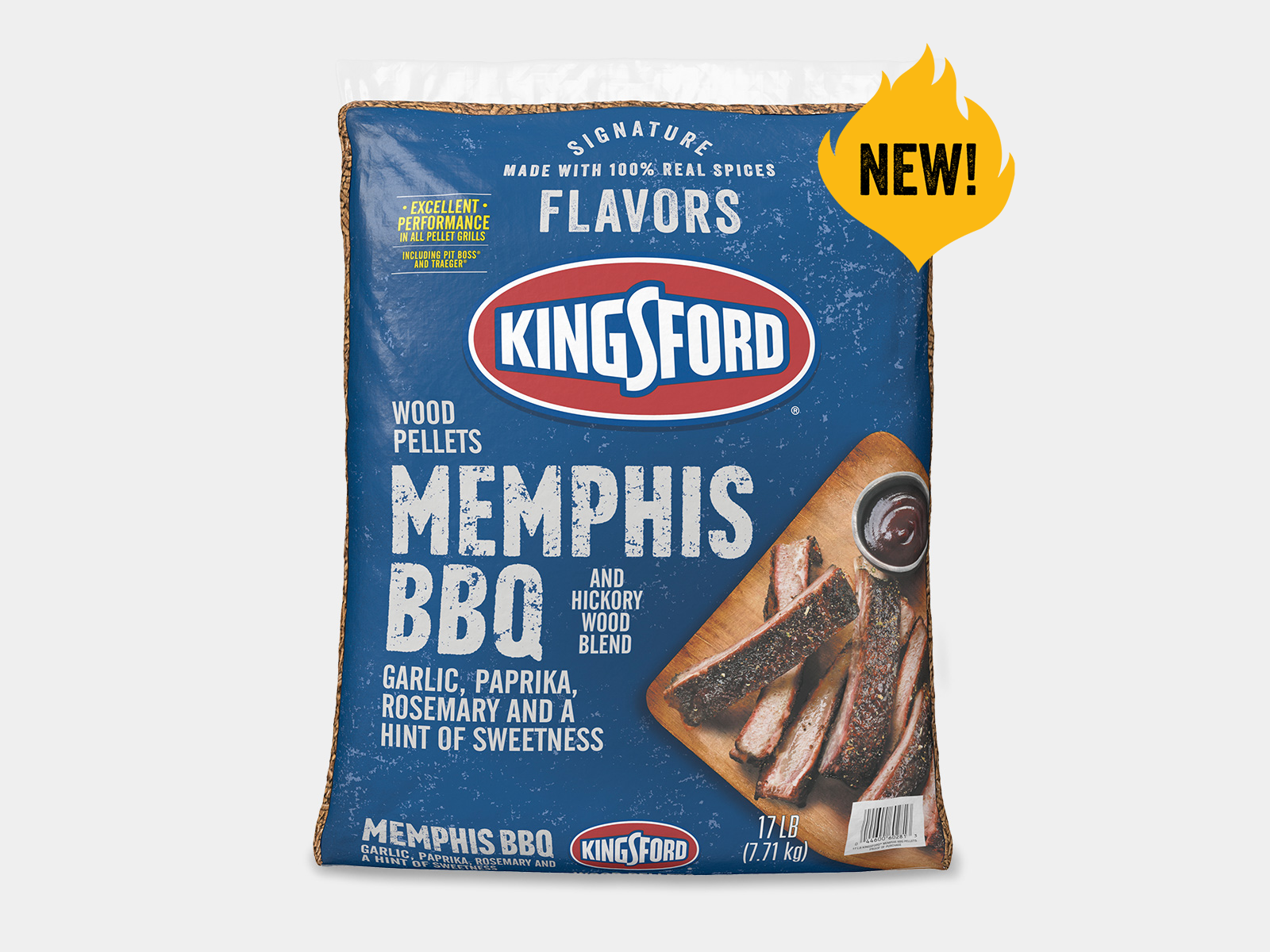 Experience flavor like never before. Memphis BBQ enhances the rich character of hickory smoke with sharp notes of paprika and garlic, adding to your food an indulgent finish of caramel aromatics with a hint of  herbal  notes. Made with a hickory wood blend, these grilling pellets elevate your flavor profile with 100% real spice. No artificial flavors. No artificial colors. No bull. Enjoy excellent performance in all grills*, including Traeger and Pit Boss.
The 100% real spice flavor pairs well with ribs, beef, chicken, pork, lamb and vegetables.
* See back of pack for instructions.
---
---
Made in the USA
Great for Any Pellet Grill
---
Adventurous Eats
---
Take your taste buds outside their comfort zone with these unexpected twists on grilling favorites.
Rated

5

out of

5
by
EE82
from
Awesome taste
My husband got a pellet grill for Christmas so I had to buy him some of this to try as well. He absolutely loves it. It was easy to light and keep lit and it made the meat taste absolutely amazing. We will be trying other flavors.
Date published: 2023-01-19
Rated

5

out of

5
by
Jazmin
from
Easy to use great taste
I got this to try out for my husband's birthday cookout and it was a big hit. Everyone loved the smokiness flavor from the chips it really made the meat standout. It was a super easy way to create a higher flavor impact will def be using these again
Date published: 2023-01-19
Rated

4

out of

5
by
Gabby715
from
Works well
We have ran these through our smoker a few times now. The smoky blend of mesquite wood is mild but still penetrates into the meat to give it a nice flavor. They are a medium burn with low ash which made for easier cleanup.
Date published: 2023-01-18
Rated

5

out of

5
by
DanJamMan
from
Great Taste
Relatively new to the smoking world and these have been my favorite pellets I have used so far. Great tasting, especially on ribs. I am a big fan of the Memphis BBQ scene so I was excited to give this a try. They fully lived up to my expectations. You get a hint of rosemary and herbs which I liked
Date published: 2023-01-17
Rated

5

out of

5
by
Lexi
from
Amazing
Normally I use the smoking wood chips, but after using the pellets I won't be turning back. A little goes a long so I wasnt having to go back and constantly add more in. We used this particular pellet on a pork butt and it really added another layer of flavor my family and I couldn't get enough of
Date published: 2023-01-17
Rated

5

out of

5
by
jessmurrr
from
great flavor
I am from Memphis and was very excited to try this flavor of pellets. It had a great flavor and made my bbq pork shoulder really good. Love the mix of spices and I will be continuing to buy this flavor.
Date published: 2023-01-17
Rated

5

out of

5
by
Tara12
from
Amazing flavor!
These pellets are the best! The aroma and taste they produce are amazing. The meat was so flavorful and delicious. I received so many compliments on how great the meat smelled while smoking and how good it taste. I have recommended these pellets to family and friends.
Date published: 2023-01-15
Rated

5

out of

5
by
Zacherio
from
Great flavor and smell
I love grilling and have started experimenting with using flavored pellets and other things to change the flavor. These were a wonderful find. From grill to plate these were great. Changed the smell and taste for the better
Date published: 2023-01-12
Rated

5

out of

5
by
halazia
from
Goood for BBQ
This wood is perfect for grilling and giving your meat alot of flavor! i didn't know this wood can put so much flavor on my steak but it was amazing! i couldn't stop eating my bbq! it burned slowly which i liked so i have more for my next bbq grill
Date published: 2023-01-12
Rated

5

out of

5
by
Jsotam76
from
Game changer!
I have a really extensive outdoor kitchen and I love tinkering out there with new and different products. I knew I had to have thsse pellets as actual hickory wood to smoke with can be both expewanx difficult to find. This is amazing! And so incredibly convenient! Additionally I'm able to use these in my smoker box inside the grill. Amazing product!
Date published: 2023-01-11
Rated

5

out of

5
by
OCsiren
from
Great Product
These Kingsford Signature Flavors Hardwood Pellets - Memphis BBQ were easy to use and worked great. We smoked some chicken and the flavor was so good. These are definitely going on the list from now on.
Date published: 2023-01-11
Rated

5

out of

5
by
cdtcraig
from
Great Flavor
We just got these hardwood pellets for our smoker and we really like the flavor they give our meats when we use them. It has a nice hickory smoky effect. I especially appreciate that there are no artificial colors or flavors.
Date published: 2023-01-10
Rated

5

out of

5
by
Alpacamom
from
Great smell and flavor!
New to using pellet grill, I had a chance to try Kingsford's brand BBQ. Starting with opening the bag the smell of the flavored wood gave me the indications this was going to be good. It didn't disappoint, I had started with a good ground meat to make into nice big patties using our favorite seasoning. Using the flavored pellets got that wonderful flavor into the meat. I can't even begin to tell you how delicious our normal hamburger was. We found the only pellets for us.
Date published: 2023-01-10
Rated

5

out of

5
by
lynnc35
from
Good Memphis BBQ Taste
I used this to make Ribs and they turned out amazing. The pellets are easy to use in my pellet smoker. They had a nice hickory barbecue flavor throughout the ribs. These are easy to use and create a rich juicy flavor. I had easy clean up afterwards. They gave me some of the best BBQ Ribs I have ever tasted. I will definitely be using these more.
Date published: 2023-01-10
Rated

5

out of

5
by
BBQsmokePlease
from
Great BBQ Pellets!
If you're like me you have used Kingsford products for many, many years. Although what seemed to be missing was a pellet option. Wait no longer! This arrived in time for the holiday partner where we normally serve a prime rib. 4 hours slow smoked over these Kingford pellets worked AWESOME! Great flavor, not too smokey. Just right! Seems to burn as cleanly as some of the other SMOKER SPECIFIC BRANDS and offers great flavor. Looking forward to the next BBQ!
Date published: 2023-01-09
Rated

5

out of

5
by
TW990
from
Takes your grilling to the next level!
This is such an easy but great addition to your grilling repertoire. I can't believe I didn't start using these pellets years ago. I love how the flavors brought to your grilling from these pellets are real, authentic ones without anything artificial. They actually do elevate the taste - I was surprised at how much better my grilled meats tasted. So much so that I can't wait to try these with baking and roasting as well. Pick up a bag - you won't be disappointed.
Date published: 2023-01-09
Rated

4

out of

5
by
godawgs
from
Adds a great smoky taste to your bbq
We tried the memphis bbq pellets over the weekend when we smoked some ribs, and I like how they turned out with these pellets. These cooks as well as any other pellet but the surprise was in the taste. These pellets provided a great tasting product with the smoky flavor that was not overwhelming.
Date published: 2023-01-09
Rated

5

out of

5
by
Tattoo Rob
from
Love it
Super excited to finally be able to try out my new Kingsford® Signature Flavors Hardwood Pellets — Memphis BBQ. I've been looking forward to trying them out. They definitely makes my BBQ taste super delicious.
Date published: 2023-01-08
Rated

5

out of

5
by
Ashley219
from
Nice flavor
Got these for the smoker. They gave the meat a nice bbq flavor. They are the pellets which are great for my smoker. They burn slow and last a good amount of time. Definitely recommend giving it a try. Never tried a bbq flavor so it was nice taste. Normally we get hickory.
Date published: 2023-01-08
Rated

5

out of

5
by
vit76
from
Professional results!!!
The Kingsford Signature Flavor Hardwood Pellets-Memphis BBQ made our pork shoulder taste like it was done by a professional. It added just the right amount of paprika, garlic, herbs and other spices. This will be a part of our pellet rotation from here on out!
Date published: 2023-01-08
Rated

5

out of

5
by
GJDen
from
Great taste and long lasting pellets!
I was excited to try these flavors pellets as it's a genius idea! I upfront loved these use all natural flavors and they are made in the USA. The smell is amazing when cooking and in the different meats I smoked I did get a hint of extra garlic and sweetness. Nothing overwhelming but a hint of spice. I'll always be buying the flavored pellets from now on! They are an easy way to add extra flavor with no extra steps!
Date published: 2023-01-08
Rated

5

out of

5
by
DenGreat
from
Great pellets
I love the aroma these pellets produce. I used these in my pellet grill to make some roasted veggies and they came out great. They performed as well as my usual brand as far as temperature consistency goes. Pretty easy to recommend these.
Date published: 2023-01-08
Rated

5

out of

5
by
LaLa59
from
Nice and Smoky!
I have tried lots of different brands of pellets or the years. I started out using the cheap brands and wasn't so happy so I started experimenting with the more pricy ones. For the price I think these are very similar or maybe even better to some of the most expensive ones I recall buying. they are all mostly exactly the same size and seemed to keep a pretty even higher temperature through out my use of them. The smoke smelled especially enticing and flavorful at the lower temperatures. No nasty burnt taste on the food. I think these are really great especially at the price point. I'll definitely add these to my stock.
Date published: 2023-01-08
Rated

4

out of

5
by
ChristinaW
from
Good pellets
This is pretty decent stuff. Burns quicker than others I've tried. But is leaves a great smoke flavor in your food. The price is great! And that almost makes up for needing more than other brands. I will buy this again when my regular brand is not available.
Date published: 2023-01-08
Rated

5

out of

5
by
AEK14
from
Memphis BBQ Pellets
Kingsford Signature Flavor hardwood pellets in Memphis BBQ are amazing. We enjoy cooking our steak ribs and chicken and shrimp with these flavored pellets. Great for family BBQ or weekend dinner. Highly recommend trying this product!
Date published: 2023-01-07
Rated

5

out of

5
by
BillySilverado
from
Great Product
I got this for a cookout and I'm glad I did it was a huge hit. I followed the directions on the bag and my food turned out perfect with the perfect flavor this is a game changer everyone wanted to know what I used , definitely a must have from now on
Date published: 2023-01-07
Rated

5

out of

5
by
MamaT
from
Awesome product
We love using kingsford pellets whenever we BBQ. They burn slowly and don't leave any bad residue behind. They make our food taste amazing and I will continue to support them. If you are shopping for new pellets the hickory and this one are awesome!
Date published: 2023-01-07
Rated

5

out of

5
by
Heshoes
from
Full flavor and easy to use
I love kingsford - Kingsford® Signature Flavors Hardwood Pellets — they're so full of flavor and as with all Kingsford products worth the price. If you love barbecue you will love these pellets. They will add so much flavor to your food.
Date published: 2023-01-07
Rated

5

out of

5
by
Annette14
from
Great smell, great taste!
I got a bag Kingsford Signature Hardwood pellets in the Memphis BBQ flavor in the mail to try. We used them in the smoker with Country Spare Ribs. The smell of the pellets with the ribs smelled amazing, and the Memphis BBQ taste was even better. The ribs tasted like they came from a professional restaurant smoked in a professional smoker. I can't wait to try other flavors.
Date published: 2023-01-07
Rated

5

out of

5
by
Rosie22
from
Excellent BBQ Pellet flavor!
The Kingsford Signature Flavors Hardwood Pellets are easy to use for my BBQ pit and allows for meats to become juicy and flavorful. These amazing pellets have an authentic hardwood Memphis BBQ flavor that creates a beautiful aroma when barbecuing. The meats come out tender and delicious and it is all thanks to these amazing pellets. The added feature is that they are easy to clean after usage and allows for a wonderful time barbecuing without any worries of excess cleanup. I highly recommend these Kingsford Signature Flavors Hardwood Pellets for their added flavor to my favorite meats and for their high quality and effectiveness.
Date published: 2023-01-07