Kingsford® Signature Flavors Flavor Boosters
Cumin Chili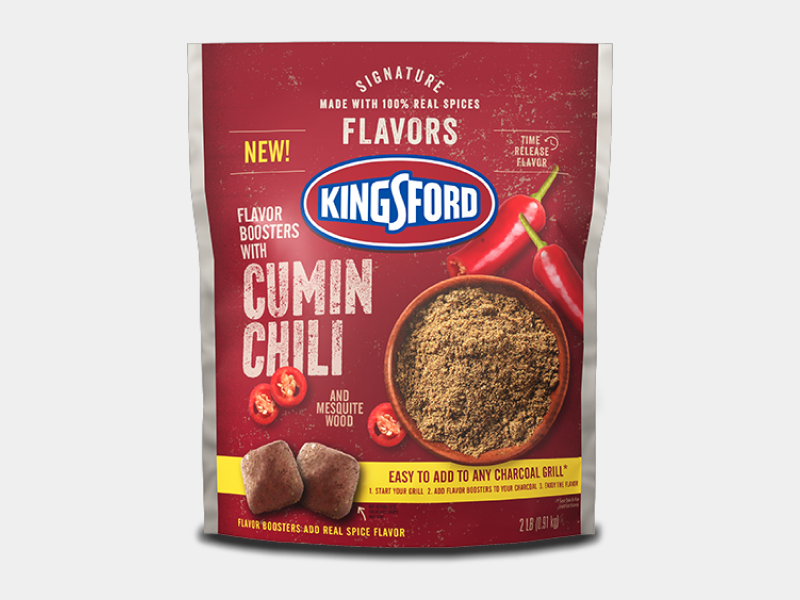 Your grill has never seen flavor like this. Get bold, smoky flavor you can see, smell and taste with Kingsford® Flavor Boosters. The steady time release of cumin and chili flavors makes for an elevated taste to any grilling experience. Easy to add to any charcoal grill*, Kingsford® Flavor Boosters are ready in about 15 minutes to start grilling all your favorite foods. Light your grill as you normally would, add flavor boosters to lit coals and enjoy. Also available in 100% real spice pellets and blended charcoal briquets.
The 100% real spice flavor pairs well with chicken, beef, pork and ribs.
* See back of pack for instructions.
---
---
Ready to cook on in 15 minutes
---
Adventurous Eats
---
Take your taste buds outside their comfort zone with these unexpected twists on grilling favorites.
Rated

5

out of

5
by
Trock
from
Flavor happy
This is an excellent addition to charcoal grill lovers! The enhanced flavor was surprisingly fantastic. I used it to grill chicken and the results could not have been better. The aroma was enticing in itself. I can not wait to try the other flavors. I would recommend to all charcoal grill masters for an exciting and new addition to their flavor palette!!
Date published: 2022-02-22
Rated

5

out of

5
by
Clewis72
from
Wonderful.
I bought these a few weeks ago and I love the flavors! These flavors are amazing, and bring such flavor to my food. I added this to my chili and it gave it the extra boost it needed. My family loved it! It's my new secret weapon to spice up my foods! A little goes a long way, so this will last you awhile! It smells and tastes amazing! You have to try it!
Date published: 2022-02-22
Rated

5

out of

5
by
Mel222
from
Nice addition to the grill
These little flavor boost charcoals are amazing. Great way to add a little heat to the meat without it being too much. We all know that one friend who's a little heavy handed with seasonings and these charcoals are a nice in between.
Date published: 2022-02-21
Rated

3

out of

5
by
3PointTurn
from
It's ok - smells fine but flavor isn't full
The flavor boosters works fine. The food smells and emits the cumin chili flavor but when eating the food, the flavor isn't there. I think it makes it smell good but taste wise, it is lacking. Maybe another flavor will be stronger for taste buds. I would hold off in buying this flavor unless you absolutely love cumin chili flavor.
Date published: 2022-02-21
Rated

3

out of

5
by
Nomad44
from
Not worth the extra work
We grilled up some salmon, halloumi, and vegetables. A smokier flavor was definitely there, but it wasn't worth adding these coals at a different time. Would rather just season the food directly when prepping to grill.
Date published: 2022-02-21
Rated

5

out of

5
by
Melissa22
from
Great flavor
I got this to try since it was new and never heard of it before. I grilled chicken and used this chilli cumin to flavor my chicken for fajitas and it was delicious! I love the notes that this gives it. I definitely made sure I kept my grill closed to keep the smoke and flavor in. Looking forward to trying more flavors!
Date published: 2022-02-21
Rated

3

out of

5
by
mraiten227
from
Lacking
I really thought this would add quite a bit of taste, but was not happy with the little amount of smoke flavor it added. Not sure if we did not use enough or this is just rather bland for our liking..
Date published: 2022-02-21
Rated

5

out of

5
by
Christiane0818
from
So good
Wow! We grilled out the other day and used this signature flavor booster. The meat was unlike any I've had before. We used chicken as our meat but will probably try pork next time. Just the smell coming from the grill was amazing. Even our neighbors noticed. But the chicken was absolutely delicious! I'm definitely a fan!
Date published: 2022-02-21
Rated

5

out of

5
by
Nessa31
from
Looks like it could be spicy
I have tried this yet due to being too cold outside. I can not wait to put this with my cook out and make sure that it gives it that smoking chili flavor. I am so excited to see what comes of these briquets to taste what i cook.
Date published: 2022-02-21
Rated

5

out of

5
by
Mg1976
from
Really works
I was wondering if this was going to even work. So as soon as I received it we started the grill up and gave it a try. Put some t bone steaks on and the flavor was to die for. Going to purchase other flavor to give them a try. The flavor is spot on not over powering and doesn't have a heavy smoke flavor.
Date published: 2022-02-21
Rated

4

out of

5
by
69Pace
from
Amazing smells yet will need a lot to taste spices
We grill outdoors year-round. It not only augments the taste of food but the protein is cooked in half the time. I took advantage to the unseasonably warm temperatures in PA and pulled out our small charcoal grill to test these beauties. The cumin/chili spices along with the mesquite wood deliver a pleasant, mouthwatering scent when the bag is first opened. You can also see the filaments of wood and spices on these boosters. My wife uses cumin in many of her meals and we were excited to see how these flavor booters hold up after our chicken breasts and Strip steaks were grilled. It is important to keep in mind that these are flavor boosters and not charcoal briquettes that you light! After our charcoal briquettes were ashy, I added 6 of these flavor boosters and then placed our lightly seasoned (salt, pepper) protein on top of the hot grate. The smells that rose off our grill were amazing. This experience during mid-winter is unbelievable and made us long for long summer days. We could easily smell the spices and mesquite wood. The true test came when we tasted the chicken and steak. We could detect the wood taste yet the cumin and chili were not as detectable. I plan on adding more flavor boosters next time I grill to test if that increases the spice taste. Nevertheless, I did like the smell that permeated my patio while cooking and but would have liked to taste what I was smelling.
Date published: 2022-02-20
Rated

5

out of

5
by
Anonymous
from
Great flavor adder
These flavor briquettes are absolutely amazing. I was a little skeptical thinking how could you add flavor just by adding them to the fire, but they did just that, and I could not believe just how much cumin flavor it actually added, not too much but just enough.
Date published: 2022-02-20
Rated

5

out of

5
by
Stray81
from
Lots of added flavor
I added this Kingsford® Signature Flavors, Flavor Boosters Cumin Chili to my smoker while I was smoking some ribs. This adds so much flavor to my meat. You can taste the cumin chili which gives my meat an extra kick. I like this because it adds flavor without having to add additional seasoning to my meat. This product definitely adds flavor to my smoked meats and I would get it again.
Date published: 2022-02-19
Rated

5

out of

5
by
Maddiecake
from
My husband is obsessed!
My husband and I are both BEYOND obsessed with this flavor booster!!! I love all the different flavor options, but this is by far our favorite. It elevates our grilling game in ways we didn't even know was possible!! We are constantly looking for fun, impressive ways to change up our meals and this is the absolute jackpot. I've already told my entire family about it we are that in love with it!!!
Date published: 2022-02-18
Rated

5

out of

5
by
Countrygirl88
from
Wonderful
I got the cumin chili bbq charcoal pellets for my grill. I love how the smell and smoke turned my grilled chicken into a wonderful smelling and tasting chicken dinner. The cumin chili isn't over powering and it turns the food into perfect tasting food
Date published: 2022-02-18
Rated

5

out of

5
by
kristi3760
from
Fantastic Flavors!
I love the Kingsford Flavor Boosters with Cumin Chili and Mesquite Wood. We grilled up some chicken and ribs for dinner tonight and they turned out amazing! The flavors were the perfect consistency and the meat tasted fantastic! I definitely recommend this product.
Date published: 2022-02-17
Rated

5

out of

5
by
Orybelle45
from
Tastes good
I used this to make chicken and pork tenderloin on the grill and it made my food taste amazing. I love the wood smoked flavor amd the cumin flavor. I would definitely recommend it to anyone. It really tastes great!!
Date published: 2022-02-16
Rated

5

out of

5
by
Jessicalynn68
from
Great taste
Kingsford charcoal flavor boosters are a nice new addition to our family barbecues! You heat up your charcoal as normal, then simply add in the flavor boosters, so easy! We like the tasty flavor of the cumin chili when we grill chicken and ribs! I can't wait to try more flavors.
Date published: 2022-02-16