Kingsford® Signature Flavors Flavor Boosters
Basil Sage Thyme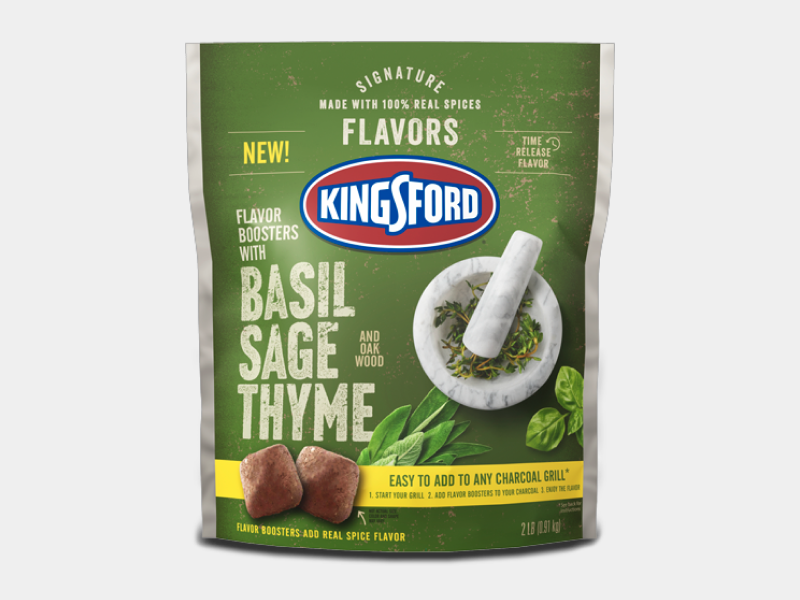 Your grill has never seen flavor like this. Get smooth, balanced flavor you can see, smell and taste with Kingsford® Flavor Boosters. The steady time release of basil, sage and thyme flavors makes for an elevated taste to any grilling experience. Easy to add to any charcoal grill*, Kingsford® Flavor Boosters are ready in about 15 minutes to start grilling all your favorite foods. Light your grill as you normally would, add flavor boosters to lit coals and enjoy. Also available in 100% real spice pellets and blended charcoal briquets.
The 100% real spice flavor pairs well with chicken, turkey, lamb, pork, shellfish and vegetables.
* See back of pack for instructions.
---
---
Ready to cook on in 15 minutes
---
Adventurous Eats
---
Take your taste buds outside their comfort zone with these unexpected twists on grilling favorites.
Rated

3

out of

5
by
Amillz
from
They are ok.
I've always used kingsford charcoal briquettes as they light easy and stay lite for cooking on the grill. I tried the basil sage and thyme flavor booster briquettes, which smelled really good while cooking, but didn't notice a lot of that flavor in the meat. I might try some in our smoker and see if that transfers the flavor more with slower cooking.
Date published: 2022-02-26
Rated

5

out of

5
by
Krissy2427
from
Yum!
What a fun new product! It gave an added flavor to my food which was wonderful. They are easy to use and give just that added amount of flavor you need and want! It has an organic camping feeling that I can get in my own backyard flavor!
Date published: 2022-02-25
Rated

5

out of

5
by
meg025
from
A nice touch of flavor
My Kinsford Signature Flavors Boosters Basil, Sage, Thyme are really no for kicking up the flavor when I grill. I used this mix when I was grilling chicken and it really helped to bring a nice flavor to the meat. These are really easy to add to my coals and I like that you really only need a few of them to boost the flavor of what you are grilling.
Date published: 2022-02-25
Rated

5

out of

5
by
opal247
from
made chicken great
i had gotten this and tried on my grill and it made my chicken 10 times better here omg was so delicious flavors at its best here my whole family was wondering what i did to improve the flavor ! i showed them the bag and they want me to purchase it now
Date published: 2022-02-24
Rated

5

out of

5
by
MrsG
from
AMAZING
Kingsford Basil, Sage & Thyme flavor enhancer charcoal briquttes are the best!! Easy to use as you just add them onto your already fired up charcoal! The smell just circulated through out our backyard, I think the neighborhood was drooling! We tried it with Chicken and could not have had a better result. The chicken had soaked up just enough flavor, it was as if we paid high dollar for our meal. Nope, made it on the grill. Can't wait to try the other flavors!
Date published: 2022-02-23
Rated

5

out of

5
by
KL56
from
Excellent flavor!
My boyfriend and I used these flavor boosters to grill vegetables, and it added such an excellent flavor to them! We'll definitely be using these again in the future - adds a lot of complexity to the taste!
Date published: 2022-02-23
Rated

5

out of

5
by
Asbury320
from
Great for chicken
The Kingsford Basil, Sage and Thyme was perfect! We had a 70 degree day so we grilled up some chicken for dinner and it turned out amazing! The flavors were the perfect consistency and the chicken tasted fantastic! Can't wait to try other flavors.
Date published: 2022-02-23
Rated

5

out of

5
by
Hawkette
from
Taste great
We used this to bbq for the family and it taste wonderful. It was not to strong of flavor and the smell is amazing. The taste was not overbearing. It is easy to use and add to the grill and burns for a while. Great product
Date published: 2022-02-23
Rated

5

out of

5
by
tmayle0209
from
Great product
This product is great for cook outs and I was pleasantly surprised on how well it flavors the food you cook with it I have everyone asking me what I use so they can buy some. It definitely exceeded my expectations as a flavor and cooking tool all in one
Date published: 2022-02-22
Rated

5

out of

5
by
Sseiferd
from
Awesome Idea
Who doesn't love grilling outdoors? I love the taste of meat cooked over an open flame and barbecuing does the trick for me. Kingsford has always been a go to for charcoal for us and now that they have added flavorings to their's lookout! Kingsford® Signature Flavors Flavor Boosters — Basil Sage Thyme is awesome for steaks and chicken. So amazing!
Date published: 2022-02-22
Rated

5

out of

5
by
Demi2319
from
Awesome!
These are great to add to your charcoal for a boost of flavor. I love the basil, sage, and thyme booster! This is going to be a summer go to for my family! I can't wait to try more flavor boosters from this line!
Date published: 2022-02-22
Rated

5

out of

5
by
EE82
from
Yummy
I got this for my husband who loves to cook on the grill. He was skeptical at first but after the aroma from the smoke hit him in the face he figured what the heck it might work. Well it did after that first bite of meat he asked if there were anymore flavors. We could actually taste the spices. We will be trying other flavors.
Date published: 2022-02-21
Rated

5

out of

5
by
Smorak90
from
Amazing
The Kingsford, signature flavors flavor booster, basil, sage and Thyme is super aromatic. We made chicken on the grill using them and first off it smelled amazing while cooking and the flavors absorbed threw the chicken and tasted amazing.
Date published: 2022-02-21
Rated

4

out of

5
by
Deeds
from
Awesome!
We couldn't wait to try these with our chicken. We just added them to our briquettes and in no time, we we enveloped with a wonderful aroma. We grilled some chicken using only olive oil to see if we could taste the herbs from the boosters, cooking with the lid closed to absorb the herbs. The taste was great! We used only 6 boosters and it was a nice, subtle flavor. I'm sure by adding more, you can intensify the flavor. Can't wait to try them with some pork chops next!
Date published: 2022-02-20
Rated

5

out of

5
by
Anonymous
from
Great for grilling
used this to grill out made our food taste delicious and I love how it smoked the meat as well it stayed lit and didn't have issues with it dying out while food was cooking the brand is amazing as well
Date published: 2022-02-20
Rated

5

out of

5
by
Susandenise
from
Great Flavor Infuser
Kingsford Signature Flavors Boosters (Basil, Sage, Thyme) added such flavor to the chicken I grilled. You could taste the herbs through the smokiness of the meat. It almost reminded me of Thanksgiving flavors when used with poultry. I look forward to trying this with steaks soon!
Date published: 2022-02-20
Rated

5

out of

5
by
mindilou
from
Makes food smell and taste good
Was at a friends BBQ and they were using the sage charcoal while making Salmon. When you walked up to the pit it just smelled amazing. The Salmon had a smoke but rich flavor and you could for sure taste the sage flavor. What a great idea for cooking! Im so glad I got me some now!
Date published: 2022-02-19
Rated

5

out of

5
by
Jessica91
from
Great
I used this to grill out made our food taste delicious and I love how it smoked the meat as well it stayed lit and didn't have issues with it dying out while food was cooking the brand is amazing as well
Date published: 2022-02-19