Kingsford® Signature Flavors Briquets
Garlic Onion Paprika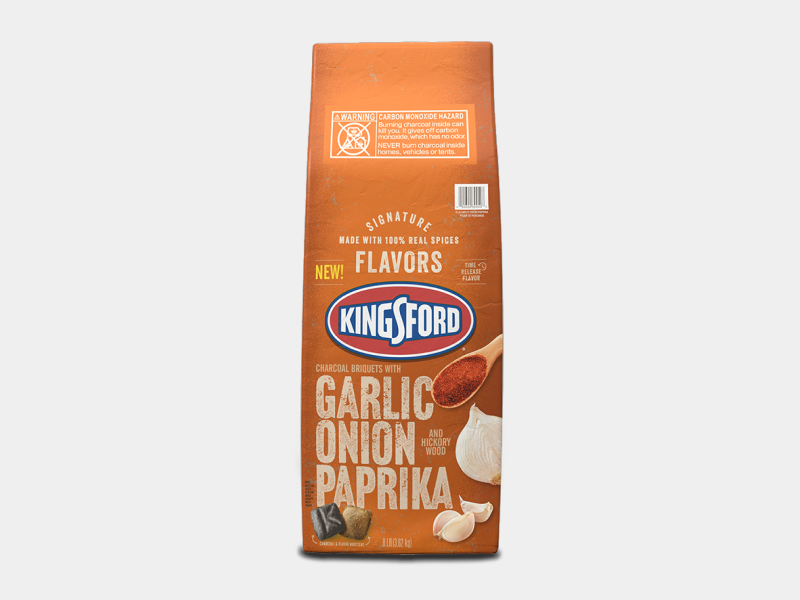 Get big, bold flavor, just the way you like it. Made with hickory wood, this grilling charcoal comes pre-mixed with flavor boosters that steadily release garlic, onion and paprika flavor you can see, smell and taste. Easy to add to any charcoal grill,* they're ready in about 15 minutes thanks to the Sure Fire Grooves® with edges for quick, easy lighting.
The 100% real spice flavor pairs well with chicken, beef, fish and vegetables.
* See back of pack for instructions.
---
---
Ready to cook on in 15 minutes
Long burn time*
*Compared to other charcoal brands.
---
Adventurous Eats
---
Take your taste buds outside their comfort zone with these unexpected twists on grilling favorites.
Rated

5

out of

5
by
Emanuela
from
Great for Chicken
Bring on summer grilling! We used these flavored briquettes for our chicken drumsticks that we were grilling. It gave the meat such an intense and delicious flavor. I already marinated the meat ahead of time, but when used in combination with the briquettes it made it ten times better!
Date published: 2022-04-24
Rated

1

out of

5
by
Garlic_lover
from
Used twice, not impressed
I've grilled twice with this And could tell no difference between this and regular charcoal. A waste of money in my opinion.
Date published: 2022-04-23
Rated

5

out of

5
by
Danyellef
from
Taste great
I used this on our first cook out of the season. The briquettes made my entire dinner taste amazing. They added amazing hints of garlic and paprika enhanced my chicken and vegetables. Well worth the purchase
Date published: 2022-04-16
Rated

5

out of

5
by
Lindaflight
from
Great flavor
I recently tried the garlic, onion and paprika charcoal. I can't say enough good things about it. I'm telling all my grilling friends about it.
Date published: 2022-04-07
Rated

5

out of

5
by
brandijane44
from
Delicious!
I was skeptical at first, but these added great flavor and the smell is AMAZING. Takes grilling to a whole new level. Great flavor, amazing aroma, easy to light, provides a marinated flavor without actually having to marinate. Highly recommend.
Date published: 2022-03-29
Rated

5

out of

5
by
Ambernoel1992
from
Great Taste
We are a family that grills often. So, this large bag is perfect for us. It has the traditional smokey charcoal flavor as well as the added flavors. We have used it to make both chicken and burgers and we love it.
Date published: 2022-03-29
Rated

5

out of

5
by
kayyyyy
from
Great product!
Great smoke. Great flavor. Easy to use. If I had any complaints it would be that I didn't read the description well enough to see how big the bag was. We dont BBQ a lot so I kinda have a lifetime supply one great pellets. I still highly recommend them.
Date published: 2022-03-28
Rated

5

out of

5
by
Stacey
from
Kingsford all the way.
I absolutely love, love, LOVE Kingsford charcoal briquettes, they just add that cook out flavor to our food that no other brand can. So when they came out with signature flavors, you know I was all over that! Wether you're slapping on a burger or a slab of fine beef or pork or slow smoking some juicy ribs, these signature flavors are going to add another level of mouth watering flavor to to your meat feast. Yum!
Date published: 2022-03-15
Rated

5

out of

5
by
Wifeof1620
from
Nice
Very good amount of product in this bag. Easy to use and easy to light. The concept of the flavor enhancers is so neat. Definitely adds to the overall flavor of your food without overwhelming any of it.
Date published: 2022-03-14
Rated

5

out of

5
by
Mamajess16
from
Great taste
I love these, who would've thought to flavor them! We did chicken over them and it turned out great. They catch easily and last forever. Absolutely worth the purchase and look forward to trying the other flavors.
Date published: 2022-03-14
Rated

4

out of

5
by
Kleo Kat
from
Great Flavor!
I never would have thought that wood pellets would add extra flavoring to my food on the grill! I am very impressed! I had a cookout and we used two grills. One grill we used the same pellets we would normally use and the other grill we used these flavored briquets. There was definitely more flavor in the grill using these pellets. It wasn't a strong taste but it was delicious! Next time I think I will throw a little bit more in and really give it a bigger boost of flavor! I will definitely be using this flavor again and I will try their other flavors too!
Date published: 2022-03-14
Rated

5

out of

5
by
Luvbug92499
from
Delicious
This is such a clever idea for charcoal flavoring. We used this when we have cooked grilled chicken and vegetables and it was absolutely delicious!! I can't wait to try the other variety of flavors. My next plan is to make ribs or a brisket.
Date published: 2022-03-12
Rated

5

out of

5
by
Cswan81
from
Yum!
Finally had weather warm enough to fire up the grill and try these. Made burgers and you could really taste the added flavor these provide. One delicious burger! Plus? The smell while these are cooking is amazing.
Date published: 2022-03-12
Rated

5

out of

5
by
Anonymous
from
Different!
I was excited to try this charcoal to cook hamburgers with on our charcoal grill. I didn't season the meat because I wanted to see if the flavors would be brought out from the charcoal. There was a hint of flavor coming from the charcoal. Not as much as I like but definitely was able to tell the difference. The aroma is amazing once you start burning these! Definitely recommend!
Date published: 2022-03-10
Rated

3

out of

5
by
Quita05
from
Good but average
As always, I'm for the opportunity to review this product! My family and I have always used Kingsford brand charcoals, so I was intrigued by this new product. I like the concept but didn't feel like there was enough flavor briquettes to shift me from just buying their regular ones. I really like the aroma but I really wanted the flavor to come through a bit stronger. I really didn't notice a difference besides the aroma. I think this product is a good start and will keep looking forward to what the offer in the future.
Date published: 2022-03-09
Rated

4

out of

5
by
Brittyjo33
from
So neat!
I was interested to see how this worked but it was pretty neat that it has the flavor bricks mixed in with the regular ones. I could smell the herbs and spices once the charcoal started to burn and it smelled so good. Even better was the flavor it added to the meat! Very cool. Can't wait to try the other options!
Date published: 2022-03-09
Rated

5

out of

5
by
Madreoftresx
from
The whole family loves these!
The whole family kept questioning why the taste of our grilled food was so amazing! We told them it was the Kingsford Signature Flavors Briquettes we had used in our charcoal grill mixed with our regular Kingsford charcoal. Everyone was so surprised with how the flavors just oozes out of the meat and veggies you grill. It is a truly exquisite creation absolutely mastered!
Date published: 2022-03-06
Rated

5

out of

5
by
Brittmc70
from
Very good charcoal
This charcoal really brought out the flavor in our food. It didn't matter what you cooked over the charcoal it tasted amazing. We cooked chicken, steaks, and even hamburgers over the charcoal and all I can say it made the meats taste so good! I definitely recommend this charcoal.
Date published: 2022-03-05
Rated

5

out of

5
by
metalmom
from
Such yummy flavors
I used this as soon as we got it. I was cooking burgers and lightly seasoned the meat, the flavor from this was soo yummy. It was not an over load, but a nice subtle taste. I tried not to go over board when seasoning the meat and they were perfect! Nice and juicy and had such good flavor.
Date published: 2022-03-04
Rated

4

out of

5
by
Mamaof2crazygirls
from
Yum
I'm a big ol fan of the Kingsford Signature Flavors. The garlic paprika really made our chicken taste absolutely delicious. I never knew such a thing existed, but I am certainly glad it does. I highly recommend it!
Date published: 2022-03-04
Rated

5

out of

5
by
Ajita
from
Gives food Great taste
I love grilling and use this Kingsford® Signature Flavors Briquets — Garlic Onion Paprika flavor very pleased that it enhances the flavor of the meat and smells great l am very happy with the product. it is easy to light and burn evenly.I will buy it again and yes I will recommend it to a friend
Date published: 2022-03-04
Rated

5

out of

5
by
Monmarie03
from
Clever idea!
I love this charcoal! My family likes to make fajitas and other meats on the grill. While we.do add flavoring ourselves, this gives it an added taste you can't get from just seasoning. No extra instructions and food came out great! Highly recommend!
Date published: 2022-03-03
Rated

5

out of

5
by
Deenibeans
from
Innovative cooking experience
I tried the garlic onion kingsford charcoal and it was great! We used it so far to grill chicken. I love the way it smells! It infuses the food with more of a flavor than just regular smoke from the charcoal. I will definitely be using this when grilling again!
Date published: 2022-03-02
Rated

4

out of

5
by
Scalar22
from
It intensifies the grilling experience
These signature briquets were an interesting experiment, we took them for a weekend by the lake, and used them for beef and chicken burgers, I did pre seasoned the meat with the same spices as the Kingsford briquets: garlic, onion and paprika... followed the instructions to the dot, and I we were pleasantly surprised at the mouthwatering aroma from the grill, I mean it does intensify the whole experience of flavor and aroma, but definitely crucial to pre season your meat.
Date published: 2022-02-28
Rated

3

out of

5
by
brianw5
from
Good charcoal not a lot of flavor
When I saw this it looked like a good idea and thought if it can add flavor to my food its worth a try. Unfortunately to me at least it just tastes like regular charcoal. I used it in my grill and my portable pizza oven and compared to wood, and non flavored charcoal I noticed no difference.
Date published: 2022-02-27
Rated

5

out of

5
by
isamplepr
from
The flavor
Oh boy! I did not thought this Kingsford® Signature Flavors Briquets — Garlic Onion Paprika would give so much flavor to my meat. This Brisquets are easy to use and fast to light. the last a very long time as well.
Date published: 2022-02-25
Rated

5

out of

5
by
MaryM
from
Very interesting!
I never would have thought so see something like this but I am glad I was able to try it! The flavor it gives is not in any way overwhelming. It's subtle but still noticeable. It adds a pleasant flavor to anything you grill. A new staple!
Date published: 2022-02-24
Rated

3

out of

5
by
Mat3
from
Flavor isn't horrible
I thought I would like this a lot more than I did. The flavor wasn't bad but just wasn't something I would go out of my way to buy. Kingsford is my go to brand for my grilling needs and I will continue to use their original coal.
Date published: 2022-02-24
Rated

5

out of

5
by
coghlanwriting
from
Subtle, Delicious Flavor
I've only used this once, and we grilled chicken, and first off, when you light the fire, the smell is amazing. It's important to note that this particular product isn't a match light product, so you do have to use lighter fluid. Anyway, I love that these briquets provide a smoky, subtle flavor. It's not overpowering, but you can taste the difference in this and a regular back of charcoal. After we've used this bag, I'll definitely be buying another bag.
Date published: 2022-02-23
Rated

3

out of

5
by
LiaK99
from
Unique flavor!
I recently received these to try and thought they'd be great for when my husband & I go outlanding with our friends. We have 2 Jeeps that we've converted into outlanding vehicles, with rooftop camper and my husband's Jeep has a pull out kitchen and we have a grill that uses coals/brisquettes. We've always loved using the grill and never knew these even existed! They're perfect for our camping adventures because they'd ideally cut down on needing as much prep time with seasoning. Well, we used them and the result was interesting. We could def smell the difference as soon as we opened the bag. It was not a scent I was expecting but you can tell there's added onion & garlic. Those two carried over to the veggies and chicken we grilled, didn't taste or smell paprika though. Not a terrible thing bc in my honest opinion, paprika is more for looks than flavor anyways. There wasn't extra smoke or anything different about how we needed to grill, but as far as not needing spices bc these have them, that's not really the case. These are more comparable to tourpines, they smell good and the scent carries over to the flavor a little bit but not enough to overpower spices used to add flavor. We used a garlic, pepper, ginger & soy blend for flavor and these added the extra layer of scent that made for a unique tasting experience. Are these a must have? Probably not. Are they unique? Definitely will say they're unique and would probably be great if you love grilling and experimenting with different scents and ways to add layers to your taste experience.
Date published: 2022-02-23