Kingsford® Signature Flavors Briquets
Cumin Chili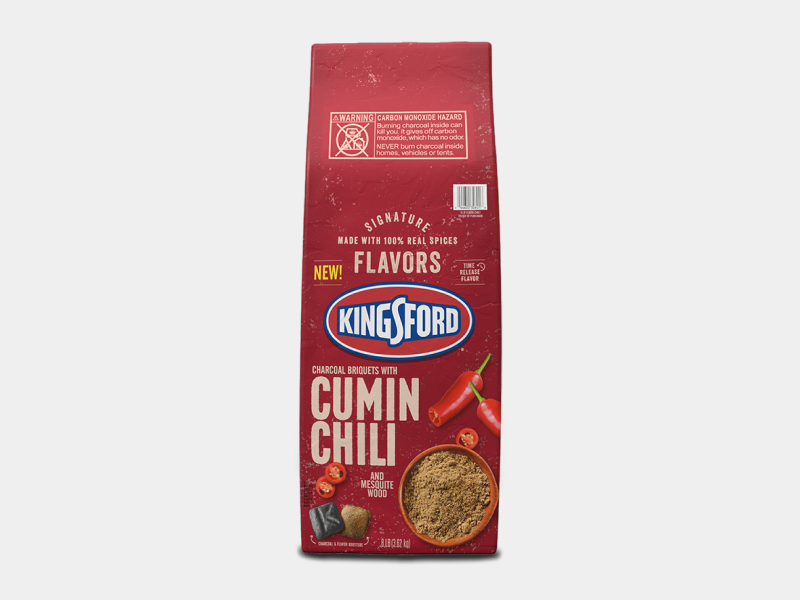 Get big, bold flavor, just the way you like it. Made with mesquite wood, this grilling charcoal comes pre-mixed with flavor boosters that steadily release cumin and chili flavor you can see, smell and taste. Easy to add to any charcoal grill,* they're ready in about 15 minutes thanks to the Sure Fire Grooves® with edges for quick, easy lighting.
The 100% real spice flavor pairs well with chicken, beef, pork and ribs.
* See back of pack for instructions.
---
---
Ready to cook on in 15 minutes
Long burn time*
*Compared to other charcoal brands.
---
Adventurous Eats
---
Take your taste buds outside their comfort zone with these unexpected twists on grilling favorites.
Rated

5

out of

5
by
talkingdolly
from
Flavorful
I love to barbecue and Texas has some amazing weather to start with, these Charcoal Briquettes add flavor to the meat love the cumin and chili perfect for the tandoori chicken that I make occasionally and now I get all the brownie points love it
Date published: 2022-03-12
Rated

4

out of

5
by
mikejr
from
Flavor added, but depends on meat.
I gave these a try on both a chicken and some venison steaks. I found that they definitely do add some flavor to the meat, but it is dependent upon the meat. I thought the venison picked up significantly more of the flavor than the chicken. I would suggest adding this for a little extra touch, but don't think it is going to replace your normal grilling seasoning protocol.
Date published: 2022-03-09
Rated

5

out of

5
by
Dani991
from
Amazing!
This is the most unique thing ever! Our hot dogs tasted amazing. The smell of the wood burning with the spices even attracted our neighbor. The smell was mouth watering between the meat cooking, and the spices. The meat had a flavor packed taste, where I honestly expected a weird burnt taste. The hot dogs came off the grill beautifully. They had an awesome spicey but balanced smoked flavor.
Date published: 2022-03-09
Rated

5

out of

5
by
compman770
from
Incredible flavor!
I have never grilled with flavored charcoal before, I was hesitant, but once I received these I couldn't wait to try it. Boy what a pleasant surprise. I grilled 3 New York steaks with the Cumin Chili flavor, along with 3 baked potatoes on the grill. The flavor was so incredible that I'll never use plain charcoal again! This is a must buy for all the folks who grill year round. I like it so much that I'm cooking burgers over it tonight!
Date published: 2022-03-08
Rated

5

out of

5
by
TarynC
from
It's great!
It's a joke in my house that I'm not the best griller or cook actually. My husband says my food often lacks flavor. Well not anymore! These briquets not only made my food smell good, they made my whole neighborhood smell good! Like my neighbor actually asked what I was grilling! I will use these forever!
Date published: 2022-03-08
Rated

4

out of

5
by
Dravin
from
Great for smoking
I used the Chilli and cumin briquettes to smoke a brisket and I don't know if I'll ever go back to normal. It infused the meat with such wonderful flavor. It cuts down some of the work you would do prepping the brine beforehand. I have to try the other flavors!!!
Date published: 2022-03-08
Rated

4

out of

5
by
DFair
from
surprisingly tasty
I would have never thought of flavored grilling briquets as a thing I would be interested in, but now that I've tried these, I'm intrigued! I grilled chicken using the cumin chili flavor, and it actually added some of the seasoning flavor to the meat! It's a subtle hint of flavor, so I would still recommend doing at least a basic salt & pepper on your food, but this adds a nice extra twist that you wouldn't normally have. I would use these again.
Date published: 2022-03-07
Rated

5

out of

5
by
NikMik
from
Yum!
This is such a cool concept! As soon as I saw these Kingsford flavored briquettes, I was so excited to try them. We are the family that grills all year round, and we love trying out new recipes. We've used smokers, wood planks, salt blocks- this is such an easy way to add flavor. The cumin chili gives a perfect hint of smokiness and is so flavorful. I can't wait to try other flavors, and I'm so surprised this hasn't been thought of sooner!
Date published: 2022-03-05
Rated

5

out of

5
by
tbone78
from
works great
Kingsford is a well known and trusted brand that has been around for a very long time.These briquets left my food with a savory taste.The briquets heated up very well on my grill.A little went a long ways.My food had the best seasoned taste not only from my own seasoning but from the seasoned briquets.I highly recommend them and will definitely use them again.
Date published: 2022-03-04
Rated

5

out of

5
by
NikkiM
from
Flavor enhancer
Yummy !! I like a little hint of something bold and spicy when I get chicken. This cumin chili flavored briquets add that little extra kick I'm looking for. These will definitely be in my next shopping list!
Date published: 2022-03-03
Rated

5

out of

5
by
April7
from
Food tatses great
These briquets made the food taste so good. I made simple hamburgers with the patties not well seasoned. The flavors really came through and we enjoyed them thoroughly. I would purchase again and again.
Date published: 2022-03-03
Rated

5

out of

5
by
jesse1980
from
Great taste!
Fast shipping! Arrived in perfect shape! I'm a BBQ lover, and although I have both a gas grill and a charcoal grill, I'm always on the lookout for a new flavor for grill day. I love these, they have a great flavor and light easily. I have never had this flavor combo before, but I'm sure glad I have now! Great for bringing boring burgers and chicken too life!
Date published: 2022-03-03
Rated

5

out of

5
by
Robbie Rob
from
Great charcoal
Really great charcoal love the cumin flavor made some pork tacos came out really good burned really well and lit easily great smelling too next time I'm going to try with steak I'm also going to try it in my smoker with a beef brisket very good quality charcoal
Date published: 2022-03-02
Rated

5

out of

5
by
Ebarit
from
Great flavor
I received the Kingsford - Kingsford® Signature Flavors Briquets — Cumin Chili. We used it to smoke chili. The briquets gave it a great flavor and not overpowering. I would definitely recommend this product to friends.
Date published: 2022-03-02
Rated

4

out of

5
by
Elizabeth S
from
Great Flavor
I was excited to try these but very skeptical. To my surprise, we were pleasantly pleased with the flavor it added to our meat! I grilled a marinated fajita and that was 1st on the grill. I did have the lid closed most of the time. The 1st batch of fajita definitely had the added chili and cumin flavor. Not spicy, just warm and elevated. I think the second batch of fajita had very little added flavor and by the time we put the chicken on, the flavor was gone. I would buy another bag to play around with. I think it has a lot of potential but the results will vary depending on what your cooking, how long your cooking, and if you do lid open or closed.
Date published: 2022-03-02
Rated

5

out of

5
by
Anonymous
from
Game changer
We always think of adding wood chips to add flavor but never thought of having flavored charcoal that is incredible and it really worked and added some great flavor to my food without having to do extra work. Game changer
Date published: 2022-03-01
Rated

5

out of

5
by
Missyh50
from
Wonderful
I have been experiencing with flavored charcoal briques lately and wow this is amazing. The flavor is wonderful like I used cumin as a rub on my pork. I will be trying different Kingsport flavors in the near future
Date published: 2022-02-28
Rated

5

out of

5
by
Michaelusmc
from
Step up your Grilling!
Wow, these cumin chili charcoal briquets are a real game changer for extra flavor to your grilled foods. I've used these twice now and need to go purchase more. I really like that the flavors are all natural and give a nice extra flavor to whatever you cook with them. I used this in my grill and made steak tacos and chicken tacos and the flavor was fantastic. I was asked for my secret since the taste was so awesome and I'm sure my guests will be purchasing this charcoal too. I can't wait to try the other flavors.
Date published: 2022-02-25
Rated

5

out of

5
by
samtap13
from
Great product!
I received the Kingsford - Kingsford® Signature Flavors Briquets — Cumin Chili and we used it at our family food truck business. It was a huge success!! The compliments of the flavor on the roast and all the chicken and pork. They were so easy to use and the aroma was so good. Definitely, going to keep purchasing this flavor in the future. 10 out of 10!! Highly recommend!
Date published: 2022-02-25
Rated

5

out of

5
by
Blessedmemaw
from
Awesome product
So I was a little unsure when I saw this flavored charcoal but thought it would be different. We recently had some nice weather and were able to grill out and boy was I surprised. This gave our burgers and chicken just a hint of flavor without overpowering it. We were very happy with the outcome and will be buying more. Awesome product!!
Date published: 2022-02-25
Rated

5

out of

5
by
3girls1guy
from
Love this product!!!
I was pleasantly surprised by how much I liked this product I thought it might be a strange flavor but it was great I did steaks and chicken and both had a fabulous flavor!The smell in the bag was a little strange but the flavor was really good!
Date published: 2022-02-24
Rated

5

out of

5
by
Lace
from
Wow! This stuff is pretty awesome!
I'm a fan of using charcoal for when I bbq.. I enjoy the smokey flavors it gives. I NEVER knew they had seasoned charcoals and wow! It's a game changer! Kingfords Signature Briquets in Cumin Chili flavor brought a whole new level of flavor to my bbq
Date published: 2022-02-24
Rated

4

out of

5
by
BigbriB
from
Fun to try something new!
This seemed like a random out of left field purchase but I was feeling wild on a Saturday and am glad I did. These cumin chili briquettes really did add a layer of spice and depth to the chicken I was cooking. In fact I was wishing I had more stuff to pop on the grill after taking a few bites. Chicken was super tasty and juicy, again with the added bonus of cumin scent and flavor. I'd definitely use these again.
Date published: 2022-02-24
Rated

5

out of

5
by
Jayse7313
from
Adds good flavor
I used these Cumin and Chili briquettes to grill up some chicken and steak this past weekend, the flavor was amazing, and would add flavor to anything you can grill. I will be trying the others in the near future.
Date published: 2022-02-23
Rated

5

out of

5
by
Gachick36
from
Great product
This is awesome..they are easy to use. They actually leave our food tasting amazing. They were easy to light. And they lasted for a good while before we had to add more. I can actually tell that we've used it by the way it gives our food a bold taste.
Date published: 2022-02-23
Rated

5

out of

5
by
J_ustic
from
Great taste
So we were really excited to try this charcoal. We love grilling with charcoal because of all the flavor. We just did some simple burgers with this and it was so good! You could taste the chili and cumin spices for sure. It wasn't over powering at all! Will definitely be trying the other flavors as well!
Date published: 2022-02-23
Rated

5

out of

5
by
Jimmy2Elbows
from
Great smoky flavor
I never knew they sold charcoal that is smoked with flavor. What an interesting concept and was excited to try it out. It gives off a mild smoky flavor but is not over powering. I would recommend this to anyone. I marinate whatever I'm cooking still but this just adds to the over all cooking experience.
Date published: 2022-02-22
Rated

5

out of

5
by
Ashliz01
from
Great!
This Kingsford Signature flavors are absolutely amazing! They leave grilled food tasting amazing!! I've grilled some chicken and it was super flavorful and definitely adds more delicious flavors to the food!
Date published: 2022-02-22
Rated

5

out of

5
by
MissyMe
from
These are so cool!!
I couldn't wait to get home to try these cumin chili briquettes from Kingsford, this is so interesting to me and the flavor profile is so cool!! These are just like regular briquettes but they do impart some of that cumin chili flavors!! I made pork chops my first time using these and just couldn't be happier with the flavors, the smoke and the moistness that was achieved in the meat was absolutely delicious!! I recommend trying these innovative briquette flavors, it's awesome!!
Date published: 2022-02-21
Rated

5

out of

5
by
Jlopez1079
from
What a difference!
I received my Kingsford signature flavor briquettes cumin chili a few weeks ago. Let me tell you boy what a difference this made my barbecuing I'm going to keep buying this product as well as the other flavors they have. I never knew barbecue could even be better! I highly recommend to any barbecuing aficionado.
Date published: 2022-02-21