Kingsford® Signature Flavors Briquets
Basil Sage Thyme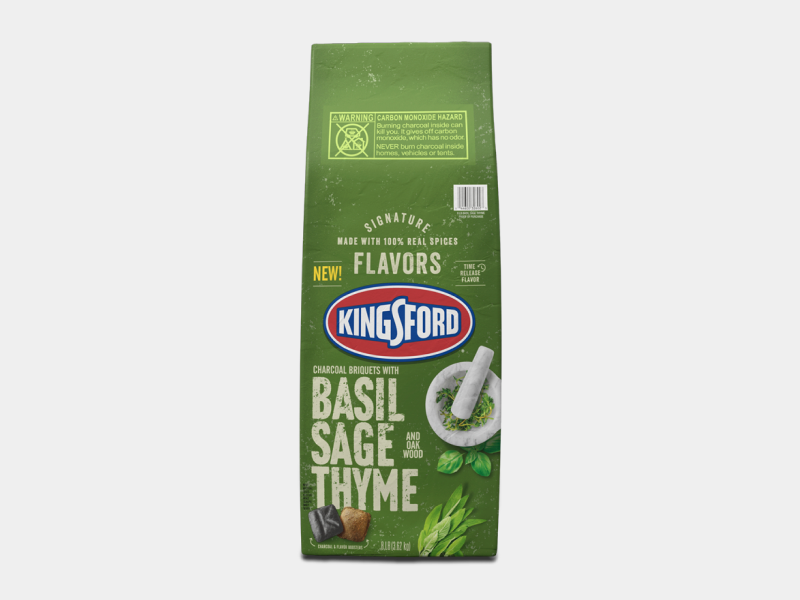 Get big, bold flavor, just the way you like it. Made with oak wood, this grilling charcoal comes pre-mixed with flavor boosters that steadily release basil, sage and thyme flavor you can see, smell and taste. Easy to add to any charcoal grill,* they're ready in about 15 minutes thanks to the Sure Fire Grooves® with edges for quick, easy lighting.
The 100% real spice flavor pairs well with chicken, turkey, fish, lamb, pork, shellfish and vegetables.
* See back of pack for instructions.
---
---
Ready to cook on in 15 minutes
Long burn time*
*Compared to other charcoal brands.
---
Adventurous Eats
---
Take your taste buds outside their comfort zone with these unexpected twists on grilling favorites.
Rated

5

out of

5
by
EmileyS
from
Adds extraordinary flavor to foods!
I've been waiting for something like this to come along and I have to say, I'm super impressed at the difference you can taste in your grilled food. I do alot of brining in which I use these particular spices; basil, sage, and thyme, and after grilling chicken breast using this charcoal, it tasted like I had brined the chicken. It was a huge hit! The 8 pound bag in terms of cost is relatively average. Now that I've tried and enjoyed using this charcoal, I'd much rather buy it than the standard. The briquettes are the standard size and one side is just your typical charcoal look and the other side has your spices on them and are brown. You do have to use lighter fluid to start but I used very little so as to not have a heavy chemical taste or smell. Speaking of smell, once you light the charcoal, it smells amazing! There are also a few more flavor options. No matter if you season or marinade your food before grilling, the added flavor is just divine.
Date published: 2022-03-09
Rated

4

out of

5
by
Ashleydtock
from
Subtle extra flavor!
I wasn't sure about these at first, I didn't think they would actually work. I was suprised at the extra flavor they added to our burgers and chicken. I don't really care for the basic charcoal flavor but these really spiced it up. The basil flavors are subtle but there. We add a little extra seasoning while cooking and everything turns out amazing! They burn well and are simple to use, no extra steps. We do keep the lid close longer to let the smoke flavor infuse more. I'm definitely going to buy and try other flavors!
Date published: 2022-03-09
Rated

5

out of

5
by
carebear5555us
from
Great flavor
This charcoal causes grilled food to be full of flavor. I made hamburgers on the grill which did pair nicely with the basil, sage and thyme flavor. It also made grilling that much enjoyable because of the aroma. Surprisingly, the hamburgers did not take long to make, under 20 minutes. I would like to try this charcoal with salmon and some grilled vegetables. I just wish this charcoal came in a bigger bag.
Date published: 2022-03-08
Rated

4

out of

5
by
cfigs16
from
Awesome for chicken and pork bbq
We use a lot of recipes that involve the herbs for our chicken and pork bbq. So having this charcoal just help enhance the flavor of our food. This is my first time ever using this product and it gives off a very strong smell that I like. It helps gives our BBQ way for flavor. Will definitely get this product more for the future.
Date published: 2022-03-08
Rated

5

out of

5
by
dawnda
from
THIS is a GREAT PRODUCT!
Kingsford - Kingsford® Signature Flavors Briquets FLAVORED— Basil Sage Thyme has outdone themselves with this quality briquet! These long lasting and quick to get to temperature, about 15 minutes, paired with the FLAVOR of basil, sage and thyme built in is a GODSEND! It gives fish on the grill and chicken too, *these are the two meats I tested it with, a new kick! Not overpowering for flavor but a definite taste paired with smokey goodness! A sure HIT for summer!
Date published: 2022-03-08
Rated

4

out of

5
by
gnut04
from
Flavored briquets
Kinngsford recently added flavors to their charcoal. I received the basil, sage, and thyme scented. I love these herbs. I really like the idea of this concept, but I am not sure if I really tasted any of the flavors infused into my food. Maybe I'd have to try another time or maybe a different flavor. I do love the Kingsford brand. They lasted a good while and cooked my food great.
Date published: 2022-03-07
Rated

5

out of

5
by
Gvega
from
Great product
Love how flavors taste in a bbq so with having briquettes that infuse flavors like basil sage tyme is great especially when your cooking chicken or otger meats like steak or burgers the briquettes give a nice flavor to the foods
Date published: 2022-03-07
Rated

5

out of

5
by
CaublasianMom
from
Surprising
We are a very food adventurous family. We'll try anything once. These briquets are genius! It makes perfect sense, too. You know how different wood will give your meat different flavors? Same concept here. The flavor notes that this added to our porkchops is so good. It's not overpowering- you don;t feel like you just ate a whole basil leaf. But the flavor of the basil, sage and thyme is there. I can't wait to use this on chicken and steak. And, I will definitely buy this again as well as try the other flavors!
Date published: 2022-03-06
Rated

4

out of

5
by
BBQGUY
from
QUICK LIGHTING
I've been a long time customer. I always buy Kingsford charcoal. It lights quickly and burns evenly. This particular herb infused charcoal is a unique concept, but I didn't really notice the herb flavoring because I already add herbs to my marinade and dry rubs. I do like the oak flavor this imparts into the meat. I'll continue to use Kingsford, but will just throw some herbs into a pierced foil pouch and place it on the charcoal to infuse the smoke.
Date published: 2022-03-06
Rated

5

out of

5
by
Mperez1123
from
Quickest way to add flavor
We really enjoyed the hassle free way to add flavor while grilling, without having to mess with a wood. The way the flavor briquets are mixed with regular charcole allowed for quick dump and light and the aroma of basil was great from beginning to end. The food came out tasty with hints of thyme and sage aswell.
Date published: 2022-03-05
Rated

4

out of

5
by
Shyan
from
Good Product!!!
These briquetes were very good. They were easy to use and burned great. They did not burn out too quickly and did not create a massive flame that I needed to calm. They were easy to use and easy to light! Yay no lighter fluid!!! They made my chicken taste so flavorful and smokey. The sage and thyme really shined through and made a great herbal flavor. I would definitely recommend these.
Date published: 2022-03-04
Rated

5

out of

5
by
Hannah8647
from
Neat
Kingsford - Kingsford Signature Flavors Briquets — Basil Sage Thyme is a great concept. I loved the flavor it added to our grilled food. The bag had a great mix of seasoned pieces and regular charcoal pieces. It's not like others I've seen and I like it. Can't wait to try the others!
Date published: 2022-03-04
Rated

5

out of

5
by
HeatherL
from
Innovative and delicious idea!
I think the idea of having flavor infusing "boosters" added in with your briquets is such a genius idea. I decided to put the Kingsford signature flavors briquets with the Basil, Sage and Thyme flavor to the test on a turkey. I minimally seasoned the turkey so the flavors from the briquets could fully come thru and then smoked it in my digital charcoal smoker. This was the best turkey I have ever made! The meat was so tender and moist and the flavor was so good- smoky and herbal all at the same time! I will definitely be using this product again to make for a special, smoked meal!
Date published: 2022-03-04
Rated

4

out of

5
by
Zach
from
Burns great and smells good.
I used the charcoal in a Electric Gravity grill. While using it I noticed the smell of herbs which was rich and smooth. The charcoal itself burned great and left very little residue and ash on the grill. It allowed the grill to hold a consistent temperature which doesn't happen with all charcoals. As for the flavor it was less then I had anticipated basing my anticipation off the smell. That said it is possibly a result of the grill not being a conventional charcoal grill. That said I am overall happy with the product and would be eager to try again on a conventional charcoal grill.
Date published: 2022-03-03
Rated

5

out of

5
by
OCsiren
from
Great Product
These Signature Flavors Briquets are great. Very easy to use. My family and I had made some bbq chicken legs and used these briquets. It smelled so amazing and they tasted delicious. It was a nice smoky flavor and the basil, sage, and thyme gave it a amazing taste.
Date published: 2022-03-03
Rated

5

out of

5
by
Juniper
from
Delicious Results!
I was both excited and curious to try Kingsford's Signature Flavor Briquets and the outcome was excellent, exceeding my expectations. As expected with Kingsford in general, the charcoal was easy to light and burned perfectly. We grilled chicken and not only could you smell the herbs while it was cooking, it truly did flavor the meat and it was delicious! I'm now excited to try some of their other flavor blends!
Date published: 2022-03-02
Rated

5

out of

5
by
Karen329
from
Great flavor option!
The Kingsford - Kingsford® Signature Flavors Briquets — Basil Sage Thyme, is a great addition to my grilling routine! I love how the scent and flavors unite with food. The briquets maximize the food and is highly enjoyable. I prefer this option over traditional charcoal. I plan to try the other Kingsford selections as well. I greatly recommend the Kingsford - Kingsford® Signature Flavors Briquets — Basil Sage Thyme!
Date published: 2022-02-28
Rated

5

out of

5
by
Desert_Dad
from
Seriously? Where have these been all my life?!
Wow. That basically sums up this review. We grill a lot and when I saw these "flavored" briquettes, I was like, why not, I'll try them out. The "flavor" I tried first was the basil, sage and thyme (green bag). First, you can smell the flavor infusion right when you open the bag. We chose chicken for this flavor, but I think any white meat would be great. Pork chops, fish, shrimp, etc. The briquettes l work just like any other Kingsford charcoal and the flavor these put into your meat…incredible. Highly recommend and will now try the other flavors. Try these out, your senses will thank you.
Date published: 2022-02-28
Rated

5

out of

5
by
Rach
from
Delicious!
I was a little skeptical at first, but this gave my food such wonderful flavor! This will definitely be something we keep in our house from now on. An easy way to infuse flavor into your food when you don't have access to fresh herbs.
Date published: 2022-02-27
Rated

5

out of

5
by
Belinda
from
Great Added Flavor
I have always used Kingsford Charcoal and I am pleased with the new flavor enhanced line. I tried the basil, sage and thyme on some chicken wings and I just could not believe the flavor. It was just enough and I would have thought it was marinated with these herbs. I am going to try some lamb kabobs next time.
Date published: 2022-02-27
Rated

5

out of

5
by
KleaV
from
flavor booster
My husband always loves to use some kind of flavored wood when he uses the charcoil grill. He always used a applewood or cedar flavor, but since we love basil and sage I wanted to give this a try. The result was great flavored steak.
Date published: 2022-02-26
Rated

5

out of

5
by
BlueAura
from
Fantastic
I've always added spices when I grilled so when the opportunity to try this charcoal came up, I was thrilled, they light easily, basil, sage and thyme smells great while burning without overpowering, adds just a hint of flavor to your food. Definitely will keep using
Date published: 2022-02-26
Rated

5

out of

5
by
Sweetz
from
Love this idea!!
The smell while cooking was amazing the flavor of the meats was top notch I have a grill with a smoker on the side and these smoked my salmon with robust flavor!! I do recommend trying these out I am now searching for the other flavors, this basil sage thyme flavor was everything!!
Date published: 2022-02-23
Rated

5

out of

5
by
Spot12479
from
Smells like yum
With it being the winter months I'm not able to give a good full review of it but I am loving the smell of the briquettes of Basil time in the bag. I am quite impressed of how they were able to get that smell into one briquette. I can't wait until we can try it out in our charcoal grill for our first grill of the season.
Date published: 2022-02-23
Rated

2

out of

5
by
Tbrjjt
from
Not impressed
Well I was excited to try this out but was very disappointed. The briquettes took a while to start burning and once they did I was able to smell the basil but nothing else. After all the meats were properly cooked I could not taste any of the sage or thyme. As for the basil unfortunately I could barely taste it.
Date published: 2022-02-23
Rated

5

out of

5
by
Elisaboo
from
Makes grilling fun
I got this sample of Kingsford Signature flavors briquettes from Tryit and in return am writing this review. My husband used these to cook some chicken and corn on the cob and boy was it tasty! The flavors of the herbs cooked into the chicken and added such a wonderful essence! Even the corn was flavored from the smoke coming from the briquettes. I definitely recommend getting these from Kingsford. I can't wait to try other flavors!
Date published: 2022-02-23
Rated

4

out of

5
by
TracyB2021
from
Unique
I was excited to try this new product! We grilled chicken with it and I was very pleasantly pleased! Good burn good scent and good flavor! I can't wait to try this with steak next and fish as well!! Nice change!
Date published: 2022-02-22
Rated

5

out of

5
by
AlwaysAmber81
from
Amazing flavor infusion!
Kingsford charcoal products are a staple in my household. When I saw these new infused briquettes I couldn't wait to bring them home to my hubby. My family's barbecue game is strong and we take grilling seriously. We got about three uses out of the bag. The BBQ briquettes were easy to light and we're ready within 15 minutes. Everything burned evenly and smoothly. The smell and taste were authentic and rich. So far we have tried the Basil Sage Thyme with salmon and grilled chicken with excellent results. The wonderful aromatics from these briquettes just make your mouth water. The flavor boosters really do infuse beautifully. I'm so excited to try all the flavors. Do not be scared to try these out as they are a delight!
Date published: 2022-02-22
Rated

5

out of

5
by
RuthieSue8
from
I loved the smokey herb taste!
This smells really good. It gave our meat a herby smokey taste. I enhanced our meat even more by using the same seasonings as the charcoal. It gave our meat a delicious smell & taste. Overall it was a great product to enhance taste.
Date published: 2022-02-22
Rated

5

out of

5
by
Tattootonya1979
from
Excellent flavorings
This has brought a whole new game to bbqing for us. The flavors are bold and evenly balanced and goes with everything! Not only does it give our meat an herb taste but goes well with our BBQd vegetables as well.
Date published: 2022-02-21